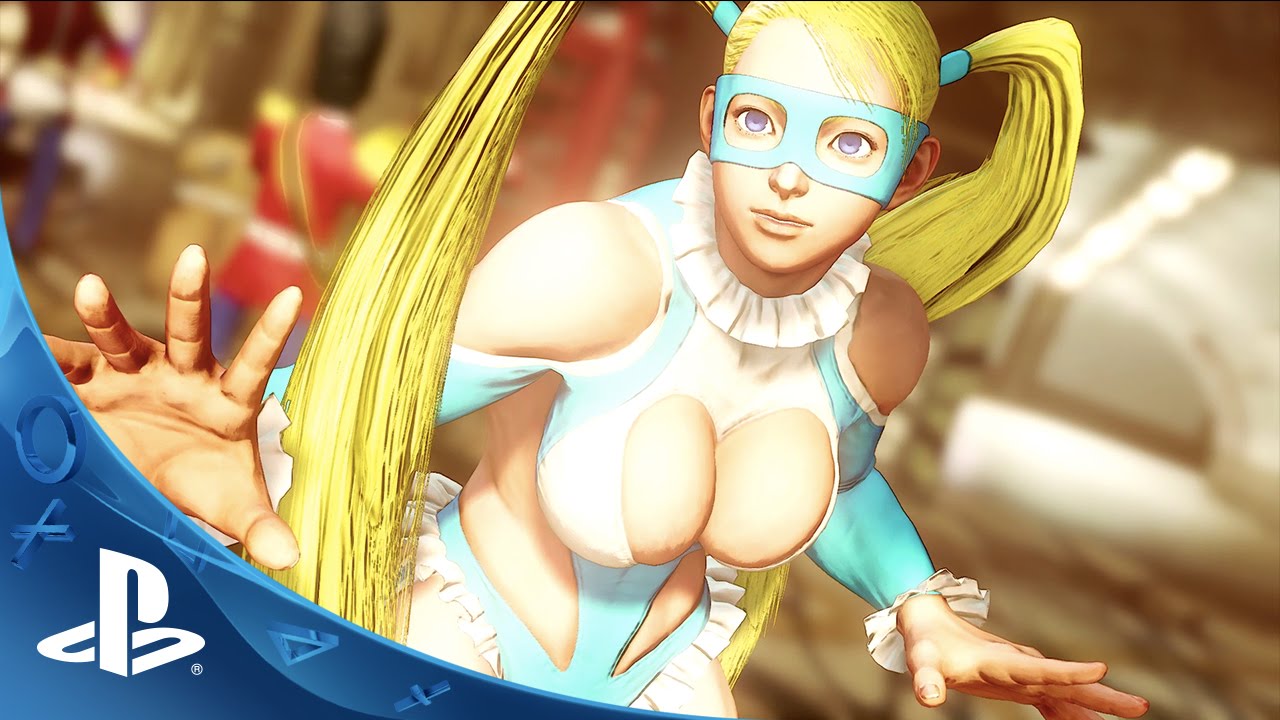 Hey everyone! We have a very special character joining the Street Fighter V roster today! It's none other than the 7-Colored Bomber herself, Rainbow Mika!
Having made her first and only appearance (until now) in Street Fighter Alpha 3, R. Mika has long been a fan-favorite, and we're super stoked to bring her back after a long absence from the series.
As a flamboyant young wrestler, Mika dreamed of one day becoming a star in the ring, much like her idol Zangief. Training under the strict tutelage of her coach, she traveled the world engaging in random matches with street fighters in order to spread her name and popularity.
Above: R. Mika in Street Fighter Alpha 3
R. Mika's wrestling prowess will be on full display in Street Fighter V, as she dazzles opponents with a large variety of high-flying moves. This time around, her wrestling tag-team partner Nadeshiko also assists in the fight!
By calling Nadeshiko at the right time using R. Mika's V-Trigger ability, you'll be able to setup sneaky attacks and punishing command grab mix-ups that are sure to knock the stuffing out of your opponent. Players who enjoy close-combat guessing games and striking fear into the hearts of opponents will find R. Mika an absolute delight to play.
V-Skill: Mic Performance
R. Mika pulls out her trusty microphone and gives a heart-pumping monologue to the crowd. The longer the buttons are held down, the more powerful her normal and special throws become!
During her monologue state, she is able to absorb one hit from the opponent and can also cancel the speech at any time by letting go of the buttons, causing her to fling the mic at the opponent.
V-Trigger: Nadeshiko (3 Variations)
Now this is wrestling! Depending on the direction held during the V-Trigger activation, R. Mika's faithful tag-team partner will deliver a surprising, high flying attack at the opponent from different angles: neutral (body splash from above), hold back (dropkick from the front), hold forward (dropkick from behind).
The different variations keep opponents guessing and afraid to hit buttons, perfectly setting up R. Mika's damaging command throws.
Fans lucky enough to be attending PAX Prime this weekend in Seattle will have a chance to try out R. Mika at the Capcom booth, so be sure to swing by to see how she plays!