UPDATE: Since we've received a lot of comments asking which movie theaters will be participating, we've added the list to the bottom of this post. As a reminder, tickets will be made available at http://playstation.com/e3experience tomorrow (Wednesday, May 27th) at 9:00am PT.
Whenever I interact with the PlayStation community I'm always struck by their passion and excitement for gaming. I saw this firsthand at E3 2014, when I teamed up with PlayStation and Fathom Events to bring the E3 Press Conference live to over 10,000 fans around the country as part of the PlayStation E3 Experience in movie theaters. It was amazing to see fans line up all across America to experience the news and announcements live with others in the community.
This year I'm happy to announce that the PlayStation E3 Experience will return on Monday, June 15. Due to the quick sell-outs in 2014, we will be staging it in significantly more theaters — and yes, it will still be free. Last year tickets in most markets sold out in 15 minutes or less, so for 2015 we are increasing the number of theaters by more than 150%, with at least one theater in every state across the US — including Hawaii and Alaska — plus 3 cities in Canada.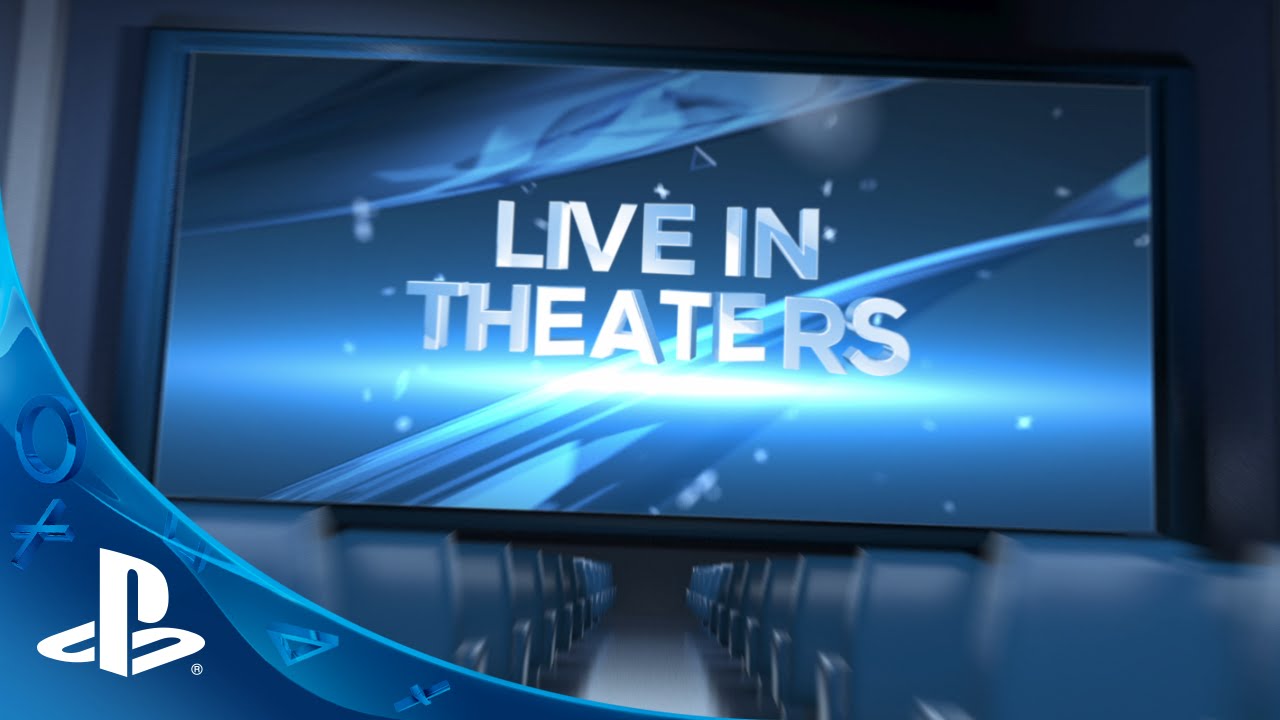 You and fellow members of the PlayStation community will get to see the full PlayStation E3 press conference in HD on the big screen, plus there are special bonuses for those who come out to the theater experience. I'll be hosting an exclusive 30-minute in-theater post show with extended footage and interviews with developers, and everyone who attends will take home a PlayStation surprise, which will consist of PlayStation goods and digital codes we can't disclose yet. (Last year attendees received early access to the Destiny Alpha and Battlefield: Hardline beta, along with a great poster and VIP laminate).
To make it fair to everyone in the community, this year we are giving you advance notice of ticket sales. Free tickets will be made available on Wednesday, May 27 starting at 9:00 a.m. PT at playstation.com/e3experience. Eighty percent of theater capacity will be reserved for ticket holders, with 20% of the theater held for those on the wait list, who will be admitted on a first-come, first-served basis. We saw the big lines last year and want to make sure that everyone has a fair chance to be in the theater.
The PlayStation.Blog guys also tell me that their big PlayStation LiveCast show will be back again in a big way, kicking off with the PlayStation Press Conference on June 15th, starting at 5:45 p.m. Pacific Time. They'll have plenty of game demos, new trailers, and developer interviews over the next three days – and you'll be able to watch on your PS4 or PS3 using the Live Events Viewer app, too. Stay tuned for more details.
| Theatre Name | Address | City | State | Zip |
| --- | --- | --- | --- | --- |
| Anchorage 16 with XD | 301 E 36Th Ave | Anchorage | AK | 99503 |
| Trussville 16 | 5895 Trussville Crossings Pkwy | Birmingham | AL | 35235 |
| Colonel Glenn 18 with Xtreme | 18 Colonel Glenn Plaza Dr | Little Rock | AR | 72210 |
| Ahwatukee 24 | 4915 E Ray Rd | Phoenix | AZ | 85044 |
| Park Place 20 with XD | 5870 E Broadway Blvd | Tucson | AZ | 85711 |
| Century City 15 with IMAX | 10250 Santa Monica Blvd | Los Angeles | CA | 90067 |
| Mission Valley 20 with IMAX | 1640 Camino Del Rio N | San Diego | CA | 92108 |
| Century 9 San Francisco Centre with XD | 835 Market St | San Francisco | CA | 94103 |
| Pavilions 15 | 500 16Th St Ste 310 | Denver | CO | 80202 |
| Brass Mill 12 | 495 Union St | Waterbury | CT | 06706 |
| Mazza Gallerie 7 | 5300 Wisconsin Ave Nw | Washington | DC | 20015 |
| Brandywine Town Center 16 | 3300 Brandywine Pkwy | Wilmington | DE | 19803 |
| Sawgrass Stadium 23 with IMAX | 2600 Nw 136Th Ave | Fort Lauderdale | FL | 33323 |
| The Avenues Stadium 20 | 9525 Philips Hwy | Jacksonville | FL | 32256 |
| Sunset Place 24 with IMAX | 5701 Sunset Dr | Miami | FL | 33143 |
| Waterford Lakes Stadium 20 with IMAX | 541 N Alafaya Trl | Orlando | FL | 32828 |
| Hollywood 24 @ North I-85 | 3265 Northeast Expy Ne | Atlanta | GA | 30341 |
| Dole Cannery 18 with IMAX | 753B Iwilei Rd | Honolulu | HI | 96817 |
| Davenport 18 with IMAX | 3601 E 53Rd St | Davenport | IA | 52807 |
| Boise Stadium 22 with IMAX | 7701 W Overland Rd | Boise | ID | 83709 |
| River East 21 | 322 E Illinois St | Chicago | IL | 60611 |
| Galaxy 14 | 8105 E 96Th St | Indianapolis | IN | 46256 |
| Hollywood Stadium 14 Topeka | 6200 Sw 6Th Ave | Topeka | KS | 66615 |
| Tinseltown Louisville | 4400 Towne Center Dr | Louisville | KY | 40241 |
| Elmwood Palace 20 with IMAX | 1200 Elmwood Park Blvd | Harahan | LA | 70123 |
| Fenway 13 with RPX | 201 Brookline Ave | Boston | MA | 02215 |
| Lowell Showcase Cinemas | 32 Reiss Ave | Lowell | MA | 01851 |
| Rockville Center 13 | 199 E Montgomery Ave | Rockville | MD | 20850 |
| Cinemagic Grand | 333 Clarks Pond Parkway | South Portland | ME | 04106 |
| Celebration Cinema Grand Rapids N IMAX | 2121 Celebration Dr Ne | Grand Rapids | MI | 49525 |
| Brooklyn Center 20 | 6420 Camden Ave N | Minneapolis | MN | 55430 |
| Kansas City 18 Cinemas | 3200 Ameristar Dr | Kansas City | MO | 64161 |
| Cinemark 16 Gulfport | 15171 Community Rd | Gulfport | MS | 39503 |
| Gallatin Valley Cinemas 11 | 2825 W Main St Ste A2 | Bozeman | MT | 59718 |
| Stonecrest 22 @ Piper Glen with IMAX | 7824 Rea Rd | Charlotte | NC | 28277 |
| Brier Creek Stadium 14 | 8611 Brier Creek Pkwy | Raleigh | NC | 27617 |
| Century 10 Theatre | 3931 9Th Ave S | Fargo | ND | 58103 |
| Oakview 24 with IMAX | 3555 S 140Th Plz | Omaha | NE | 68144 |
| Cinemagic in Merrimack | 11 Executive Park Dr | Merrimack | NH | 03054 |
| Seacourt 10 | 635 Bay Ave | Toms River | NJ | 08753 |
| Hamilton 24 with IMAX | 325 Sloan Ave | Trenton | NJ | 08619 |
| Cottonwood 16 | 10000 Coors Byp Nw | Albuquerque | NM | 87114 |
| Village Square 18 | 9400 W Sahara Ave | Las Vegas | NV | 89117 |
| Transit Center Stadium 19 with IMAX | 6707 Transit Rd | Buffalo | NY | 14221 |
| Union Square Stadium 14 | 850 Broadway | New York | NY | 10003 |
| Empire 25 with IMAX | 234 W 42Nd St | New York | NY | 10036 |
| Oakley Station | 3025 Disney Street | Cincinnati | OH | 45209 |
| Georgesville Stadium 16 | 1800 Georgesville Square Dr | Columbus | OH | 43228 |
| Tinseltown USA | 6001 N Martin Luther King Ave | Oklahoma City | OK | 73111 |
| Century 16 Eastport | 4040 SE 82nd Ave | Portland | OR | 97266 |
| Riverview Plaza | 1400 S Columbus Blvd | Philadelphia | PA | 19147 |
| Cinemark Robinson Township with XD | 2100 Settlers Ridge Center Dr | Pittsburgh | PA | 15205 |
| Warwick Showcase Cinemas | 1200 Quaker Ln | East Greenwich | RI | 02818 |
| Columbiana Grande Stadium 14 | 1250 Bower Pkwy | Columbia | SC | 29212 |
| Sioux Falls Stadium 14 | 2400 S Carolyn Ave | Sioux Falls | SD | 57106 |
| Opry Mills 21 with IMAX | 570 Opry Mills Dr | Nashville | TN | 37214 |
| Cinemark Southpark Meadows | 9900 S Interstate 35 Ste N | Austin | TX | 78748 |
| Northpark Center 15 with IMAX and ETX | 8687 N Central Expy Ste 3000 | Dallas | TX | 75225 |
| Houston Marq*E Stadium 22 plus IMAX | 7620 Katy Fwy | Houston | TX | 77024 |
| Cielo Vista 18 | 2828 Cinema Rdg | San Antonio | TX | 78238 |
| Salt Lake City 16 | 125 E 3300 S | Salt Lake City | UT | 84115 |
| Westchester Common 16 | 361 Perimeter Dr | Midlothian | VA | 23113 |
| Lynnhaven 18 with IMAX | 1001 Lynnhaven Mall Loop | Virginia Beach | VA | 23452 |
| Merrill Palace 9 | 10 Fayette Dr | South Burlington | VT | 05403 |
| Pacific Place 11 | 600 Pine St | Seattle | WA | 98101 |
| Palace Cinema – Sun Valley | 2830 Hoepker Rd | Sun Prairie | WI | 53590 |
| Morgantown Stadium 12 | 1001 Mountaineer Dr | Morgantown | WV | 26501 |
| Fox Theater 6 | 505 S 20Th St | Laramie | WY | 82070 |
| Scotiabank Theatre Montreal + IMAX | 977 Ste-Catherine West | Montreal | QC | H3B 4W3 |
| Cineplex Cinemas Yonge Dundas & VIP | 10 Dundas Street East | Toronto | ON | M5B 2G9 |
| Cineplex Odeon International Village | 88 West Pender Street | Vancouver | BC | V6B 6N9 |