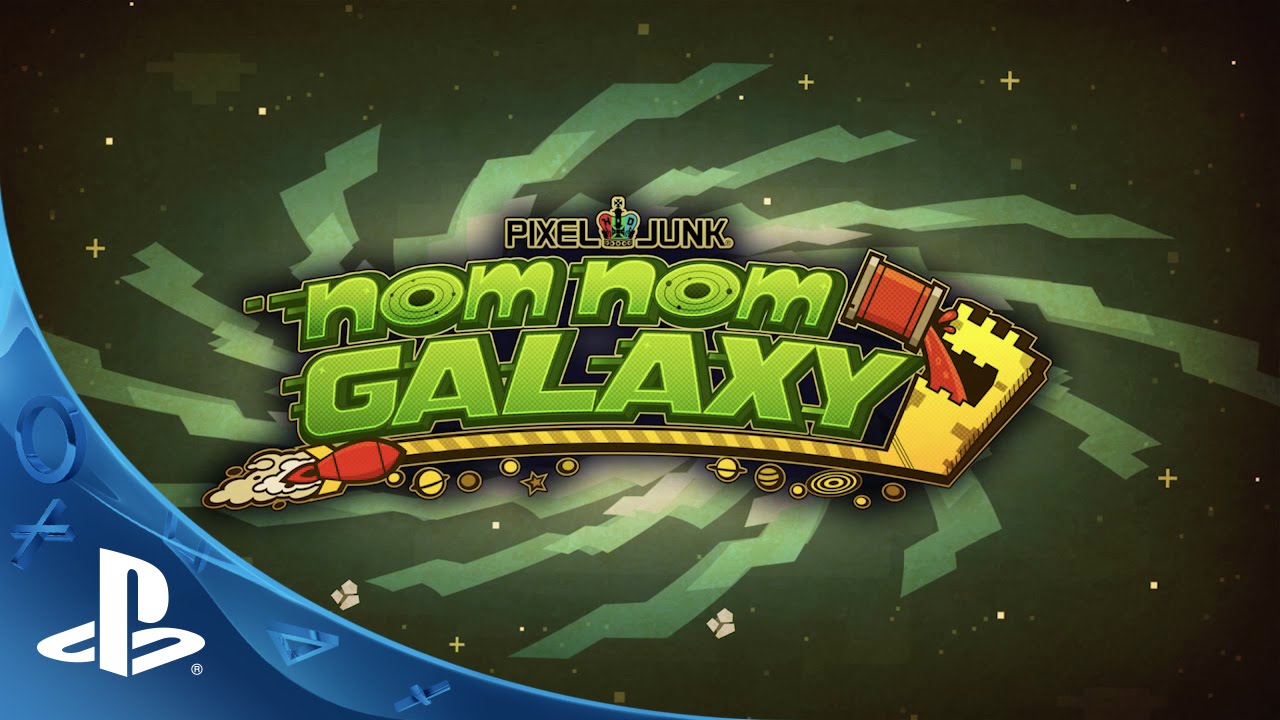 Hi everyone. I'm pleased to announce that following a collaboration with Q-Games, Nom Nom Galaxy is on its way to PS4 on May 12th!
The best way to describe Nom Nom Galaxy is "genre-blending," but at its core it's about creating enormous soup factories with your friends and shipping tasty soup into outer space!
Nom Nom Galaxy combines many themes of gameplay, with equal elements of classic platforming, mining, construction, resource management, and tower defence.
Here is an idea of what's to come…
Crash-land and Explore Remote, Living Worlds
Run, jump, swim and jet boost around vast, fully-destructible environments. Equip your astro-buzzsaw to terraform the planet as you decide where to build your soup factory-base.
Terrain can be lifted and moved manually, or exploded with dynamite robots to expand soup production anywhere on the planet. Unsupported land will collapse with gravity, water pools will drain, and pockets of oxygen will gradually expand.
Construct, Maintain, and Defend With Friends
Mineable resources in the ground provide the currency for constructing your factories, buying zero-gravity corridors, soup-making machines, and rockets.
As your factories start to ship soup, you'll earn the cash you need to expand and automate the exportation of soup with conveyor belts and robot workers.
Unlocking new robot types will allow for more complex loops, turning the production of soup into a giant "Rube Goldberg" machine.
You're not alone! As your factory's profits rise, rival soup corporations across the galaxy will fight for sales and interstellar soup-remacy. You'll have to sell soup faster, make it tastier, and defend your factory with robot guards, weapons, and turrets.
Nom Nom Galaxy allows for solo or two-player split-screen, as well as up to four player online co-op. Two friends on splitscreen can also join online players for a four-player game.
The Galaxy Needs Soup!
Each alien planet is alive with a variety of weird plants and wild animals that flourish in different conditions. You'll need to harvest and kill the native flora and fauna to create the galaxy's most delicious soup recipes, combining new flavors to discover which ingredients taste good together.
Re-plant and grow ingredients nearby for a regular food source, employ robot gardeners to harvest for you, or team up with friends to take down nests and huge beasts.
Galactic Challenges
Travel to the Challenge Galaxy to put your skills to the test in fun, asynchronous challenges against friends and gamers around the world. Challenges incorporate existing mechanics on new levels where you'll race, swim, pogo, fight and ship soup to earn medals and global bragging rights.
Solo and split-screen Challenges last a couple of days, allowing players to replay, protect their position, beat friends, and secure rewards. After that, new challenges on different planets will auto-generate for players to take part in.
This loop continues, providing a long-term competitive and social component to Nom Nom Galaxy, as well as opportunities for players to earn rewards and unique character abilities to carry back into the campaign.