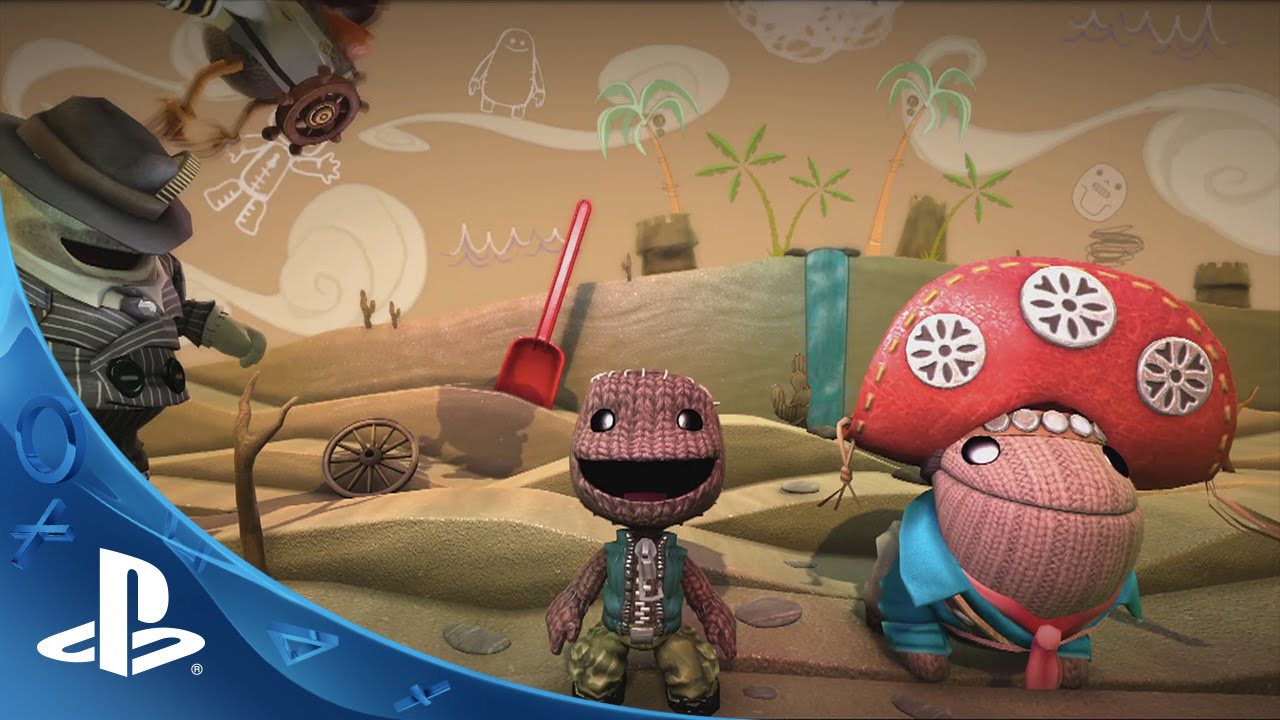 It's finally time to begin your brand new LittleBigPlanet adventure! Sackboy, OddSock, Toggle and Swoop are all here and it's time to expand LittleBigPlanet in brand new and more exciting ways than ever before… including our official launch trailer crafted with the help of our awesome community!
Launch Week DLC
LittleBigPlanet 3 Rare T-Shirt
Anyone familiar with previous LittleBigPlanet titles will know that we like to celebrate the launch of a new title with the release of a new Rare T-Shirt for your Sackboy or Sackgirl to wear to show that they were there for the launch of the new title.
This time though, we have some new characters and it just would not be fair to leave them out…
So whatever are we supposed to do with our tradition of releasing a new Rare T-Shirt? Hmm…
What do you think? Does our LittleBigPlanet 3 Rare T-Shirt make for a good fit for our band of heroes?
FREE Launch Spacesuit Costume Pack
Oh yes! Not only do we have our new Rare T-Shirt for our heroes to collect, we've also given our classic Launch Spacesuit a proper LittleBigPlanet 3 twist and added a set of special spacesuits designed specifically for OddSock, Toggle and Swoop!
Both the LittleBigPlanet 3 "1 Size Fits All" Rare T-Shirt and the free Launch Spacesuit Costume Pack will be available on the PlayStation Store for One Week Only. So if you want to add these very rare items to your collection, make sure you don't miss out on picking them up this week!
Dragon Age: Inquisition DLC
Our Dragon Age: Inquisition Costume Pack will give Sackboy and his Friends some truly adventurous costumes to wear during their quest in Bunkum to stop the dastardly Newton!
If you're a big fan of Dragon Age though, we also have an additional Dragon Age Mini Pack available now containing a couple of costumes based on Blackwall and Morrigan.
All of these costumes are now available to purchase on the PlayStation Store for LittleBigPlanet 3 on both PlayStation 3 and PlayStation 4.
Things to Try in Week One!
LittleBigPlanet 3: Best of the Beta
After you have reached your Pod, you are able to begin browsing all of the wonderful creations that the community has created so far. This includes over 9 million levels that the community created previously in LittleBigPlanet and LittleBigPlanet 2!
If you're looking for some community levels featuring the latest bells and whistles from LittleBigPlanet 3, head on over to the Team Picks to sample these very special levels created in the LittleBigPlanet 3 Beta:
[LBP3SC] Burn Box by rialrees
Tower of Swoop! By Breezy-The-Pro
Sackboy in love (Full Beta movie) by kaiju_kid
[LBP3SC] Cursory Coppice by deadmn
Steamed 2 [MINIGAME] by cyclist67
Don't forget to check out the Team Picks regularly, this is where we feature some of our absolute favourite creations created by the community, so you're sure to have a blast playing them! Who knows? If you have a talent for creation, you may even be featured there yourself someday!
Create Your Own In-Game Trailer
After checking out our first batch of Team Picks, you may be asking yourself how to add one of those awesome video trailers to your own level!
This is all thanks to PlayStation 4's awesome Share functionality that you can activate at any time by double-tapping the Share button on your DualShock controller. Try having a run-around in your level for up to 30 seconds and then tapping the Share button again.
Just click on Upload Video Clip on the next screen and you will have added your very first LittleBigPlanet 3 Share video to your library. To add this video to your level as a trailer, you can head on over to your Moon and just click the box under "Trailer" to upload your video.
If you're feeling really creative, you can even head in to Sharefactory and splice together your own unique trailer of up to 30 seconds using multiple video clips to really highlight the action of your level!