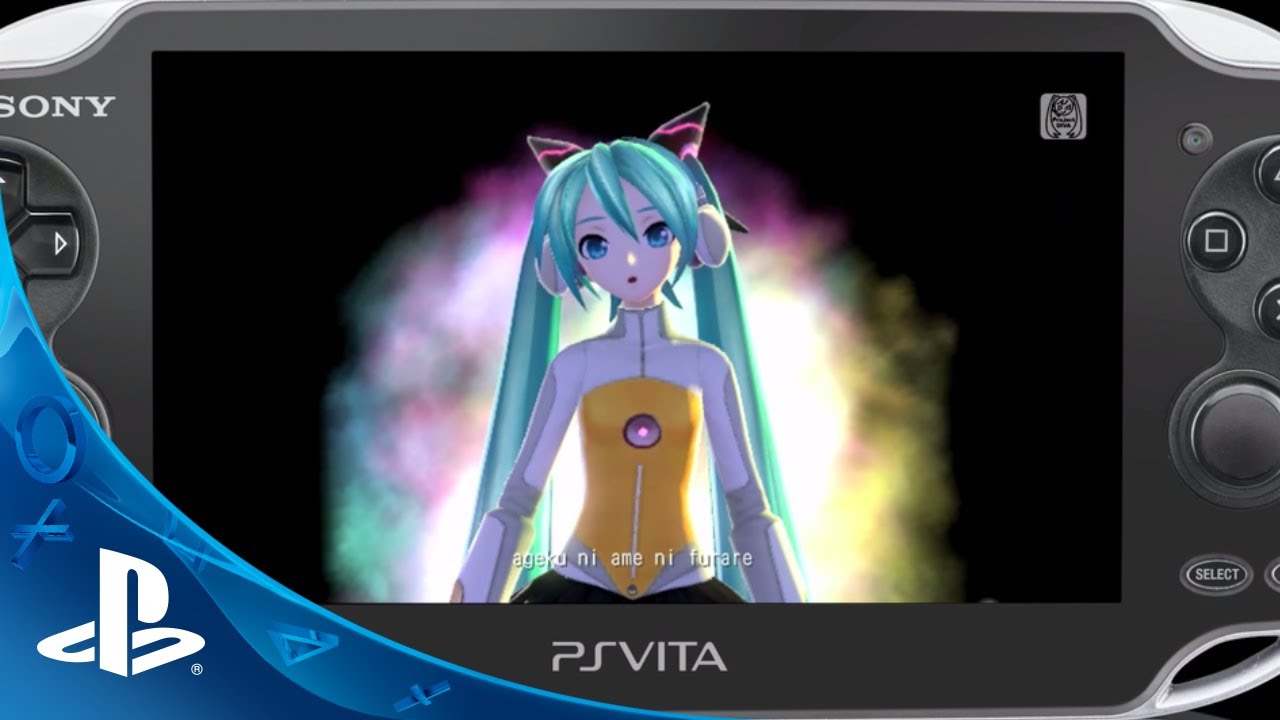 PS Vita owners, rejoice! The big day is finally here, and Hatsune Miku: Project Diva f is available today for download on PlayStation Store for PS Vita in North America!
The game releases on PSN today for $29.99, and for all you European readers, it will be available next week on March 12th in Europe! If you've never heard of this game before, here are the basics: Take the world's most popular digital singer, add in over 30 of her most beloved songs, turn it all into a super-addictive rhythm game, and you've got Hatsune Miku: Project Diva f. We released the game last August on PS3, and following huge support from fans, we're so excited to finally bring you all the PS Vita version of the game today!
We're also very excited to announce our DLC Cross-Buy promotion, effective immediately for anyone who owns the Snow Miku 2013 DLC or the Extra Characters Pack DLC for the PS3 version of the game. If you already own this DLC content, you'll unlock it for free when you pick up the PS Vita version of the game! (And vice versa, if you pick it up for PS Vita first.)
Hatsune Miku: Project Diva f also comes with a built-in video editor mode, aptly titled "Edit Mode" – here, you can build your very own rhythm game tracks and music videos with all the in-game tools at your disposal! PS Vita owners will also be able to share and download their Edit Data with PS3 users!
Some of you were wondering if we'd bring out the Extra Songs Pack in the West – and we're happy to confirm not only that it's available today, but that we'll be releasing it for only $9.99! We lowered the price on this compared to the Japanese release, because we wanted to ensure that PS Vita owners weren't paying any more for the full Project Diva experience than their PS3 brethren. We hope you all will enjoy it!
This pack includes the songs below, with four difficulties for each:
Tell Your World (By livetune)
Tokyo Teddy Bear (By Neru)
Dream-Eating Monochrome Baku (By Nem)
Sweet Devil (By Hachioji P)
Rin-Chan Now! (By Owata P & sezu)
Senbonzakura (By Kurousa P (White Flame) )
Thank you all so much for helping this Miku dream of ours come true. You've been nothing but supportive from the first day we asked for your likes and shares on our Facebook post, and since then, we've come all the way to the launch of Project Diva, not just on PS3, but finally today, on PS Vita, too.
It's a journey we're so humbled to have made, and so thankful to have traveled with all of you behind us and supporting us.
Happy Miku Vita Launch Day, everyone, and thank you, once more!