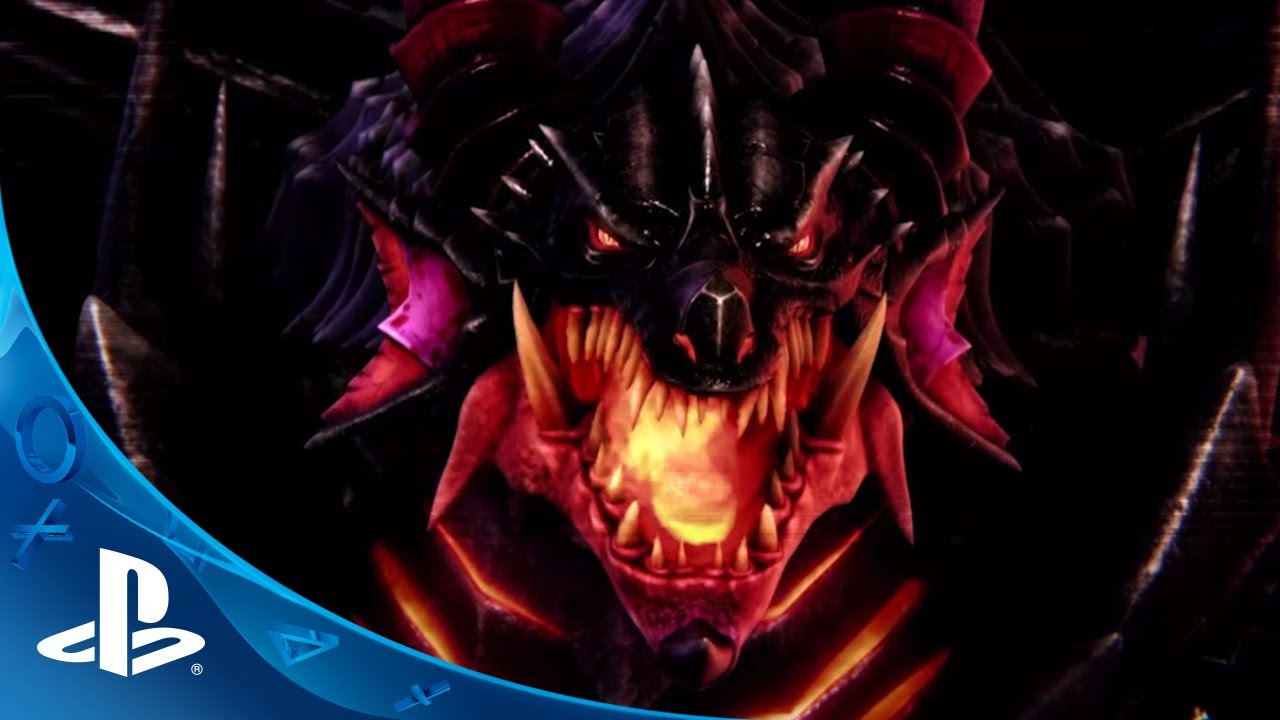 As I write this, we're putting the finishing touches on Ragnarok Odyssey ACE, a revised and expanded version of the original Ragnarok Odyssey set to launch on April 1st on PS3 and PS Vita. Now that we're just about done, we can go into more detail about what's in the game, and what newcomers and returning Ragnarok Odyssey veterans can expect.
Initially designed for play on the go, Ragnarok Odyssey gets players into the action as fast as possible, either solo or with up to three companions. Players complete a variety of missions in a Norse-themed wildland, collecting treasures, components and ingredients along the way. In between missions, players can roam their home base – a fortress on the edge of the civilized world – and assemble their loot into new upgrades and abilities. The game's highlights are its battles against enormous bosses, in which players use their gravity-defying powers to fly circles around the giants and take them apart piece by piece.
ACE takes the original Odyssey's core gameplay and expands on it dramatically. The first chapter alone introduces a buffet of new features, and the game's former ending is now its midpoint. The first new features are right there in the character creation screen, which now offers even more options for customization (including eight brand-new voices, four each for male and female). For solo players, ACE offers a dozen elite AI mercenaries, any two of whom the player can recruit for a given mission (and one of whom happens to sound a lot like me). For multiplayer, each class has several new job-specific powers, called ACE Skills, which enhance characters' roles as team players. Clerics, for example, can now generate a persistent, movable healing aura. (Speaking of multiplayer, ACE supports cross-play; PS3 and Vita players can play together at will, with no extra steps required.) ACE also introduces a new special weapon type, known as Halomonas weapons, which grow in power as the characters do.
But that's just the beginning. Once players complete Chapter 9 – which was the endgame of the original Ragnarok Odyssey – a vast new dungeon appears, complete with its own story, all-new bosses, and new kinds of challenges. All told, the new Tower of Yggdrasil has 400 floors (not 100 as previously reported – more on that in a bit), each of which changes its layout with every visit.
(One other correction: In our previous blog entry on ACE, we reported that there was new story content throughout the game. There are new characters and dialogue sequences, and plenty of new content throughout the game, but the bulk of the new story content kicks in once the Tower shows up. Apologies for misleading anyone on that; we were still putting the game together at the time, going by the best info we had, and didn't fully see how it all fit until later. We're older and wiser now.)
In addition to the major new features above, returning players can enjoy a variety of enhancements that make Ragnarok Odyssey more convenient to play. ACE's tavern (which, as before, functions as its multiplayer hub) now includes a set of old-timey speaking tubes, through which the player can buy and sell from the fort's merchants without having to leave and come back. Several new control schemes allow the player to lock on, dash, and maneuver as he or she sees fit. Another new feature is the Billionaire Pot, a magical urn that converts old junky loot into fresh new goods. And, Thor's name be praised, the benefits of weapon refining are no longer random.
That's not even getting into the upcoming content patches, two of which have been released in Japan and will both be coming stateside soon. These patches introduce even more new features, including special daily quests, random card draws, login bonuses, leaderboards, additional ACE skills, and (in the second content patch, which may arrive in the States at the same time as the first) a new boss rush mode in a new area called the Prison of the Gods.
Of course, all of that leaves one key question: What about players who already have the original Ragnarok Odyssey? Returning players can import their characters from the original game – to either the PS Vita or the PS3 version of ACE, after which the characters can migrate between both – and have the characters' name, appearance, and cards transfer over. (Be sure to unequip any cards from your outfit before you initiate the transfer, as cards equipped on outfits do not transfer over, nor do the outfits or weapons themselves). Story-wise, new and returning characters alike take it from the top, though returning characters are likely to blaze through the early game quickly, with all the new content to enjoy while they're at it. And, to answer one of the most popular questions, Trophies earned in the original game stay in the original game. The good news is many of the Trophies are new, and most of the not-new ones are the kind you won't have to go out of your way for.
With its cross-play, saved game importing, content patching, and other bells and whistles we can't go into detail about just yet, Ragnarok Odyssey ACE has been an interesting technical challenge for all of us here at XSEED and at its developer, GungHo. We hope you enjoy the results, which will come flying at you April 1st on PS3 and Vita. The PS3 version will retail on PlayStation Store and on brick-and-mortar shelves for $39.99. The Vita version comes in two varieties: A physical limited edition, featuring a soundtrack CD (with 25 total tracks from various artists, including Nobuo Uematsu) for $39.99, and a digital edition, without the soundtrack, for $34.99.
Have more questions about Ragnarok Odyssey ACE? Let us know in the comments!