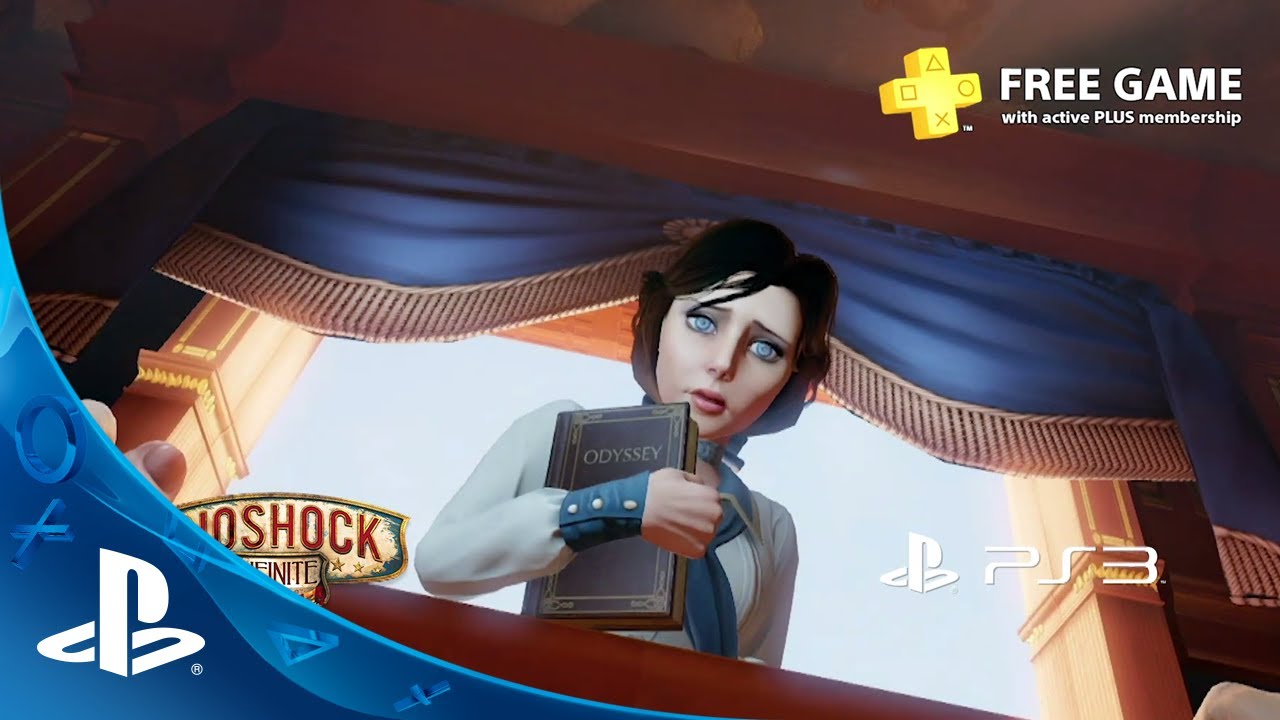 It's almost time for the New Year, and we're ready to kick-off 2014 in a big way. January's Instant Game Collection will offer PlayStation Plus members loads of amazing titles, starting off with a new PlayStation 4 title — Don't Starve. A wilderness survival game wrapped in a cute art style, you'll take control of a Gentleman Scientist trying to make his way home from a mysterious place. Be warned – this is one of those games where you'll die a lot, but if you ever get frustrated, just look at how cute your buddy Chester is and I'm sure everything will be okay.
For PlayStation 3 owners, you'll be able to download three critically acclaimed games – DMC Devil May Cry, BioShock Infinite and Brothers: A Tale of Two Sons. DMC Devil May Cry is a reboot of the beloved franchise, and while Dante may have received a haircut and a new backstory, his weapons and fighting style should be fairly familiar to fans.
Become a PlayStation Plus member
Created by the same folks who brought us BioShock, BioShock Infinite has received multiple Game of the Year nominations. This isn't your average first-person shooter, you'll gather vigors throughout your journey that will fling your enemies sky-high or unleash a horde of birds to peck at your foes.
Brothers: A Tale of Two Sons tugs at your heartstrings as you take control of two brothers (who would've guessed?), trying to cure their ailing father. You'll be handling the sons with each analog stick, so once you get the hang of controlling two characters at once, you'll need to solve various puzzles in order to save the day.
This month PlayStation Vita owners will be able to download Worms: Battle Island and Smart As. Worms: Battle Island stays true to the classic Worms formula of charming turn-based strategy gameplay. You can customize your wormy soldiers and use crazy weapons to take out the opposition.
Finally, Smart As will become your brain's new best friend. Run through a series of mind-boggling challenges, and see where you stack up against your friends and other people in the world on the leaderboards. If you practice every day, maybe one day you'll hit the top.
We're also trying something new this month – we've created a video preview highlighting all of the titles you'll receive as a Plus member, so give it a look and let me know what you think in the comments below!
January PlayStation Plus Preview
Free for PS Plus members
Don't Starve: Console Edition is an uncompromising wilderness survival game full of science and magic. You play as Wilson, an intrepid Gentleman Scientist who has been trapped by a demon and transported to a mysterious wilderness world. Wilson must learn to exploit his environment and its inhabitants if he ever hopes to escape and find his way back home.
Free for PS Plus members
In a society corrupted by demons only The Order can see the world for what it really is. Join Dante in the ultimate experience of stylish action chain together combo after combo with panache and dispatch demonic spawn back to hell – reveal the truth behind the lies. Explore Dante's dark past encountering some the most familiar faces in the DmC universe. Call upon unimaginable powers combined with Dante's epic arsenal of weapons: sword, scyte, axe,
pistols and more. Face your demons…
"As a character action game, it hits all the notes — fast, robust action, marvelous visual style, and a tremendous sense of attitude" – Giant Bomb: 5/5 Stars
Free for PS Plus members
Indebted to the wrong people and with his life on the line, veteran of the U.S. Cavalry and hired gun Booker DeWitt has only one opportunity to wipe his slate clean. He must rescue Elizabeth, a mysterious girl imprisoned since childhood and locked up in the flying city of Columbia. Forced to trust one another, Booker and Elizabeth form a powerful bond during their daring escape. Together, they learn to harness an expanding arsenal of weapons and abilities, as they fight on zeppelins in the clouds, along high-speed Sky-Lines, and down in the streets of Columbia, all while surviving the threats of the sky-city and uncovering its dark secret.
BioShock Infinite is a brilliant shooter that nudges the entire genre forward" – IGN: 9.4/10
Free for PS Plus members
Share in the epic journey of two brothers, as they set out to find a cure for their dying father. Travel across beautiful vistas, through dark and foreboding forests, down perilous rivers, up hazardous mountain sides and experience the wonders of Nordic mythology along the way. Use the unique control system to control each brother with a thumb stick, for concurrent gameplay throughout the adventure. Use both brothers cooperatively to solve puzzles, explore the environments and in boss encounters.
"It's a powerful venture that isn't necessarily about where you began or where you end up; it's about everything that happened in between." – Destructoid" 8/10
Free for PS Plus members
Battle up to three other players offline or online on one of six landscape themes, using one of forty classic Worms weapons or some of your own creation in the weapons factory. With sixty single player challenges, five game modes, a powerful level editor and a massive selection of ways to personalize your worm army and customize your game experience, it's a package sky-high on entertainment!
Free for PS Plus members
Join the brain gaming revolution! Use cutting-edge touch, tilt and camera controls to prove how smart you are in the first ever socially networked brain game on PS Vita. Solve math, memory, logic and word puzzles, crack augmented reality challenges and sharpen your rapid-fire reflexes to storm up the online leaderboards and show off your scores to the world via Facebook and Twitter.
If you've got feedback on PlayStation Plus make sure you take the poll above as well as leave a comment below. To chat about all things PlayStation, including this update, you can head over to the PlayStation Community Forums. You'll also find other topics you can contribute your thoughts to, or you can start your own discussion.