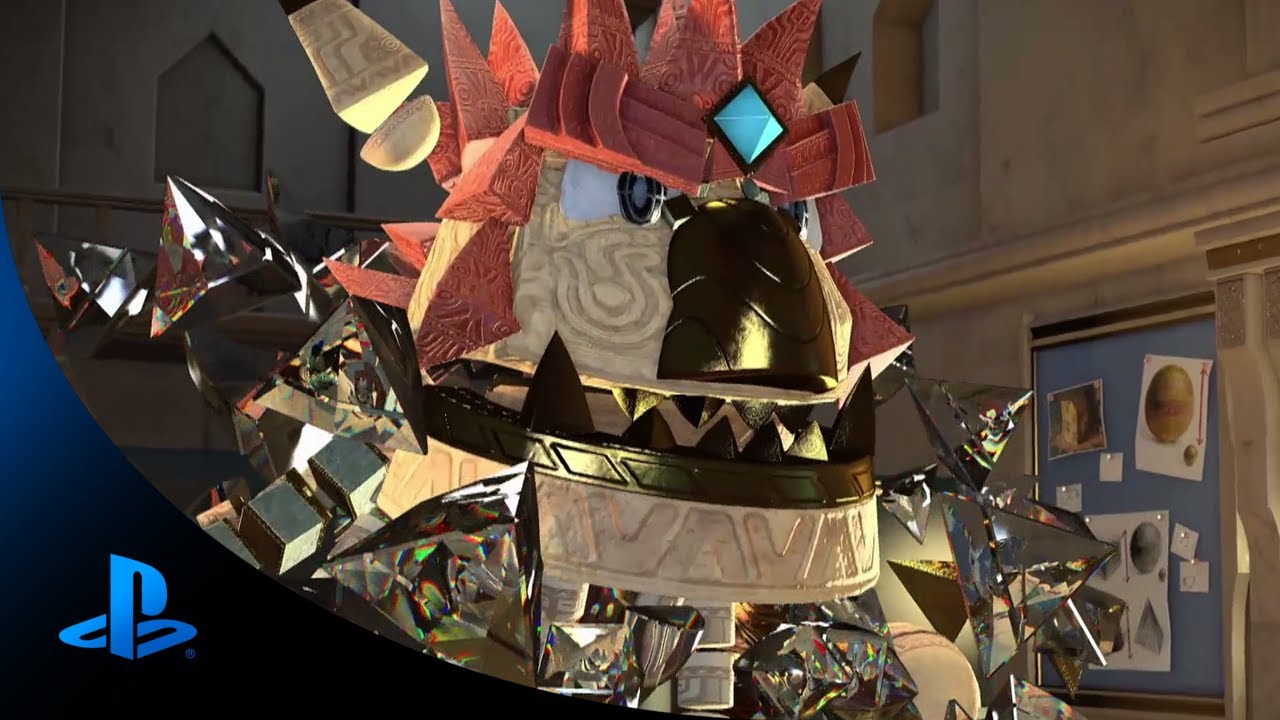 Today PlayStation 4 launches; you might say that "next gen" has officially become "current gen"! Game creators have been hard at work, and I think game players have a lot to look forward to.
One of the launch titles is of course Knack, the game that I and the internal Japan Studio have been hard at work on for the last three and a half years. I love character action games, and over the years I've helped create a number of them, including Crash Bandicoot on the original PlayStation, and Jak and Daxter and Ratchet & Clank on PS2.
Our goal on this project was to bring back that kind of classic gameplay, but with a next-gen twist. Knack has the ability to pick up pieces of the environment and grow larger, so over the course of a level he can grow from a three foot tall "mascot" type character to a thirty foot tall rampaging monster. This is a kind of gameplay I'd never tried to create before, it gives a very unique feel from the game. We've also focused on the narrative that drives the action – there is a full CGI film worth of story embedded in the game.
We've kept two types of players in mind while creating Knack. One is hardcore players who like the old school challenge present in Crash Bandicoot and the like – those were tough games, and even on a Normal difficulty setting Knack will definitely keep you on your toes.
The other type of player we had in mind was light or beginner players. As lead system architect for PlayStation 4 I knew there that the launch lineup would include Assassin's Creed: Black Flag, Killzone Shadow Fall, Call of Duty: Ghosts, Battlefield 4 and other amazing AAA titles for the core gamer, but I wanted to be sure there would be something for the rest of the family – sons, daughters, spouses and the like. So on an Easy difficulty setting, Knack is a game that pretty much anyone can play. It can even be someone's very first video game ever!
We've also added in style of local co-op play where an experienced gamer can help that beginner get up to speed – just pick up a second controller and play as Robo Knack. You can fight side by side with Knack, clear out enemies together, and if you build your strength far enough you can even heal Knack when he gets into trouble.
Another goal we had with Knack was to bring connected gaming to the character action genre. Scattered throughout the game are secret rooms with treasure chests – these hold parts of gadgets that can help Knack in his quest, as well as rare crystal relics. As you find these rooms and open the chests, you'll be able to see items your friends have found there as well, and choose which item you want as your reward. As a result, the more friends you have playing the game, the faster Knack can gain his special abilities!
We've also worked to push the boundaries of play past the living room – we created Knack's Quest, a free "match 3" puzzle game for iOS. An Android version will be coming soon. By playing this game on your smartphone or tablet, you can pick up these same gadget parts and crystal relics, and send them over via your PSN account for Knack to use in the PS4 title. You can work on unlocking items when you're away from the console, or even enlist the help of someone else to do it for you.
That's all for now! You can pick up Knack at your local retailer, or buy the digital version right from your PS4. We've been counting down the days until PS4 launches and the gaming world can see what we've been working on – really hope you enjoy it!