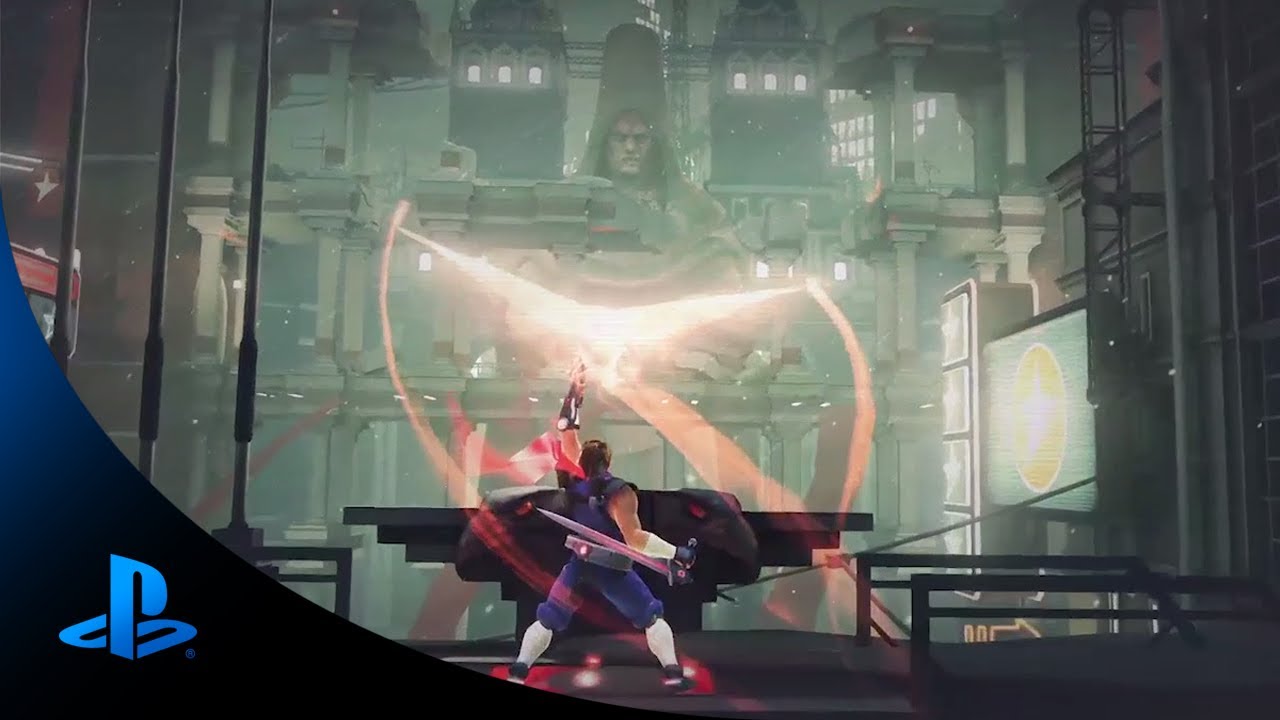 Amidst a flurry of snow and the lazy trundle of passing airships, Strider Hiryu blazes across the screen, cutting down any and all that stand in his way. This classic ninja hero returns in Strider, a rebirth of the side-scrolling classic made famous in late '80s arcades. The new Strider, which launches in early 2014 for PS3 and PS4, enhances the fast-paced spectacle of the original with HD visuals, while preserving the frantic combat and momentum that long-time fans will fondly remember.
Set in a dark and oppressed future, the world suffers under the tyranny of Grand Master Meio, the complete ruler of the planet. Players control Strider Hiryu, along with his indestructible Cypher weapon, in order to terminate Meio and restore balance to Earth's governments. As the youngest Special-A Class recruit in the Strider program, Hiryu catapults into this mission, empowering players with a variety of eye-searing attacks.
Strider is a side-scrolling action platformer, set on one sprawling map. Similar to other RPG-influenced side scrollers, like Castlevania: Symphony of the Night, Hiryu advances through the campaign by defeating enemies, vanquishing bosses, and collecting new power-ups that enable you to further explore once-sealed secrets.
Despite its open-ended nature, Strider pushes players along at a breakneck pace, as Hiryu leaps and swings his Cypher about as fast as you can push the attack button. Enemy units fall to pieces in the face of Hiryu's weapon, and plowing through troops creates a satisfying rush that's almost as thrilling as the visual spectacle of it all.
The pace accelerates with the presence of a combo meter at the bottom of the screen, which builds as Hiryu dispatches his foes. Fill it, and Hiryu enters a rage state, improving his already devastating attacks.
As you advance in Strider, Hiryu learns new techniques to employ against Meio's forces, including a sliding dash and a reflect skill for his Cypher, which returns incoming fire towards enemy units. The Cypher will also feature elemental upgrades, like an explosive charge that sets Hiryu's unfortunate opponents ablaze.
Click here to see the full gallery
Of course, Strider wouldn't be complete without a few bosses to cut down to size. For example: climb up a mechanical serpent as it sails through the snowy air, dodging pulses of electricity and homing missiles. Nothing our trusty Strider Hiryu can't handle — and he looks good doing it!
Strider is launching early next year for PS3 and PS4 on PlayStation Store. Capcom is targeting full 1080p visuals and 60 frames per second for the PS4 version, which can only make Hiryu's high-speed mission all the better.