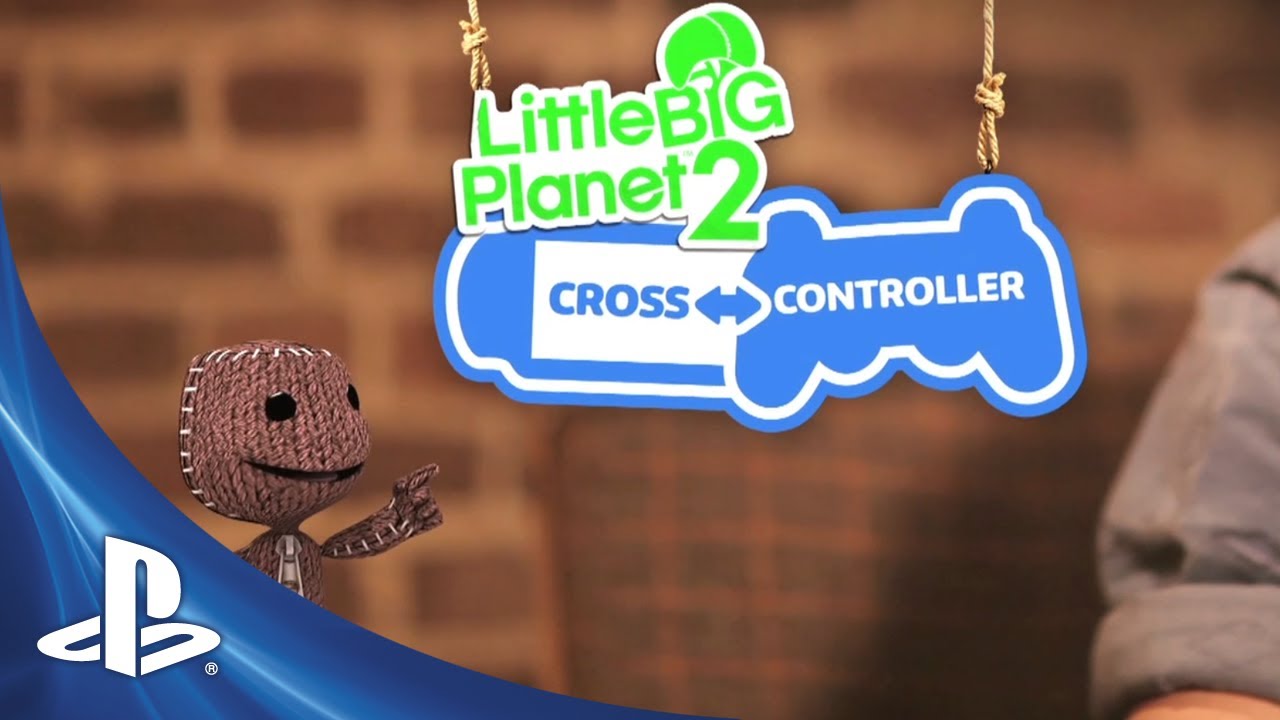 The wait is finally almost over: the LittleBigPlanet 2: Cross-Controller Pack is out today on PlayStation Store! This all-new pack will allow you to use your PS Vita as a controller on LittleBigPlanet 2 and play the game in a new and exciting way. Check out the new trailer for the LittleBigPlanet 2: Cross-Controller pack to see just what adventures Sackboy will be getting up to in this new pack!
Not only will you be able to play through Sackboy's grand new adventure, we'll also be giving you a brand new set of tools and other goodies to enable you to make your very own LittleBigPlanet 2: Cross-Controller levels!
What's in the LittleBigPlanet 2: Cross-Controller Pack?
Sackboy's latest adventure is chock full of a wonderful array of goodies that we know you all can't wait to hear to find out about, so here's a rundown of just what you'll be getting.
A Brand New Story – Our new theme will see Sackboy travelling across the Omniverse to discover the lost treasure!
Five Costumes – Sackboy will be fully kitted out for his new adventure with five brand new costumes! Don't forget about our Cross-Buy Costumes! If you purchase this pack, these costumes will also work on LittleBigPlanet PS Vita and will become available in LittleBigPlanet Karting in a future update!
Four New Tools – The Worm Hole, the Vitanator, the Remote Tag Sensor and the Tag Radar are all available to help you create your own Cross-Controller experience.
Creative Goodies – 26 Objects, 25 Materials, 74 Decorations, 148 Stickers, three Interactive Music Tracks and one Background are all waiting to be picked up by your Sackboy to add to their Popit to help fulfil their creative needs.
Five Tutorials – Finishing up the Cross-Controller Pack, we have five brand new tutorials all voiced by LittleBigPlanet's favourite narrator, Stephen Fry. These should really help you get to grips with the new tools and Sackboy's headfirst dive into Cross-Controller gameplay!
What is a Worm Hole?
The Worm Hole is Sackboy's brilliant new teleportation tool that will enable him to travel safely from one Worm Hole to another within the same level without fear of losing a life.
This handy new tool will even allow Sackboy to teleport from your PS3 to your PS Vita and vice-versa, should you want him to return home. The most intuitive and creative level designers will even be able to use the tool to remove Sackboy from gameplay and effectively lock him in a state of stasis whilst action is taking place elsewhere in the level…However we'll leave it up to you and Sackboy to discover just what potential his new Worm Hole discovery holds for LittleBigPlanet and the rest of the Omniverse!
Head into the Unexplored Cosmos Today
Sackboy has his brand new mission, so head on over to the Store today and you can pick up the LittleBigPlanet 2: Cross-Controller Pack, available for the PS3 for $4.99. Just a friendly reminder, you will need a PS3, PS Vita and a copy of LittleBigPlanet 2 for the new DLC pack. If you don't already have a copy of LBP 2, there are a couple of easy ways to pick up a copy at a really great value. It's currently a free PSN download for all PS Plus members, and starting today it will also be available for $13.99 as part of the Holiday Essentials Sale on PlayStation Store until December 24th.
Help Sackboy save the day in his new adventure and then use your newly collected goodies to create your own levels, we cannot wait to see just what kind of Cross-Controller adventures that our creative community can design!