Hello PS.Bloggites, today we're giving you something a little different! We are pleased to welcome ourselves — Jeff Green, Community Manager for PopCap Games and Neil Sorens, Zen Studios' Creative Director — to the show, as we dynamically tag-team this entry. We wanted to share with you a little bit about how Zen and PopCap worked together to create the Plants vs. Zombies Pinball table, releasing today right alongside Zen Pinball 2 for PlayStation 3 and PS Vita. Enough of us rambling though; take a look at the trailer.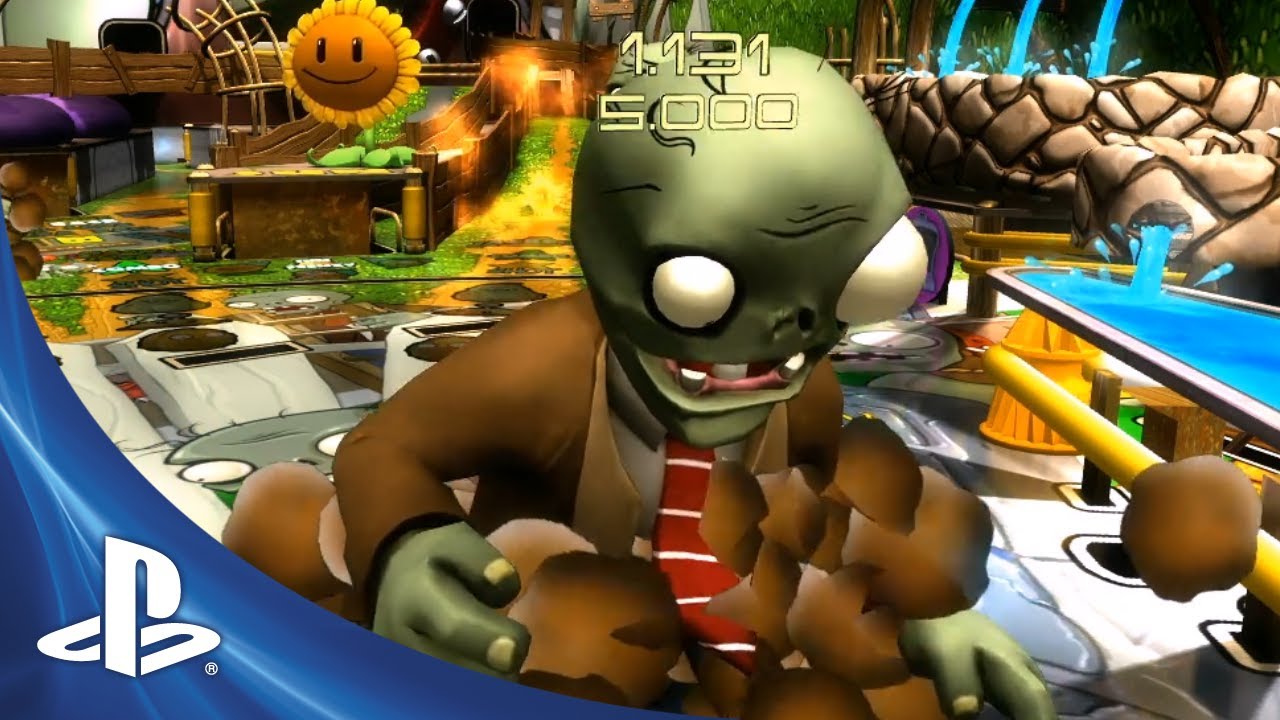 Jeff: The first thing you need to know about this Plants vs. Zombies table is that it is built out of authentic Plants vs. Zombies bits and pieces. We handed Zen Studios original game assets including art, sounds, objects, zombies, flowers, plants, defenses – ok, you get it – in a beautiful package of digital goodness. Zen took these and went to work designing another brilliant pinball table. We asked Crazy Dave for some wisdom to send along to Zen: "MMMMMM PINBALL".

Neil: When we first received all these assets, our excitement level went through the roof. We were beyond excited! The second thing that went through our mind: wait, Plants vs. Zombies is 2D, are there any 3D assets? Obviously, the answer was no. One of the first things we had to figure out was how to translate a very deliberate, slow-paced 2D game into a fast-paced, frantic pinball game with 3D interactive characters. The team went to work creating a bunch of 3D models for the zombies, plants, Melon Pults, and Crazy Dave's jalopy. We then had to figure out how to incorporate all of these into the table geometry. Luckily, we received tremendous help from the Plants, and Crazy Dave also turned out to be very supportive.
Jeff: When the Zen Studios team started sending us materials for approval, we were seriously impressed with how they were translating 2D to 3D. It was like Plants vs. Zombies was completely new again, totally remade for a brand new experience. The day playable code showed up, we were all lost in a "wow" moment. We about lost it when the "Going Nuts" mission started and fog came billowing in across the table, while zombies started marching toward the door step. That's when we knew the true spirit of Plants vs. Zombies had been successfully captured in this pinball creation.
This was the very first time PopCap has ever licensed out any of our game properties or worked with another developer on this level. Zen did a stellar job — the table turned out better than anyone could have expected.

Neil: It's been quite a good time working on pinball over the past few years. We have had the privilege and honor of working with some of the biggest names in entertainment, and some of the most creative people in the industry. Working with PopCap has certainly been an amazing experience, and it's really cool that our first project together will release today along with Zen Pinball 2. When I look at the game, I see the work of so many… not just Zen Studios people, but people at Tecmo, Capcom, Marvel, and now PopCap have contributed so much to this game.
We sincerely hope you enjoy the new Zen Pinball 2 platform and Plants vz. Zombies table. Don't forget, this is a Cross Buy game, so buy it once and get it on both PS3 and PS Vita! If you have any questions about Zen Pinball 2, check out the FAQ we have put together in the Zen Pinball 2 forum. We'll be here to answer your questions all day long!