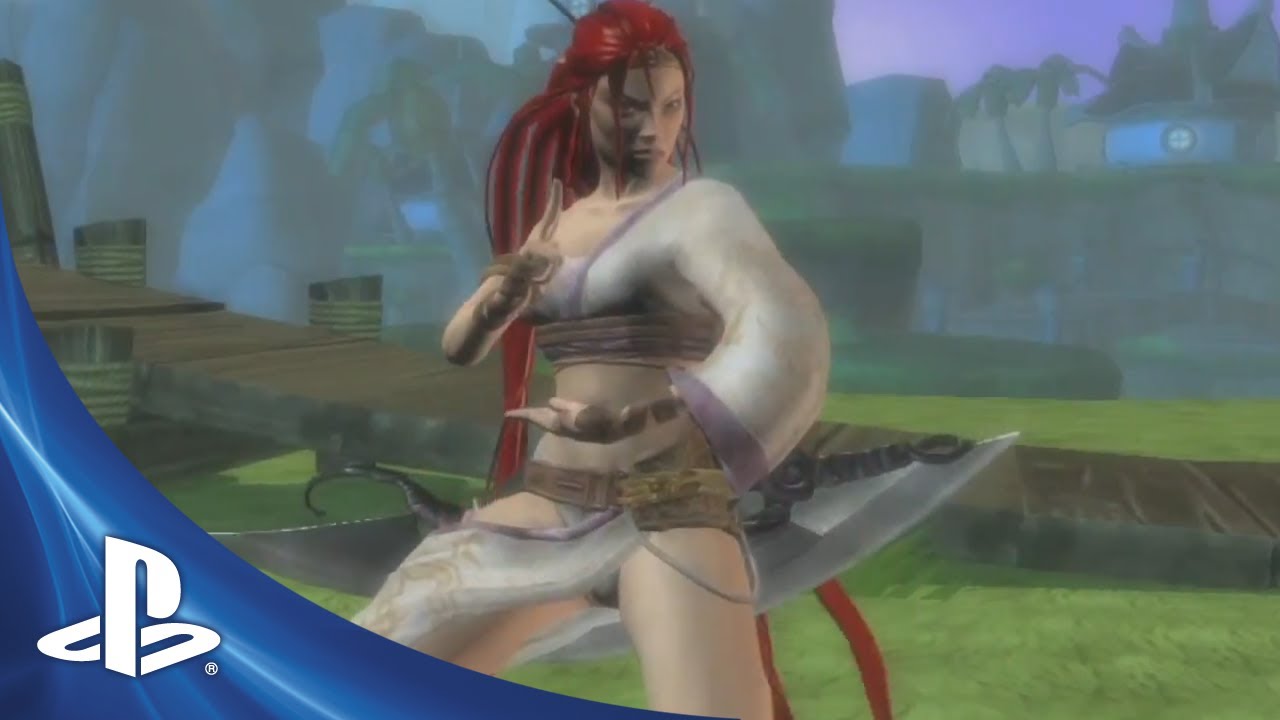 The doors to the PAX convention center are officially open here in Seattle. The show is now in full swing, and so are our character reveals! We already unveiled Evil Cole and Raiden this week, and now we have two more characters that we're announcing at the show today.
Heavenly Sword's Nariko has joined the cast of PlayStation All-Stars Battle Royale! Heavenly Sword's cinematic experience and engaging gameplay dazzled gamers in 2007, an experience we wish to re-create for those playing as Nariko in PlayStation All-Stars. Nariko has proven to be a strong female lead, and was a prime candidate for inclusion in the roster.
During Nariko's combo attacks, players can trigger different actions during key poses within her offense. This opens up defensive options such as dodging, jumping, or parrying mid-combo, or offensive options such as continued combo attacks or juggle starters. She also has several projectile attacks to harass opponents with from a distance. During her level 3 super, Nariko uses the full power of the Goddess to devastate the battlefield with attacks inspired from her Level 3 Super Style attacks from Heavenly Sword.
For all the old-school PlayStation fans out there, we've included Sir Daniel Fortesque in our roster! The older crowd might remember this skeletal knight from SCE Cambridge Studios' MediEvil series, widely regarded as a PlayStation classic and praised for its quirky style and fun gameplay. It's been 14 years since Sir Daniel's video game debut, and he's ready to shake the rust off his armor to do battle with the rest of the PlayStation All-Stars cast.
Sir Daniel is a crowd-control character who is able to build heavy amounts of AP while in the middle of the action. He brings several weapons to the battle including his axe, chicken drumstick, bow, and even his various skeletal appendages, all taken directly from the MediEvil series. He also has his trusty broadsword and shield, the latter which can be equipped during battle to absorb damage and strengthen his charge attacks. His super attacks are more magical in nature, summoning the power of his lightning orb, Golden Chalice, and even Zarok's Anubis Stone to KO opponents.
We invite you all to stop by the PlayStation booth over the next few days to go hands-on with all four of our new characters. They will all be playable at the booth for the very first time. We'll also have some cross-play PS3 / PS Vita matches happening, so you'll want to check those out as well! SuperBot's Creative Director, Omar Kendall, will be at PAX this weekend too, so if you see him around the show floor let him know what you think of the game! We always look forward to meeting you and hearing your feedback. Enjoy the show!