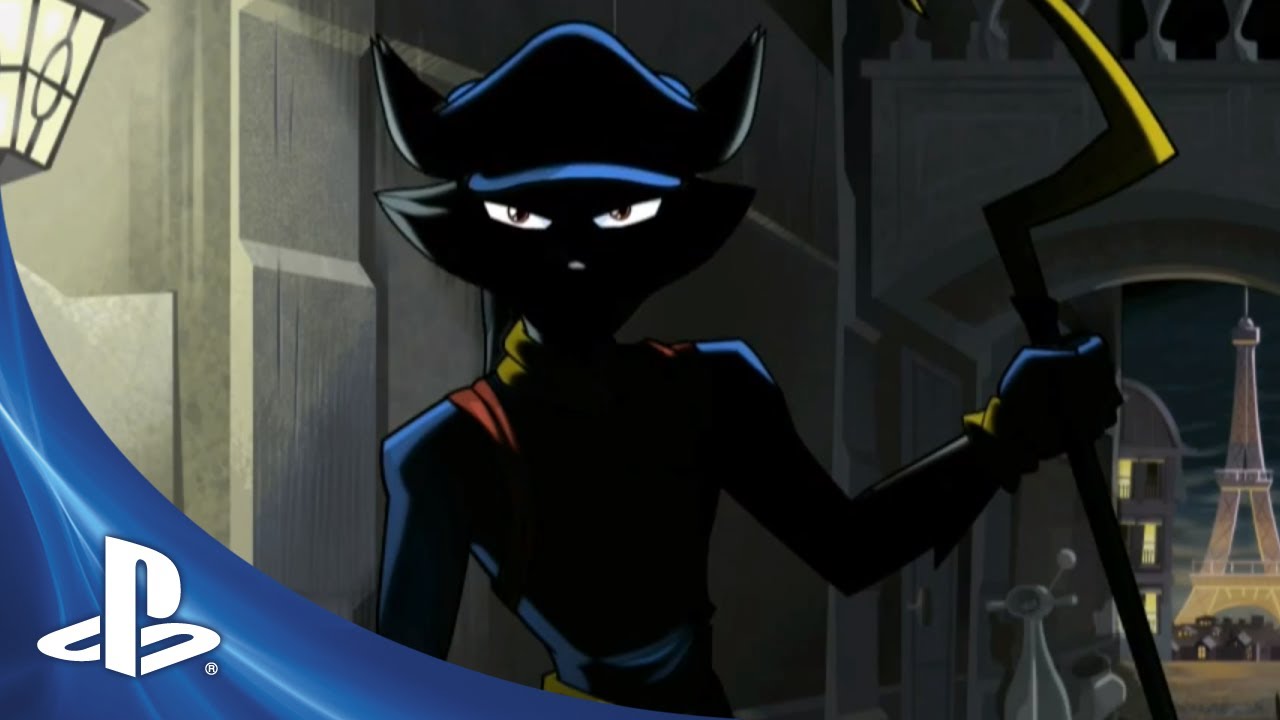 Hello from Germany! I'd like to talk about the cool stuff we're showing off at this year's Gamescom for Sly Cooper: Thieves in Time.
First and foremost, we'd like to introduce you to a new Cooper ancestor, Salim Al Kupar. You'll meet Salim as Sly travels back in time to the enchanted world of ancient Arabia – a land of magic genies, flying carpets and lost treasures. Sly quickly discovers that Salim is nearing retirement and looking forward to taking a little break from thievery, but recent events have put an end to those plans! Now Sly and the gang will need to goad the slightly recalcitrant Salim back into action as they work together to restore his legacy.
We're also giving you a look at a brand new mission in Arabia so you can see Salim in action. We find him on a quest to free one of the members of his band of thieves from a strange imprisonment. To do so, he must use his signature ability — the Cobra Climb. This technique allows him to rapidly ascend vertical ropes, chains or poles to quickly evade an attack. This comes in very handy as he makes his way through this snake-infested rug shop.
Something else that Salim puts to very good use in this mission is his own personal flying carpet! While Sly has the paraglider, Salim gets his own exclusive flying transport. The magic carpet gives Salim the ability to glide his way across gaps and evade his enemies with ease and Arabian style.
We are also showing off some unique cross-play features for Sly Cooper: Thieves in Time that will utilize both the PlayStation 3 and the PlayStaion Vita versions of the game. We've already talked about the cross-save feature, which will use cloud saving to transfer your game from one device to the other. Here at Gamescom, we're showcasing some pretty cool Augmented Reality features using the PS Vita system to help you collect some valuable items as you play through the PS3 version of the game.
While playing Sly Cooper: Thieves in Time on PS3, you'll need to recruit an assistant in your quest for collectibles, armed with a PlayStation Vita and the PS Vita version of the game. Following true Sly tradition, Thieves in Time is absolutely packed with stuff for players to collect as they tear their way across space and time, from clue bottles to treasure challenges, Sly masks to costumes; but sometimes these items can be quite difficult to locate. You now have a secret weapon! Using the PS Vita system as a set of X-ray goggles, you can look into Sly's universe to help track them down. Simply point the PS Vita at the TV screen and press the button to lock onto the image, and the X-ray overlay will pop up and highlight all of the hidden treasures in orange throughout the world. The PS Vita player simply taps on the front touch screen to display a pointer on the TV that will show you where to look for the hidden loot!
You can also use Augmented Reality to help you collect ancient hidden art treasures as you play through the game. There are dozens of beautiful tapestries, paintings, mosaics and other ancient art works scattered through the game. You can use the camera on your PS Vita to snap photographs of these as a way to "collect" them and earn more money. Just point your PS Vita at the TV to aim, press the button to take the photo and bingo – Sly collects the loot!
When we started developing Sly Cooper: Thieves in Time for PS Vita, we were looking to create these kinds of new and engaging ways to have the two PlayStation systems interact with another, but you would essentially need both versions of the game to truly experience the entire Thieves in Time adventure. So, we're really excited about the promotional pricing announcement for Sly Cooper: Thieves in Time that Sony made this week at their press conference. If you buy the PS3 version of Sly Cooper: Thieves in Time (through traditional retailers or via PlayStation Network), you will be able to download the PS Vita version of Thieves in Time from PSN at no additional cost. That's a pretty awesome deal!
We'll have lots more to come on the Sly Cooper front as we head toward our February 2013 release date. Even though Sly officially launches early next year, we are also still hard at work to make sure that everyone will still get a chance to play in the Sly Cooper universe this Fall – stay tuned for more news on that very soon!