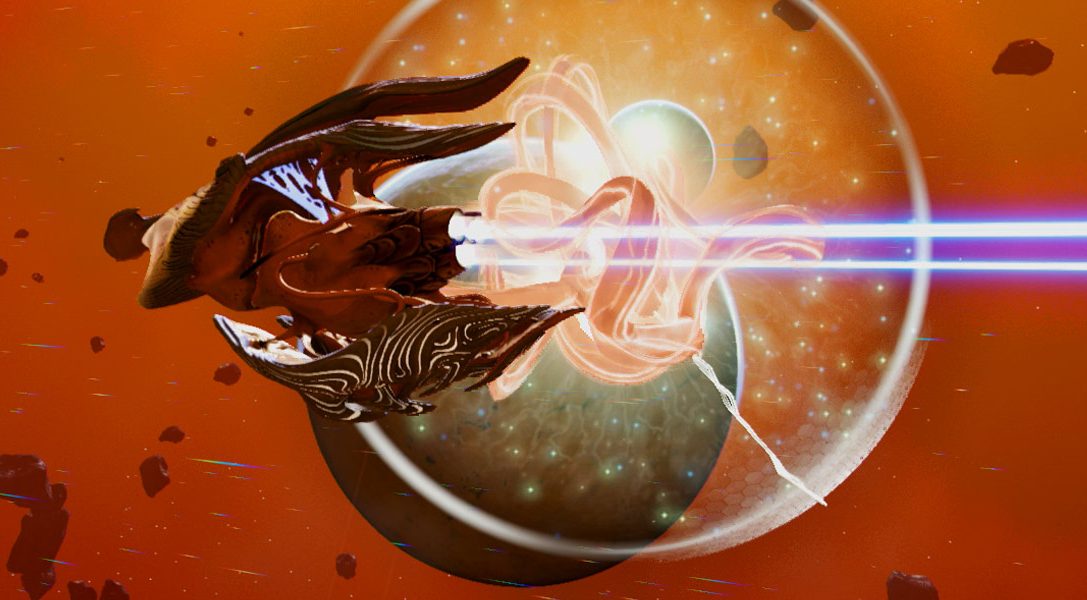 Nurture these new life forms to birth a starship fit to your specifications, then hit the cosmos to discover all-new space curiosities that await
Hello! 2019 was an important year for No Man's Sky on PlayStation. It was the year we brought the entire game into PS VR and much expanded multiplayer in the free Beyond update. Everyone who owned the game was overnight able to play the entire game in virtual reality and it has been extremely cool to see VR and non-VR players joining up in the Nexus to explore, embark on missions and build bases together.
We followed Beyond with two more content updates last year, Synthesis and Bytebeat, and we are starting 2020 as we mean to go on with another free release – the Living Ship update – releasing today.

The Living Ship update introduces the first new starship since Atlas Rises. But this is more than just a ship – these are strange and beautiful creatures with lives of their own. A new series of missions will take players through the ancient Korvax experiments that led to the birth of these interstellar beings. Players who wish to incubate, grow and ultimately fly their own living ship should visit the Space Anomaly and follow the call of the Void Egg…
These beautiful, organic, slightly psychedelic ships are uniquely grown (and, as with everything in the No Man's Sky universe, procedurally-generated).They can't be upgraded in the same way as a traditional ship: each one is individually hatched, with a unique set of internal organs that determines its abilities. If you want a fast hyperdrive, you'll need to nurture the right sort of life within your ship…

As much attention has been given to the interior of the ships as the exterior. Void ships house you within strange, organic cockpits, requiring players to fly their ship by grasping vein-covered tendrils. It looks and feels suitably unsettling to fly in VR!
The Living Ship update also brings a host of new discoverables to deep space, adding all-new space encounters to the off-planet experience. Strange new lifeforms and mysterious objects now wait between the planets, bringing more variety and unique experiences to space travel.
You might have noticed that since Beyond launched we've been experimenting with something new. We have been releasing regular feature updates every month or so, along with community missions and new content every week.

In previous years we have focused the team around one large update. We've been really proud of the work we did on these huge updates like Next or Beyond, but something always bothered us… there was normally 8 months or more where we were silent, and the community was left wondering if we would ever update the game again! Meanwhile there were smaller features that were ready earlier, but had to wait until all the other work they were wrapped up in was complete.
Whilst we continue to work on more radical things longer term in the background, in the meantime we are experimenting with releasing content we know the community would enjoy as soon as we're able.
We are enjoying these more regular updates, and the community seems to appreciate them too. This January had more players on all platforms than any previous year, and the average player enjoys longer and more varied sessions across the board. Hopefully folks will be excited about the surprise of the Living Ships update too.

We hope PlayStation 4 players enjoy this new update, hopefully the first of many in 2020.
Our journey continues.