Sport bar-themed party game collection launches on 13th October
Hello from the SportsBarVR dev team! During the development of SportsBarVR, something that has surprised and delighted us is discovering just how social VR can be, and how mixing that social feeling with insane, bottle throwing, chair smashing fights is pretty much the best thing ever.
We are super excited to announce SportsBarVR, co-developed by Cherry Pop Games & Perilous Orbit. We're bringing an awesome set of bar games, an incredible pool simulation, and a sports bar overflowing with fun and silly interactivity to PlayStation VR this autumn.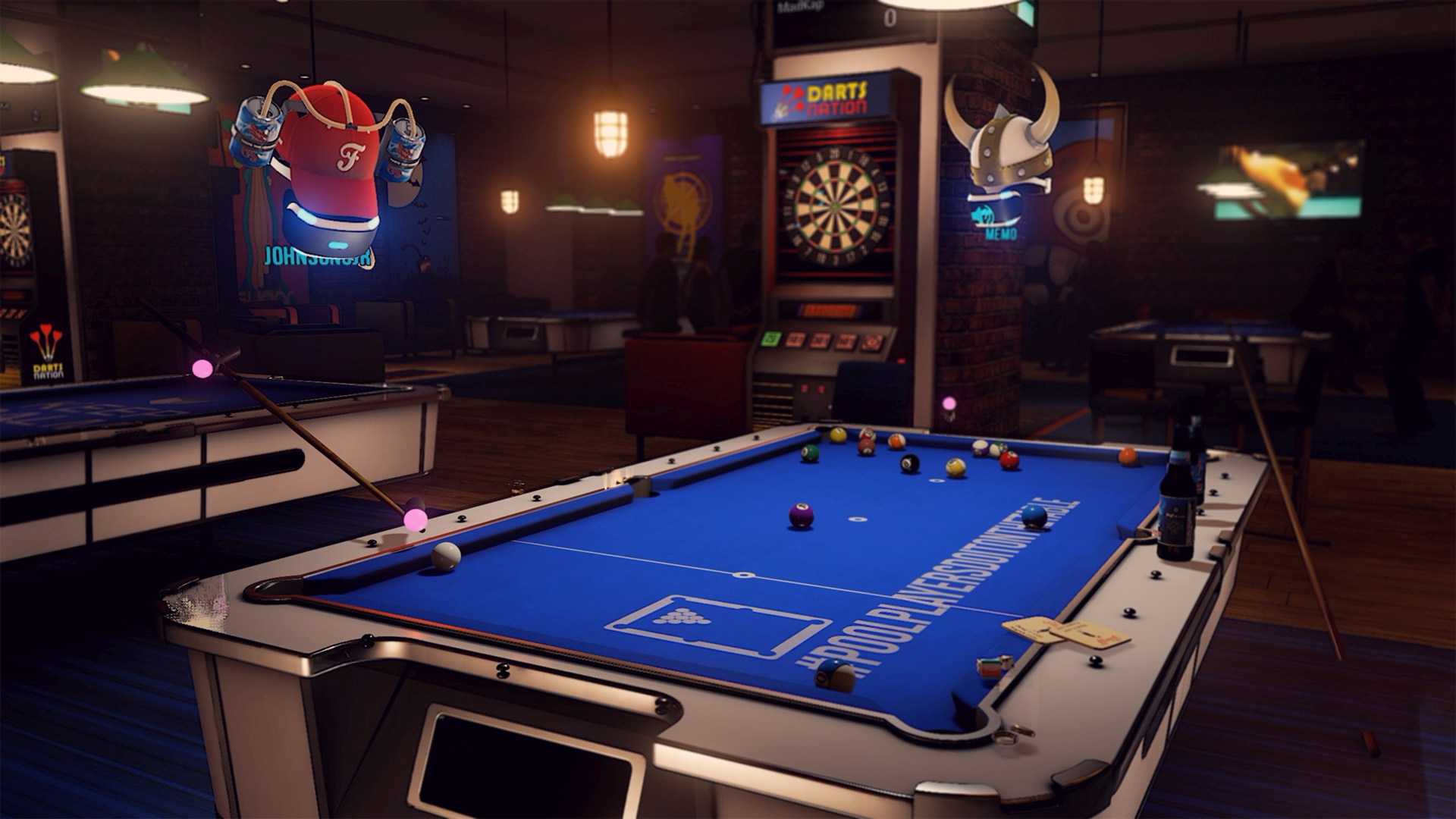 You may know us from our past title Pool Nation VR, and we're excited to bring everything great about that game, plus a whole new truckload of features into SportsBarVR. We have the same great pool physics, but now we've added six-player, multiplayer VR hangouts and more than seven pub games in the bar with more to come in future updates.
We've had some intense air hockey matches around the office, and while I've lost every time, it's nice to be able to relax and play a game of chess in VR with a friend in a quiet corner of the bar.
One thing we keep finding again and again is how entirely wonderful it is just to be able to hang out in a virtual bar doing "real things." And since the virtual drinks are free and the janitor seems to not mind cleaning up countless shards of broken glass, it's all good fun. In both single- and multiplayer, there's something awesome about having your own carefree, grounded, and immersive VR space (even if the floor's a bit sticky).
Having a full range of games in the bar really lets you explore a lot of VR interactions and levels of gameplay intensity. Focused turn-based games like chess, checkers, and our staple, pool, let you take a calm but still physical approach to VR gaming,while games like Air Hockey provide fast back and forth fun.
At launch date we have:
Pool
Darts
Air Hockey
Skeeball
Shuffleboard
Chess
Checkers
…with more to come after launch!
During development, it's been awesome to see players and testers invent new games inside SportsBarVR… from impromptu baseball (by swinging at bottles with pool cues), to tower building competitions with books, chairs, and dominoes. It's been awesome to rapidly react to what we see players wanting, and we're so excited to continue learning from our players and improving SportsBarVR post-release as we have our previous game. Seeing six players all in a fiercely precise game of darts, or everyone heckling one another in a heated match of skeeball just continues to show us the power of social VR and how one player's fun brings up the level of enjoyment for everyone around them!
We're proud and crazy excited to be a part of the first wave of PS VR titles when we launch on 13th October and can't wait for you to try out SportsBarVR!