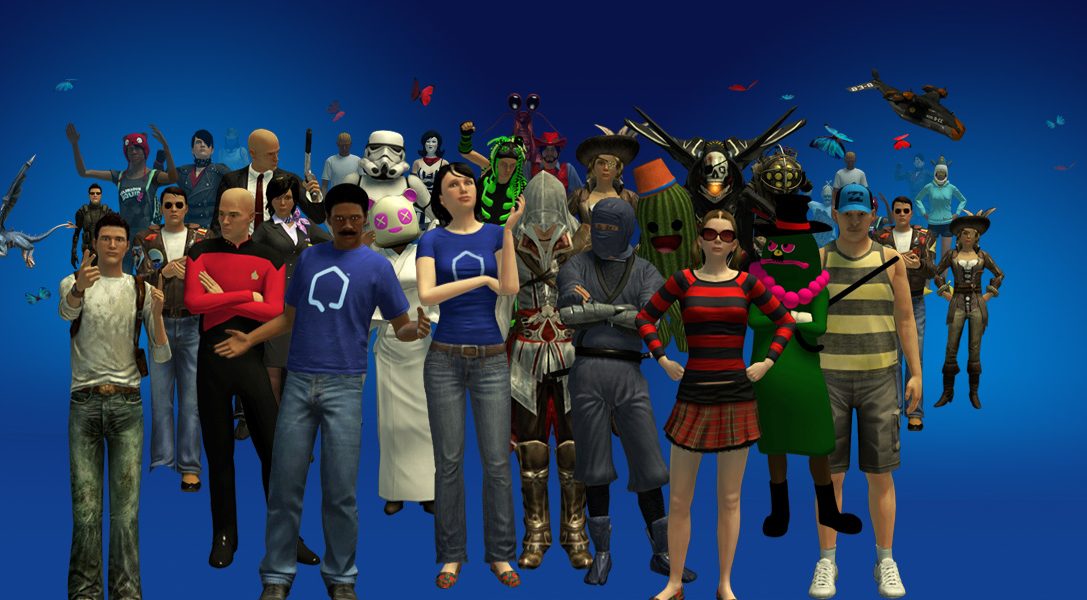 Find out what's new in Home Square this week
Hello everybody and welcome to another PlayStation Home update. This week we have some stylish new apartments from JAM Games and nDreams. Indulge in a little rock 'n' roll with a gargantuan Tour Bus cruising through the desert, or detox body and soul with a relaxing Health Club nestled in an idyllic paradise. We also have a few nods to 4th July in honour of our American friends, plus new clothing, LMOs and more. Here's a rundown of this week's highlights:
What Goes on Tour… (JAM Games)
Slip the bus into cruise control and join the party at full speed! Over the next three weeks JAM Games provide you with a choice of Tour Bus Apartments cruising through the Nevada style landscape – Country Chic, Rock Reveller and Pink Paradise!
This week brings you the Country Chic Tour Bus, muted tones and celebrity style with a country feel.
Which Tour Bus suits you best? The choice is yours; just remember 'What Goes On Tour…. Stays On Tour!'
Paradise Health Club (nDreams)
Hidden in the depths of an eastern paradise you will find the idyllic resort of Paradise Health Club – the perfect place to relax and re-energise with an excellent mix of relaxation and pleasure – laze by the pool, sunbath on the terrace, unwind on the massage tables, detox in the sauna, or take in the surroundings by the fountain. Browse a range of branded as well as swimming LMOs, yoga poses, and dance packs.
Stereo clothing and Goat LMOs (Kovok)
It's Goat time! Move at maximum speed with these Goat LMOs! Travelling from one place to another has never been so much fun!
Kovok also brings you an update of the most trendy collection, Stereo! In this release, you will find summer clothing with fun and stylish designs to complete your wardrobe. Enjoy life and live in Stereo!
Spunland (madmunki)
To celebrate the spirit of Independence everywhere Spunland will be rendered in our red, white and blue 4th of July theme. Set off fireworks or go hunt for the 4th July Hat in the Maze! Compete for the Special Independence Spun Crown on Tuesday the 8th, but above all have proper Spun fun! Runs from the 2nd to the 9th of July.
Home Tycoon and Giftinator 9000 (Hellfire Games)
Don't miss Hellfire's 2014 Summer Sales in Home Tycoon and the Giftinator 9000! Save 75% on all New City purchases and 70% on custom cars in Home Tycoon until 8th July!
Check out the Golden Lightning SpeedWings and Stars & Stripes Inner Tube at the Giftinator 9000 this week, and save 30% on the red-white-and-blue Summer Breeze Lawn Chair and the Stars & Stripes Inner.
VEEMEE
Celebrate 4th July in Acorn Meadows Park in style with new vendor items, RC vehicles and challenges. There are also some American themed items available from the 3D Printer. Stars 'n' Stripes all the way!
New baby animal LMOs are available. Play in the jungle as a Baby Chimpanzee, graze as a beautiful Red Deer Fawn, wander the plains as an adorable Rhino Calf or relax on the ice as a squidgy little Seal Pup.
Animal Avatars Dinosaurs stomp their way into the Half Price Hot Deals Sale, or for a contemporary speed boost grab the Run and Gun Paladin, Scout and Sentinel.
Billabong
Check out the clean, classic style of the Ya Brah crew neck shirt for men, or the Stone Melody dress for women, striking a stylish cord with is boho embroidered artwork.
Don't forget PS Home will briefly be offline from 8.00am BST on Wednesday 2nd July for routine maintenance. That's all for now, see you in PlayStation Home!
Follow us on Twitter @PSHomeEU