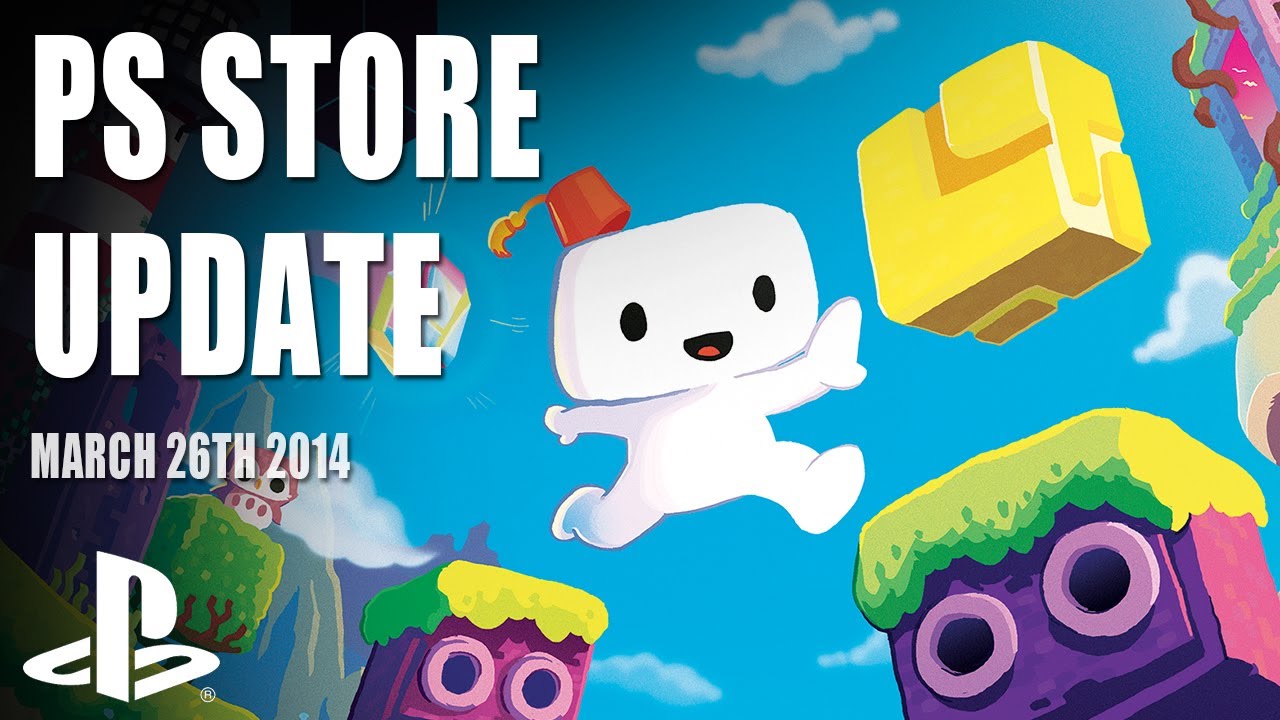 Plus, fresh DLC for Battlefield 4 and Castlevania: Lords of Shadow 2
You may have heard of this delightful, visually deceptive platformer before, but here today FEZ is on PlayStation 4, PlayStation 3, and Vita too! Oh, it's also cross-buy so you only pay once. That should have you jumping for joy like Gomez.
Also available for PS Vita is Destiny of Spirits, a free-to-play global location game. Summon, collect trade and borrow magical Spirits, or join forces to save the world from evil forces.
If you haven't spotted it already, Grand Theft Auto V, Red Dead Redemption and more Rockstar titles are on offer from today. Alongside these great titles, you'll also find other awesome titles such as Dishonored, Fallout 3 and Dragon Age II. Check back on PS Store on the weekend for a few extra mystery deals.
PlayStation Network New Content
Content list is subject to change – please stay tuned to your weekly Store Update for the most up to date listings.
PlayStation Plus
FEZ – 20% off
Real Boxing (Vita) – 50% off


PlayStation 4

FEZ (Cross-Buy PS4/PS3/Vita)
Price: £7.99/€9.99/AUAU$14.45
PEGI: 3


PlayStation 3

CHAOS CODE
Price: £7.99 /€9.99
PEGI: 12
Not available in Australia, Belgium, Denmark, Finland, Netherlands, New Zealand, Norway, Poland, Russia, Sweden, Turkey, Ukraine,




Deception IV: Blood Ties (PS3) (available from 28th March)
Price: £39.99/€49.99/AUAU$69.95
PEGI: 16




FEZ (Cross-Buy PS4/PS3/Vita)
Price: £7.99/€9.99/AUAU$14.45




MXGP – THE OFFICIAL MOTOCROSS VIDEOGAME (PS3) (available from 28th March)
Price: £49.99/€59.99/AUAU$9.95
PEGI: 3




TRINITY: Souls Of Zill O'll
Price: £15.99/€19.99/AUAU$24.95
PEGI: 16


PlayStation Vita

Deception IV: Blood Ties (Vita) (available from 28th March)
Price: £34.99/€39.99/AU$54.95
PEGI: 16




Destiny of Spirits
Price: Free
PEGI: 7




FEZ (Cross-Buy PS4/PS3/Vita)
Price: £7.99/€9.99/AU$14.45
PEGI: 3




Invizimals: The Alliance
Price: £19.99/€24.99/AU$32.95
PEGI: 7




MXGP – THE OFFICIAL MOTOCROSS VIDEOGAME (Vita) (available from 28th March)
Price: £34.99/€39.99/AU$54.95
PEGI: 3
PS4 DLC
Naval Strike (For Premium)
Air Vehicle Shortcut (£7.99/€9.99/AU$14.45)
Assault Kit Shortcut (£5.49/€6.99/AU$10.35)
Carbines Shortcut (£3.99/€4.99/AU$7.35)
DMR Shortcut (£3.99/€4.99/AU$7.35)
Engineer Kit Shortcut (£5.49/€6.99/AU$10.35)
Grenades Shortcut (£3.99/€4.99/AU$7.35)
Ground & Sea Vehicle Shortcut (£11.99/€14.99/AU$21.95)
Recon Kit Shortcut (£5.49/€6.99/AU$10.35)
Shotguns Shortcut (£3.99/€4.99/AU$7.35)
Soldier Shortcut Bundle (£19.99/€24.99/AU$36.95)
Support Shortcut Kit (£5.49/€6.99/AU$1035)
The Ultimate Shortcut Bundle (£39.99/€49.99/AU$73.95)
Vehicle Shortcut Bundle (£15.99/€19.99/AU$29.95)
Weapon Bundle Kit Shortcut (£11.99/€14.99/AU$21.95)
EXTRA SLOTS (£1.59/€1.99/AU$2.95)
DUCKY PACK (£1.59/€1.99/AU$2.95)
CIRCUIT PACK (£1.59/€1.99/AU$2.95)
INFERNO PACK (£1.59/€1.99/AU$2.95)
SPACE CATS PACK (£1.59/€1.99/AU$2.95)
LEGEND PACK – CPT PRICE (£3.19/€3.99/AU$5.85)
ELIAS SPECIAL CHARACTER (£1.59/€1.99/AU$2.95)
HESH SPECIAL CHARACTER (£1.59/€1.99/AU$2.95)
KEEGAN SPECIAL CHARACTER (£1.59/€1.99/AU$2.95)
MERRICK SPECIAL CHARACTER (£1.59/€1.99/AU$2.95)
JUST DANCE 2014 (PS4)
Part Of Me – Katy Perry (£2.39/€2.99/AU$4.35)
Funhouse – P!NK (£2.39/€2.99/AU$4.35)
Prime Access Accessories Pack (£38.49/€44.99/AU$64.95)
Rhino Prime Pack (£59.99/€69.99/AU$100.95)
PS3 DLC
Naval Strike (For Premium)
Air Vehicle Shortcut (£7.99/€9.99/AU$14.45)
Assault Kit Shortcut (£5.49/€6.99/AU$10.35)
Carbines Shortcut (£3.99/€4.99/AU$7.35)
DMR Shortcut (£3.99/€4.99/AU$7.35)
Engineer Kit Shortcut (£5.49/€6.99/AU$10.35)
Grenades Shortcut (£3.99/€4.99/AU$7.35)
Ground & Sea Vehicle Shortcut (£11.99/€14.99/AU$21.95)
Recon Kit Shortcut (£5.49/€6.99/AU$10.35)
Shotguns Shortcut (£3.99/€4.99/AU$7.35)
Soldier Shortcut Bundle (£19.99/€24.99/AU$36.95)
Support Shortcut Kit (£5.49/€6.99/AU$1035)
The Ultimate Shortcut Bundle (£39.99/€49.99/AU$73.95)
Vehicle Shortcut Bundle (£15.99/€19.99/AU$29.95)
Weapon Bundle Kit Shortcut (£11.99/€14.99/AU$21.95)
EXTRA SLOTS (£1.59/€1.99/AU$2.95)
DUCKY PACK (£1.59/€1.99/AU$2.95)
CIRCUIT PACK (£1.59/€1.99/AU$2.95)
INFERNO PACK (£1.59/€1.99/AU$2.95)
SPACE CATS PACK (£1.59/€1.99/AU$2.95)
LEGEND PACK – CPT PRICE (£3.19/€3.99/AU$5.85)
ELIAS SPECIAL CHARACTER (£1.59/€1.99/AU$2.95)
HESH SPECIAL CHARACTER (£1.59/€1.99/AU$2.95)
KEEGAN SPECIAL CHARACTER (£1.59/€1.99/AU$2.95)
MERRICK SPECIAL CHARACTER (£1.59/€1.99/AU$2.95)
Burial At Sea Episode 2 (£11.99/€14.99/AU$21.95)
Castlevania: Lords Of Shadow 2
Revelations (£4.79/€5.99/AU$8.85)
Armored Dracula Costume (£0.59/€0.75/AU$1.05)
Relic Rune Pack (£0.59/€0.75/AU$1.05)
Dark Dracula Costume (£0.59/€0.75/AU$1.05)
Gunslinger Trials (£5.99/€7.49/AU$11.05)
Super Vegito (£2.39/€2.99/AU$4.35)
Super Saiyan Bardock (£2.39/€2.99/AU$4.35)
Not available in India
DEAD OR ALIVE 5 ULTIMATE
Costume Catalog 11 (Free)
Marie Rose (character) (£4.79/€5.99/AU$8.85)
Marie Cheer (£1.59/€1.99/AU$2.95)
Marie Gym (£1.59/€1.99/AU$2.95)
Marie Nurse (£1.59/€1.99/AU$2.95)
Marie School Costume (£1.59/€1.99/AU$2.95)
Santa's Helper Marie (£1.59/€1.99/AU$2.95)
Marie Additional Character + Debut Set (£9.99/€12.99/AU$18.45)
Marie Rose Debut Costume Set (£6.49/€7.99/AU$11.75)
Not available in Russia
JUST DANCE 2014 (PS3)
Part Of Me – Katy Perry (£2.39/€2.99/AU$4.35)
Funhouse – P!NK (£2.39/€2.99/AU$4.35)
LittleBigPlanet 2 (Cross Buy)
BEYOND: Two Souls™ Costume Pack (£4.79/€5.99/AU$8.85)
PES 2014 – Pro Evolution Soccer
World Challenge (£7.99/€9.99/AU$14.45)
Matchbox Twenty – 3am (£2.39/€2.99/AU$4.35)
Matchbox Twenty – How Far We've Come (£2.39/€2.99/AU$4.35)
Matchbox Twenty – Push (£2.39/€2.99/AU$4.35)
Matchbox Twenty – She's So Mean (£2.39/€2.99/AU$4.35)
Matchbox Twenty – Unwell (£2.39/€2.99/AU$4.35)
Matchbox Twenty Song Pack (£9.69/€11.99/AU$17.95)
PSVita DLC
35 ORBS (£1.99/€2.49/AU$3.65)
50 ORBS (£2.79/€3.49/AU$5.15)
JAPANESE VOICE DATA (Free)
Super Vegito (£2.39/€2.99/AU$4.35)
Super Saiyan Bardock (£2.39/€2.99/AU$4.35)
Not available in India
LittleBigPlanet Vita (Cross Buy)
BEYOND: Two Souls™ Costume Pack (£4.79/€5.99/AU$8.85)
Additional Missions 6 (£1.59/€1.99/AU$2.95)
Additional Missions 7 (£1.59/€1.99/AU$2.95)
Raiments: Noble (Free)
Not available in Russia
Soul Sacrifice
TOUKIDEN Collaboration Costume (Free)
Price Drops
Curve Mega Studios Bundle (PS3/Vita Cross-Buy) – Was £19.99/€24.99/AU$36.95, Now £11.99/€14.99/AU$21.95
Jonah Lomu Rugby Challenge (PS3) – Was £39.99/€49.99/AU$69.95, Now £19.99/€29.99/AU$39.95
Red Dead Redemption (PS3) – on sale 26/03 – 02/04 – Was £23.99/€29.99/AU$43.95, Now £7.99/€9.99/AU$14.45
Rugby League Live 2 (PS3) – Was £39.99/€49.99/AU$69.95, Now £19.99/€29.99/AU$39.95
Deal of the Week
GTA V – Was £49.99/€69.99/AU$109.95, Now £34.99/€44.99/AU$62.95
Not available in Kuwait, Qatar, Saudi Arabia, UAE
Indie Deal of the Week
How to Survive (PS3) – Was £11.99/€14.99/AU$21.95, Now £4.79/€5.99/AU$8.85
King Oddball (Vita) – – Was £3.69/€4.49/AU$6.65, Now £1.59/€1.99/AU$2.95
Availability update
South Park: The Stick of Truth (PS3) – Now available in Germany, Austria
ZOMBEER (PS3) – Now available in Belgium, Denmark, Finland, Netherlands, Norway, Sweden, Turkey