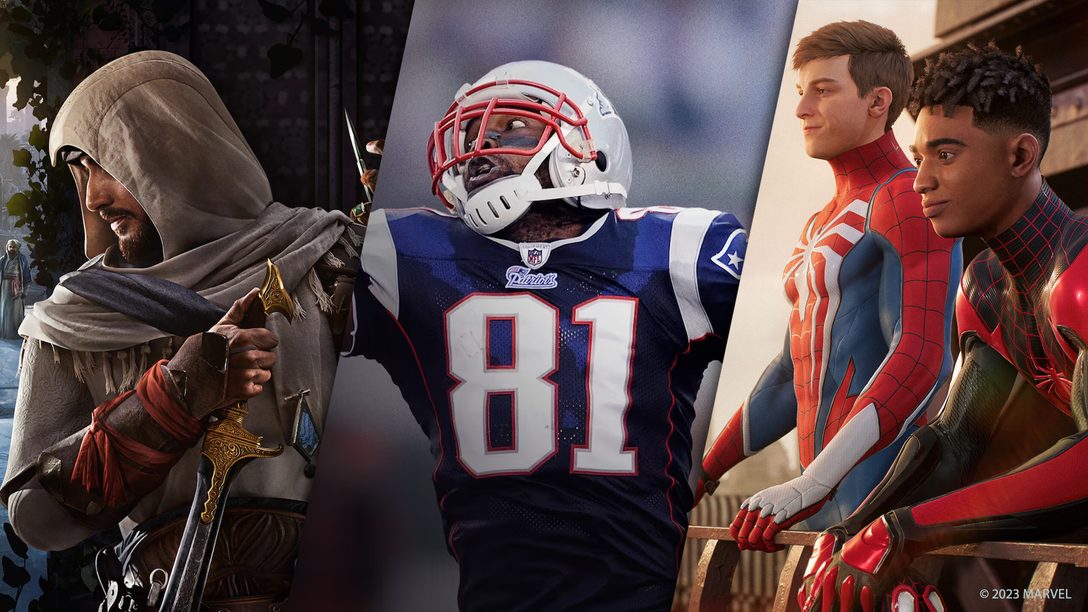 Super Heroes and antiheroes are both included in the month's most-played games.
It's time to see which PS5, PS4, PS VR2, PS VR, and free-to-play games topped the download charts this month. The newly released Marvel's Spider-Man 2 swung to the top of October's PS5 list. For PS VR2, Beat Saber rocked to the top of the list.
Check out the full listings below. What titles are you playing this month?
PS5 Games
| US/Canada | EU |
| --- | --- |
| Marvel's Spider-Man 2 | Marvel's Spider-Man 2 |
| Assassin's Creed Mirage | EA SPORTS FC 24 |
| Madden NFL 24 | Assassin's Creed Mirage |
| EA SPORTS FC 24 | Grand Theft Auto V |
| NBA 2K24 | Alan Wake 2 |
| UFC 5 | UFC 5 |
| Lords of the Fallen | Lords of the Fallen |
| NHL 24 | Baldur's Gate 3 |
| Mortal Kombat 1 | Cyberpunk 2077 |
| Grand Theft Auto V | Tom Clancy's Rainbow Six Siege |
| Alan Wake 2 | NBA 2K24 |
| Baldur's Gate 3 | The Crew Motorfest |
| METAL GEAR SOLID: MASTER COLLECTION Vol.1 | F1 23 |
| Cyberpunk 2077 | METAL GEAR SOLID: MASTER COLLECTION Vol.1 |
| Lies of P | Hogwarts Legacy |
| STAR WARS Jedi: Survivor | Among Us |
| The Crew Motorfest | NHL 24 |
| ELDEN RING | STAR WARS Jedi: Survivor |
| PAYDAY 3 | Lies of P |
| Hogwarts Legacy | ELDEN RING |
*Naming of products may differ between regions
*Upgrades not included
PS4 Games
| US/Canada | EU |
| --- | --- |
| Red Dead Redemption 2 | EA SPORTS FC 24 |
| Minecraft | Minecraft |
| EA SPORTS FC 24 | Red Dead Redemption 2 |
| Madden NFL 24 | Assassin's Creed Mirage |
| Assassin's Creed Mirage | Grand Theft Auto V |
| Grand Theft Auto V | Need for Speed Heat |
| Batman: Arkham Knight | Need for Speed Payback |
| Need for Speed Heat | The Forest |
| NHL 24 | Batman: Arkham Knight |
| NBA 2K24 | CarX Drift Racing Online |
| The Forest | A Way Out |
| Need for Speed Payback | Hogwarts Legacy |
| Gang Beasts | Riders Republic |
| Totally Accurate Battle Simulator | Gang Beasts |
| Injustice 2 | Outlast |
| STAR WARS Battlefront II | STAR WARS Battlefront II |
| Red Dead Redemption | F1 23 |
| Hogwarts Legacy | Dead Island Definitive Edition |
| CarX Drift Racing Online | Outlast 2 |
| DRAGON BALL XENOVERSE 2 | Tom Clancy's Ghost Recon Breakpoint |
*Naming of products may differ between regions
PS VR2 Games*
| US/Canada | EU |
| --- | --- |
| Beat Saber | The Dark Pictures: Switchback VR |
| The Dark Pictures: Switchback VR | Beat Saber |
| Propagation: Paradise Hotel | Propagation: Paradise Hotel |
| Pavlov | Pavlov |
| Ghostbusters: Rise of the Ghost Lord | The 7th Guest VR |
| The 7th Guest VR | Hubris |
| Crossfire: Sierra Squad | Crossfire: Sierra Squad |
| Angry Birds VR: Isle of Pigs | Moss: Book II |
| The Walking Dead: Saints & Sinners – Chapter 2: Retribution | Angry Birds VR: Isle of Pigs |
| Hubris | Red Matter |
*PS Store purchases only. Game upgrades or games bundled with hardware not included
PSVR Games
| US/Canada | EU |
| --- | --- |
| The Walking Dead Onslaught | The Walking Dead Onslaught |
| SUPERHOT VR | SUPERHOT VR |
| Job Simulator | Job Simulator |
| Creed Rise to Glory | Batman: Arkham VR |
| Beat Saber | Beat Saber |
| ASTRO BOT Rescue Mission | Creed: Rise to Glory |
| Batman: Arkham VR | Goalkeeper VR Challenge |
| Paranormal Activity: The Lost Soul | Sniper Elite VR |
| The Exorcist: Legion VR | ASTRO BOT Rescue Mission |
| NFL PRO ERA | Swordsman VR |
Free to Play (PS5 + PS4)
| US/Canada | EU |
| --- | --- |
| Roblox | Roblox |
| MY HERO ULTRA RUMBLE | Disney Speedstorm |
| Fortnite | Fortnite |
| Disney Speedstorm | MY HERO ULTRA RUMBLE |
| Call of Duty: Warzone | Call of Duty: Warzone |
| Honkai: Star Rail | Rocket League |
| Fall Guys | Fall Guys |
| Apex Legends | eFootball 2024 |
| Rocket League | The Sims 4 |
| The Sims 4 | Honkai: Star Rail |