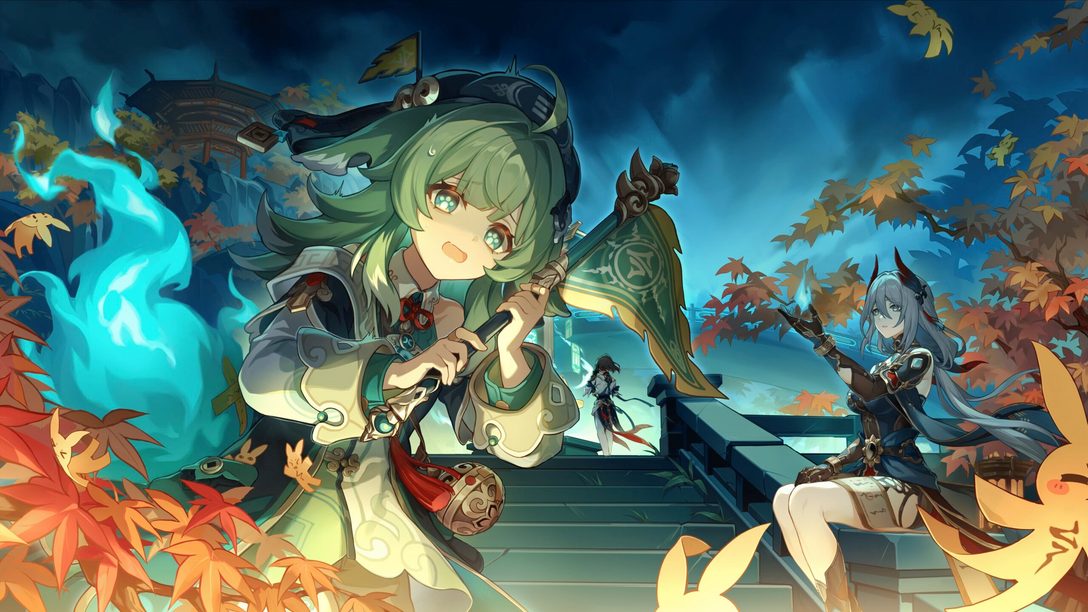 Join Huohuo, Hanya, and Argenti to investigate supernatural phenomena on the Xianzhou Luofu during this spooky season.
Greetings everyone. As we get close to the end of 2023, the Honkai: Star Rail dev team is excited to get back to you with the latest information on the new maps, stories, and companions introduced in version 1.5, The Crepuscule Zone, coming on November 15. We look forward to delivering chills and thrills for everyone exploring the newest version and engaging in its gameplay.
After helping our friends solve various interstellar conspiracies and crises, it's time to join a ghost-hunting squad and experience something spooky. The upcoming update will introduce a new location full of mystery, evil, and supernatural occurrences.
Additionally, allow me to introduce three fresh faces joining the soon-to-be-playable lineup: Huohuo and Hanya, both associated with the enigmatic Ten-Lords Commission, and Argenti, a valued member of the Knights of Beauty. And there's even more in store – we will deliver various exciting and challenging events and updates to elevate our Trailblazers' journeys.
The haunted Xianzhou Luofu
A while back, the Creation Furnace of the Artisanship Commission was shattered, and the heliobi trapped inside were able to escape and find refuge in the Fyxestroll Garden. It's widely believed that heliobi are born from long-held grievances, possessing the ability to inhabit individuals, manipulate their senses, drink from their souls, and even take control of their bodies. Heliobi are adept at possession; only some of the most seasoned Wraith Wardens and Aurumaton Spectral Envoys from the Ten-Lords Commission are immune to their influence.
The Fyxestroll Garden is filled with yin energy, and it appears even more eerie with its ancient suppression towers, stone monoliths, and towering gnarled trees. During the day, it can be unsettling, but it becomes creepier at night, and with the incursion of the heliobi, a deeper atmosphere of danger now lingers. Recently, the Xianzhou's online forums have witnessed a surge in posts detailing supernatural phenomena within the enigmatic confines of Fyxestroll Garden, from self-playing violins to the wailing cries of vengeful ghosts. Unsurprisingly, enthusiasts of the paranormal on the Xianzhou Luofu are reveling in these reports.
Now, dear Trailblazers, it's time to assemble a ghost-hunting squad and embark on an adventure to unravel these mysteries. In the brand-new Version 1.5's Trailblaze Continuance — A Foxian Tale of the Haunted — the squad will be responsible for tracking down heliobi, addressing crises, and safeguarding the Xianzhou Luofu.
Trustworthy teammates from the squad
You'll have quite a task ahead of you, but fear not. You might find support from one of the most formidable forces in the Xianzhou Luofu: The Ten-Lords Commission. They are the Xianzhou's most formidable forces, authorities of the supernatural, the guardians against evil forces, and the arbiters of life and death. With their support, the obstacles you face will be considerably easier.
Well, before you get too excited, it would be great to introduce your assignee: Our new 5-star character — Huohuo, an initially frightened young Foxian girl who, when she was just a child, found herself possessed by a long-lived creature. You guessed it right – it was a heliobus. To ensure her survival, the Ten-Lords Commission had no choice but to seal the heliobus within Huohuo. Consequently, she became a magnet for all things evil – a "cursed one." Recognizing her unique talent to pacify monstrous entities, the Ten-Lords Commission extended to her their welcome and embraced Huohuo into their ranks. Today, she is a trainee judge, ready to face the supernatural and lend Trailblazers her unique capabilities for this most eerie of adventures.
Huohuo is a Wind-Type character who follows the Path of Abundance. Her Skill allows her to bravely wield her banner, restoring HP for a single character and their adjacent teammates. Her Ultimate can rejuvenate her allies' Energy and boost their attack power. Having spent several years in the company of the heliobus known as "Tail," Huohuo has developed various techniques to banish evil and safeguard her teammates. These abilities cement her as an essential member of any team, allowing her to provide incredible amounts of support and protection for her allies.
Of course, when dealing with heliobi, the more judges, the better. That's why the Ten-Lords appointed another seasoned veteran to bring up the rear. Hanya is a four-star character who works as a netherworld judge of the Ten-Lords Commission. To be more precise, Hanya specializes in reading the karmic sins of the criminals and employs her Oracle Brush to determine their punishments. As a Physical-Type character following the Path of Harmony, during battles, aside from dealing physical damage to a single target during battles, Hanya's Skill can also afflict the target with a Burden state. When an ally executes a set amount of attacks on an enemy marked with Burden, they will not only deal increased damage to that enemy but also regain a Skill Point.
After settling issues on the Luofu, in addition to the Ten-Lords Commission, allow me to introduce another 5-star character featured in the upcoming version: Argenti. Argenti is a cherished member of the Knights of Beauty. Trailblazers will be able to encounter him while journeying to Washtopia, a renowned hub specialized in cleaning interstellar craft. Argenti is a Physical-Type character following the Path of Erudition. As a devoted admirer of Idrila the Beauty, treating people with courtesy, helping others as a matter of principle, and offering sincere praise to all things in the universe is the code of conduct that Argenti lives by. Elegance is Argenti's middle name and even manifests itself in his combat. Argenti's Ultimate ability is genuinely distinctive, as it triggers different effects based on the amount of Energy consumed. When expending a small amount of Energy, Argenti's Ultimate damages all enemies. However, when consuming all his Energy, Argenti's Ultimate inflicts even more significant damage multiple times and includes additional harm to a randomly selected target.
More fun and exciting events
In Version 1.5, you can look forward to various exciting events and challenges. Firstly, March 7 is in need of assistance to restore her cherished photographs to their original conditions, as they've suffered mysterious damage. Furthermore, Version 1.5 will introduce a Guest Book feature update. For all you curious Trailblazers, this feature allows you to check a historical log of friends who have visited the Express. In addition, prepare to immerse yourself in The Genius Society's latest challenge, "Simulated Universe: World 8," which is set to launch soon. Lastly, remember to register for The Boulder Town Martial Exhibition, which has made a return for those who want to be a combat superstar.
That's all we have to share about Version 1.5. We hope you're enjoying your cosmic adventures and look forward to seeing you in the next one.