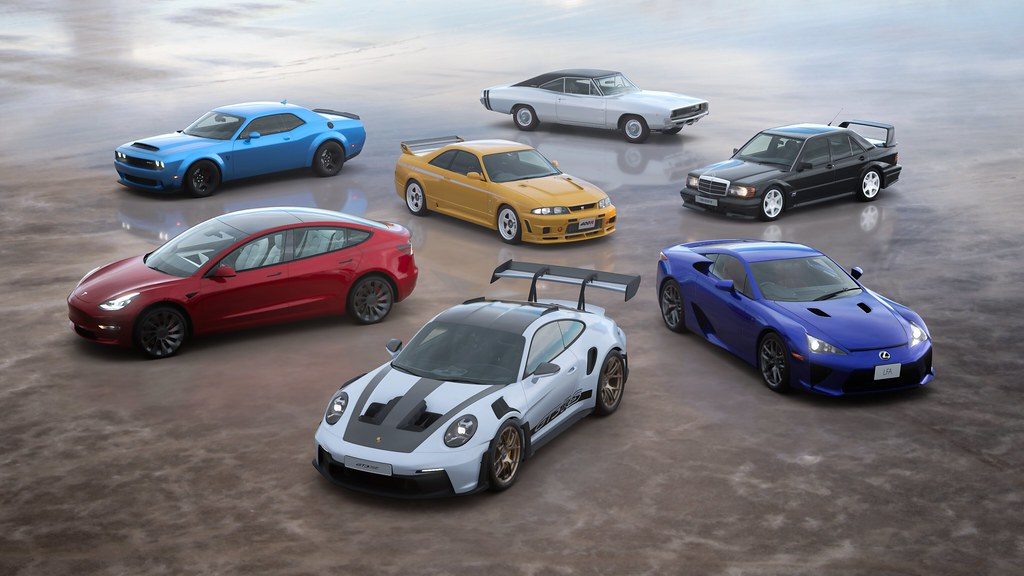 7 new cars, introduction of Lake Louise snow courses, 50 new license tests, 4-player split screen races, custom events, and more.
Hello Gran Turismo players. We're excited to announce that the SPEC II Update 1.40* for Gran Turismo 7 arrives Wednesday, November 1 at 11:00pm PST / November 2 at 6:00am GMT / November 2 at 3:00pm JST. With it comes a host of exciting features and add-ons for racing fans to enjoy.
The SPEC II Update 1.40 includes the following add-ons:
SPEC II Opening Movie
7 New Cars
New Circuit: Lake Louise with 3 layouts
3 Café / Extra Menus
Update to World Circuits
Gran Turismo Sophy (AI Driver Agent) with Quick Race (PS5 Only)
50 Challenges added to Licenses
Paddock added to Multiplayer Menu
4-Player Split Screen Races (PS5 Only)
Features added to Photos / Scapes
Updated GT Menu / Dashboard
7 new cars being added this month
Dodge Charger R/T 426 Hemi '68
A true 60s muscle car, the envy of collectors everywhere.
(Can be purchased from Legends Cars)
Released by Chrysler in 1966, the Dodge Charger is one of the most representative models of the muscle car boom that swept the American car scene in the 1960s. While many other muscle cars were based on compact class platforms, the Dodge Charger was based on the larger intermediate class platform of the Dodge Coronet. The car is easily recognized by its elongated 2-door fastback silhouette. It was also popular for its power, as the car was fitted with a large displacement V8 engine across all model grades. The Charger received a minor facelift in 1968.
One of the most exciting implementations in this update was the introduction of the 'R/T' (Road/Track) performance package. As standard, this package increased the sports performance of the chassis, including upgraded suspension and upgraded brakes, as well as the option to upgrade the engine to the 426 Hemi unit.
Dodge Charger SRT Demon '18
A demon born simply to run the quarter mile as fast as possible.
(Can be purchased in Brand Central)
The 3rd generation Dodge Challenger was introduced in 2008 as the true successor to the masterpiece muscle car that was the original Challenger. The car is well known for the various performance models that have been released since its debut, but in 2015 the veil was lifted on the most powerful model yet, the SRT Hellcat. However, the star of the line-up had yet to appear. That was the SRT Demon, produced in a limited run of 3,300 units in 2018. This car is a monster built for the single purpose of winning drag races.
The engine, based on the Hellcat model, has been tuned to produce 813.6 BHP on 100 or higher-octane fuel. Subsequently the car can achieve such astounding figures as a 0-62 mph time of 2.3s and a quarter mile time of just 9.65s. The body is also a full drag strip setup with no passenger or rear seats included as standard, though they are available as an option. Even more surprising is the 'Demon Crate', a racing parts kit that Dodge sold to buyers for just one dollar extra. The equipment, said to be valued at over six thousand dollars, included thinner front wheels and a high-octane tuned ECU for drag racing as well as an air filters and a race spec instrument panel.
Lexus LFA '10
An ultra high-tech sportscar that achieved ultimate performance with mass-production quality.
(Can be purchased in Brand Central)
20 years before Japan's automotive industry was truly recognized by the world, Toyota created a sports car called the 2000GT which combined the latest technology of the 1960s. In the 21st century, Lexus would create another cutting-edge sports car that would continue that legacy; the LFA. Its development was not easy. The aim was to provide stable and consistent quality while incorporating emerging technologies such as carbon fiber body production. For Toyota, it was not enough to make components match and fit together manually; it was a matter of pride as a mass-production vehicle manufacturer to balance cutting-edge technology with consistent product quality.
One of the most important factors of a sports car, the front-to-rear weight distribution ratio, is 48 to 52. To achieve this figure, they implemented a transaxle layout and mounted the radiator in the rear. The vehicle weight was reduced to 1,480 kg. Emphasis was also put on lowering the center of gravity, utilizing a dry-sump lubrication system so that the powertrain itself could be mounted lower. The 4.8 L V10 has a bank angle of 72 degrees with a factory redline of 9,500 rpm. The 552.3 BHP total power equates to 115.4 BHP per liter, but even with this performance level the car is still relatively environmentally friendly. The transmission utilizes a 6-speed single clutch 2-pedal manual transmission, able to shift in just 0.2 seconds, a figure on par with the world's top racing machines.
Mercedes-Benz 190 E 2.5-16 Evolution II '91
Born from touring racing, the ultimate evolution of the 190 E.
(Can be purchased from Legend Cars)
In the early 1980s, Mercedes-Benz decided to return to motorsports after a long absence. The car they developed was the 190 E 2.3-16, a sports model based on the compact 190 series. It was unveiled in 1983. The biggest highlight of the 2.3-16 was its engine, based on a 2.3 L SOHC inline-4 that Mercedes already had in production. A 16-valve DOHC head was added, and the engine was tuned by Cosworth, a company famous for F1 engines. The resulting powerplant boasted 182.4 BHP maximum output and 23.1 kgfm maximum torque. The 190 E 2.3-16 with this engine began racing in the Deutsche Tourenwagen Meisterschaft (DTM) in 1986, where it fell victim to a race car's fate of endless evolutions. By 1988 the car had evolved into the 190 E 2.5-16, given a bigger engine in hopes of defeating its arch-rival the BMW M3. With displacement enlarged to 2.5 L, the engine could now make up to 197.2 BHP. A DTM homologation model, known as the 190 E 2.5-16 Evolution, began limited production in 1989.
Then, in 1990, Mercedes released its ultimate 2.5-16: the 190 E 2.5-16 Evolution II. On looks alone, the Evolution II amazed all who saw it. Large wheel arch extensions had been added at the front and rear to accommodate the wide 245/40ZR17 tires, and the boot now sported a giant spoiler so big it hung over the rear end. The engine was further tuned, boosting output up to 231.8 BHP (power was said to exceed 325.4 BHP in the DTM racing version.) A mere 500 of these Evolution IIs were produced during its limited run, but it took the DTM by storm in 1992, showing its stuff against tough rivals and proving that it truly was the ultimate 190 E, forged in the fires of touring car racing.
NISMO 400R '95
Boasting 400ps and an extremely limited production run, the ultimate R33 GT-R from NISMO.
(Can be purchased from Legend Cars)
Launching in 1996 with a maximum output of 394.5 BHP and an eye-watering 12-million-yen price tag during a time when passenger cars were traditionally limited to 276.1 BHP in Japan and new R33 Skyline GT-Rs sold for roughly 4-million yen, the 400R was a fully tuned model that astonished fans by these two figures. Utilizing all NISMO's expertise with the R33 GT-R, it was developed with the aim of producing the fastest possible GT-R that could still be driven on the road. The 400R is equipped with a power unit based on a version of the RB26DETT engine called the RBX-GT2 and paired with N1-spec turbochargers to increase boost.
To achieve the characteristics of a road-approved vehicle, maximum output was kept to a relatively moderate level considering the engine's potential. However, using specially developed pistons and a hardier crankshaft, engine displacement was expanded to 2.8L, enabling it to achieve high torque at low rpms and making it easier to handle than the regular engine. At the same time, the engine delivers a mighty amount of power at high revs and so required the need for twin-plate clutch units to be fitted. A lightweight propeller shaft made from carbon fiber was also added along with a fully original suspension kit with Bilstein dampers, front and rear stabilizers, and reinforced bushings.
Porsche 911 GT3 RS (992) '22
A hyper performance streetcar packed with racing car features.
(Can be purchased in Brand Central)
Released in the summer of 2022, the Porsche 911 GT3 RS (992) is a hyper performance streetcar that brings the aerodynamics of the 911 GT3 R, a true race car, to the 992 model. Visually, the car has much more in common with racing cars than even its predecessor, the 991.2 model GT3 RS. The most obvious feature is the swan neck mounted rear wing, the largest ever on a production Porsche model. It features an F1 style DRS (drag reduction system) which under certain conditions allow the wing to be positioned flat at the touch of a button, reducing drag, and enabling the car to reach its top speed. Additionally, when hard braking from high speeds, the front adjustable active diffuser can act as an air brake to increase braking performance.
Along with those above, additional improvements to aerodynamic devices such as the front aerobars and air outlets on the front and rear fenders all result in a car that produces more than twice the downforce of the previous 991.2 GT3 RS. There are also other features taken from race cars such as the 911 GT3 R and RSR, like the front hood space which would normally serve as the luggage space but has been replaced with a front radiator. This is one of the key features of the 992 model GT3 RS.
Tesla Model 3 Performance '23
The bestseller from the company that changed the EV market forever.
(Can be purchased in Brand Central)
The Tesla Model 3 is a sedan EV first introduced in 2016. One of the most compact Tesla models at 4,695 mm long, 1,850 mm wide and 1,445 mm tall, it was apparently designed with considerations for Japanese mechanical parking garages. Inside the sporty 5-door hatchback style body is a surprisingly simple cabin space. There are almost no switches on the dashboard or center console, with almost all functions of the car from the climate control to the "autopilot" system being controlled from a 15-inch touch screen. Many of these functions are also controllable via the Tesla smartphone app.
The most powerful model in the line-up is the Performance Dual Motor AWD grade which was available from its debut until 2023. This all-wheel drive system places an electric motor on each of the front and rear axles and while the total system output has not been officially published, it has a 0-62.1 mph time of 3.3s and a top speed of 162.2 mph. Based on these figures and its market price, the Model 3 is almost unrivalled in its cost to performance ratio.
New Circuit: Lake Louise with 3 layouts
Lake Louise
Snow courses are finally here. Lake Louise is a completely new original course designed around a fictional ski resort located in the foothills of the Canadian Rocky Mountain Parks World Heritage Site. There are 3 layouts available starting with the 'Long Track' layout which features long straights and a variety of corner types from low to high speeds. Next, the 'Short Track' features a number of consecutive twisting turns. Finally, there is the 'Tri Oval' circuit with just 3 corners where drivers can enjoy full flat-out snow racing. All 3 layouts feature iced over roads and allow for night races. 'Snow tires' are required to drive on these courses.
Lake Louise Long Track
Total Length: 3,694m, Elevation Change: 78m, Number of corners: 11, Longest Straight: 765m
Lake Louise Short Track
Total Length: 2,577m, Elevation Change: 63m, Number of corners: 7, Longest Straight: 765m
Lake Louise Tri-Oval
Total Length: 3,068m, Elevation Change: 78m, Number of corners: 3, Longest Straight: 1,184m
3 New Café / Extra Menus
The following three Extra Menus have been added:
Extra Menu No. 31: 'Road-Going Racers' (Collector Level 30 and above)
Extra Menu No. 32: 'Lexus' (Collector Level 34 and above)
Extra Menu No. 33: 'Red Bull X Series' (Collector Level 49 and above)
Update to World Circuits
5 new regular events and 2 new expert race events
The SPEC II update brings new features to World Circuits. There are not only a number of new races, but new ways to play as well.
Introducing 5 new regular race events like 'World Touring Cars 900' and 'X2019 Nations Cup' as well as 2 new expert race events.
5 new regular events
World Touring Cars 900: Trial Mountain / Nurburgring / Suzuka Circuit / Autopolis
X2019 Nations Cup: Interlagos Circuit / Sardegna Road Track / Dragon Trail / Trial Mountain Circuit / Lake Maggiore Circuit
World Rally Challenge Gr. B: Lake Louise
Japanese 4WD Challenge 600
Pick-Up Truck Race: Lake Louise
2 Expert Race Events
Clubman Cup+: Watkins Glen International / Special Stage Route X / Fuji Speedway / Monza Circuit
GT Cup Gr. 3: Mount Panorama / Daytona International Speedway / Deep Forest Raceway / Red Bull Ring
New 'Event Directory' button
A quick list of races currently enterable.
The new Event Directory button added to the top-right of the screen allows players to quickly find any events they can enter. Pressing the button brings up a list of all races that are enterable with current settings. Players can then select a race from the list to enter straight away.
Keep on racing with the Weekly Challenge.
The Weekly Challenge is a new weekly event that gives players a list of events to complete. Completing all of them will earn players a special reward. These events will be picked from current World Circuit events along with all-new race events as well.**
Gran Turismo Sophy (AI Driver Agent) with Quick Race
(PS5 Only)
Play with Gran Turismo Sophy on the PS5 version. Set up a race quickly and easily with 'Quick Race'.
Arcade Race has now become Quick Race. Players can now choose to race against regular AI or the prototype AI racing agent 'Gran Turismo Sophy' for even more exciting races than ever before.***
Additionally, credit prizes increase based on the player's Collector Level and Circuit Experience progress. This race mode is easier than ever to get into, and even more replayable.
50 Challenges added to Licenses
The new Master License has been added to the License Centre, where players learn the ins and outs of sports driving step by step. Starting from the basics, 50 new expert challenges have been added. These will become available to play once the normal licenses have been cleared.
Paddock added to Multiplayer Menu
Engage in casual conversation at the Paddock
With the Spec II update, there are big changes in multiplayer as well. The 'room' screen in Meeting Places has now become the 'Paddock' parking area. In the Paddock players cannot only communicate with each other but also take a look at certain cars close-up. Players can not only access the Paddock from World Circuits as before, but also from the Multiplayer menu.
4-player split screen saces (PS5 only)
The 2P Split Screen mode has changed to Split-Screen Race. Up to 4 people can now play together in Split Screen mode (PS5 only). One controller per person required.
Features added to Photos / Scapes
Slow shutter modes
New slow shutter speeds have been added to the camera when using the Race Photo mode during the post-race replay. It is now possible to set the shutter between 1s and 1/30s. Use the slower shutter to make dark scenes brighter, capture light trails and photograph dynamic movements. Experience a whole new frontier of photographic expression.
New Scapes features and spots
Player's Favorites (The 30 Most Popular Spots) has been added to featured Scapes. Additionally, to celebrate the addition of the 3000th Scapes Spot, the Polyphony Digital Tokyo Studio spot has been added.
Updated GT Menu / Dashboard
The new 'Dashboard' has been added where players track a variety of game progression figures, from number of cars in their Garage, to their Collector Level and World Circuits completion rate. The Dashboard is accessible from the GT Menu in the top-left of the screen, or by pressing 'Triangle' on the World Map screen.
The Gran Turismo 7 SPEC II 1.40 update is live today.
*Internet connection and Gran Turismo 7 game required for update.
**This mode is only available once players have reached the ending movie.
*** Gran Turismo Sophy mode is only available on the PS5 version of Gran Turismo 7. Certain cars and courses are currently unavailable in this mode and subsequently cannot be selected.