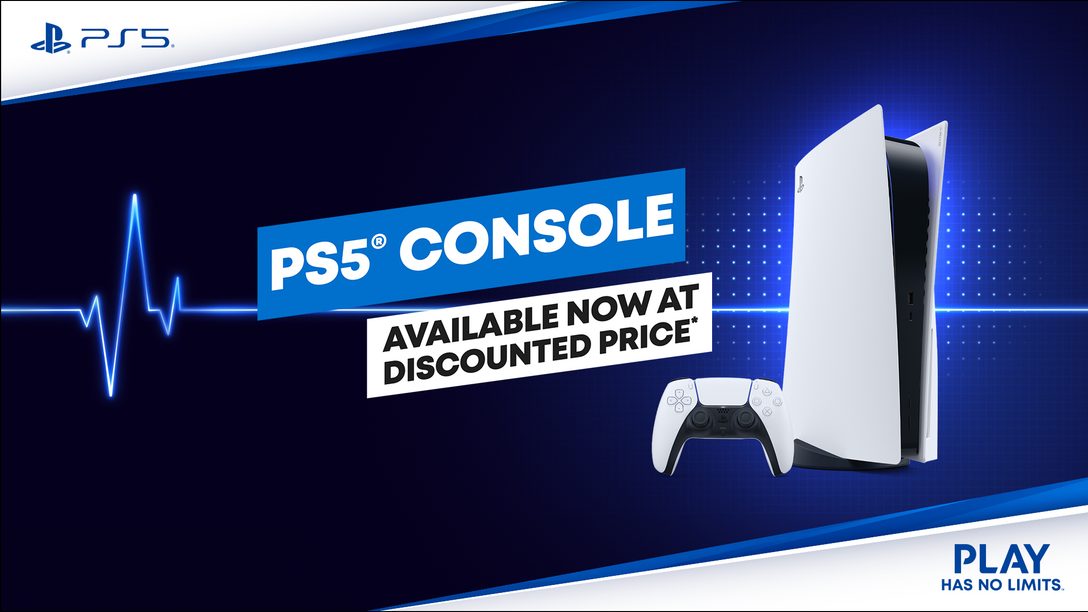 Save on PS5 (stand alone or bundles), select games and peripherals during one of the biggest sales of the year!
We are happy to share that 11.11 Festival this year starts from 3rd till 16th November 2023, and players will be able to purchase PlayStation 5 consoles for up to SGD 160 / MYR 550 / THB 4,200/ IDR 1,820,000 / VND 2,900,000 off at participating retailers in Singapore, Malaysia, Thailand, Indonesia and Vietnam.
Special offers will also apply to "Call of Duty: Modern Warfare III PS5 Bundle" releases same day as the game's launch on Nov 10, except in Singapore and Vietnam.
As year end holiday and festivities approaching, now is the best time to own PlayStation 5, especially to play blockbusters that have come out in 2023: Hogwarts Legacy, Diablo IV, Final Fantasy XVI, Assassin's Creed Mirage, EA Sports FC 24, NBA 2K24 and Marvel's Spider-Man 2.
The 11.11 Festival promotion will be available at participating retailers:(https://www.playstation.com/local/retailers/).
Please see below for the full promotion that includes offering for select games and peripherals in Singapore, Malaysia, Thailand, Indonesia, Vietnam and the Philippines:
Singapore
| | | |
| --- | --- | --- |
| Product Name | Original SRP | Promotion SRP |
| PlayStation®5 Console | SGD 799 | SGD 639 |
| PlayStation®5 Console – FINAL FANTASY XVI Bundle | SGD 889 | SGD 735 |
| PlayStation®5 Console – Marvel's Spider-Man 2 Bundle | SGD 889 | SGD 735 |
| PlayStation®5 Console – EA Sports FC 24 Bundle | SGD 889 | SGD 735 |
| PlayStation®5 Console – Two DualSense™ Wireless Controllers Bundle | SGD 889 | SGD 735 |
| PlayStation®5 Console – Marvel's Spider-Man 2 Limited Edition Bundle | SGD 949 | SGD 795 |
| | | |
| --- | --- | --- |
| Product Name | Original SRP | Promotion SRP |
| PULSE 3D™ Wireless Headset | SGD 149 | SGD 135 |
| PULSE 3D™ Midnight Black Wireless Headset | SGD 149 | SGD 135 |
| PULSE 3D™ Gray Camouflage Wireless Headset | SGD 149 | SGD 135 |
| DualSense® wireless controller | SGD 99.90 | SGD 72.90 |
| DualSense® wireless controller – Midnight Black | SGD 99.90 | SGD 72.90 |
| DualSense® wireless controller – Cosmic Red | SGD 107 | SGD 72.90 |
| DualSense® wireless controller – Nova Pink | SGD 107 | SGD 72.90 |
| DualSense® wireless controller – Galactic Purple | SGD 107 | SGD 72.90 |
| DualSense® wireless controller – Starlight Blue | SGD 107 | SGD 72.90 |
| DualSense® wireless controller – Gray Camouflage | SGD 107 | SGD 72.90 |
| DualSense® wireless controller – Metallic Red | SGD 107 | SGD 72.90 |
| DualSense® wireless controller – Metallic Blue | SGD 107 | SGD 72.90 |
| | | |
| --- | --- | --- |
| Product Name | Original SRP | Promotion SRP |
| PlayStation®5 Gran Turismo® 7 | SGD 97.90 | SGD 67.90 |
| PlayStation®5 Marvel's Spider-Man: Miles Morales | SGD 67.90 | SGD 40.90 |
| PlayStation®5 God of War™ Ragnarök | SGD 97.90 | SGD 67.90 |
| PlayStation®5 Horizon Forbidden West™ Complete Edition | SGD 79.90 | SGD 54.90 |
| PlayStation®4 God of War PlayStation Hits | SGD 28.90 | SGD 14.90 |
| PlayStation®5 Forspoken | SGD 97.90 | SGD 49.90 |
Malaysia
| | | |
| --- | --- | --- |
| Product Name | Original SRP | Promotion SRP |
| PlayStation®5 Console | MYR 2,499 | MYR 1,949 |
| PlayStation®5 Console – Call of Duty® Modern Warfare III Bundle | MYR 2,769 | MYR 2,239 |
| PlayStation®5 Console – FINAL FANTASY XVI Bundle | MYR 2,769 | MYR 2,239 |
| PlayStation®5 Console – Marvel's Spider-Man 2 Bundle | MYR 2,769 | MYR 2,239 |
| PlayStation®5 Console – EA Sports FC 24 Bundle | MYR 2,769 | MYR 2,239 |
| PlayStation®5 Console – Two DualSense™ Wireless Controllers Bundle | MYR 2,799 | MYR 2,269 |
| PlayStation®5 Console – Marvel's Spider-Man 2 Limited Edition Bundle | MYR 2,969 | MYR 2,439 |
| PlayStation®5 Console Digital Edition- PlayStation Plus Deluxe 24-Month Subscription Bundle | MYR 2,687 | MYR 2,139 |
| | | |
| --- | --- | --- |
| Product Name | Original SRP | Promotion SRP |
| PULSE 3D™ Wireless Headset | MYR 469 | MYR 419 |
| PULSE 3D™ Midnight Black Wireless Headset | MYR 469 | MYR 419 |
| PULSE 3D™ Gray Camouflage Wireless Headset | MYR 469 | MYR 419 |
| DualSense® wireless controller | MYR 349 | MYR 299 |
| DualSense® wireless controller – Midnight Black | MYR 349 | MYR 299 |
| DualSense® wireless controller – Cosmic Red | MYR 369 | MYR 299 |
| DualSense® wireless controller – Nova Pink | MYR 369 | MYR 299 |
| DualSense® wireless controller – Galactic Purple | MYR 369 | MYR 299 |
| DualSense® wireless controller – Starlight Blue | MYR 369 | MYR 299 |
| DualSense® wireless controller – Gray Camouflage | MYR 369 | MYR 299 |
| DualSense® wireless controller – Metallic Red | MYR 369 | MYR 299 |
| DualSense® wireless controller – Metallic Blue | MYR 369 | MYR 299 |
| | | |
| --- | --- | --- |
| Product Name | Original SRP | Promotion SRP |
| PlayStation®5 Gran Turismo® 7 | MYR 299 | MYR 209 |
| PlayStation®5 Marvel's Spider-Man: Miles Morales | MYR 209 | MYR 129 |
| PlayStation®5 God of War™ Ragnarök | MYR 299 | MYR 209 |
| PlayStation®5 Horizon Forbidden West™ Complete Edition | MYR 249 | MYR 169 |
| PlayStation®4 God of War PlayStation Hits | MYR 79 | MYR 39 |
| PlayStation®5 Forspoken | MYR 299 | MYR 149 |
Thailand
| | | |
| --- | --- | --- |
| Product Name | Original SRP | Promotion SRP |
| PlayStation®5 Console | THB 18,690 | THB 14,490 |
| PlayStation®5 Console – Call of Duty® Modern Warfare III Bundle | THB 20,790 | THB 16,690 |
| PlayStation®5 Console – FINAL FANTASY XVI Bundle | THB 20,790 | THB 16,690 |
| PlayStation®5 Console – Marvel's Spider-Man 2 Bundle | THB 20,790 | THB 16,690 |
| PlayStation®5 Console – EA Sports FC 24 Bundle | THB 20,790 | THB 16,690 |
| PlayStation®5 Console – Two DualSense™ Wireless Controllers Bundle | THB 20,690 | THB 16,590 |
| PlayStation®5 Console – Marvel's Spider-Man 2 Limited Edition Bundle | THB 22,290 | THB 18,190 |
| PlayStation®5 Console Digital Edition- PlayStation Plus Deluxe 24-Month Subscription Bundle | THB 20,290 | THB 16,090 |
| | | |
| --- | --- | --- |
| Product Name | Original SRP | Promotion SRP |
| PULSE 3D™ Wireless Headset | THB 3,490 | THB 3,190 |
| PULSE 3D™ Midnight Black Wireless Headset | THB 3,490 | THB 3,190 |
| PULSE 3D™ Gray Camouflage Wireless Headset | THB 3,490 | THB 3,190 |
| DualSense® wireless controller | THB 2,390 | THB 1,990 |
| DualSense® wireless controller – Midnight Black | THB 2,390 | THB 1,990 |
| DualSense® wireless controller – Cosmic Red | THB 2,590 | THB 1,990 |
| DualSense® wireless controller – Nova Pink | THB 2,590 | THB 1,990 |
| DualSense® wireless controller – Galactic Purple | THB 2,590 | THB 1,990 |
| DualSense® wireless controller – Starlight Blue | THB 2,590 | THB 1,990 |
| DualSense® wireless controller – Gray Camouflage | THB 2,590 | THB 1,990 |
| DualSense® wireless controller – Metallic Red | THB 2,590 | THB 1,990 |
| DualSense® wireless controller – Metallic Blue | THB 2,590 | THB 1,990 |
| | | |
| --- | --- | --- |
| Product Name | Original SRP | Promotion SRP |
| PlayStation®5 Gran Turismo® 7 | THB 2,290 | THB 1,690 |
| PlayStation®5 Marvel's Spider-Man: Miles Morales | THB 1,690 | THB 990 |
| PlayStation®5 God of War™ Ragnarök | THB 2,290 | THB 1,690 |
| PlayStation®5 Horizon Forbidden West™ Complete Edition | THB 1,990 | THB 1,290 |
| PlayStation®4 God of War PlayStation Hits | THB 790 | THB 390 |
| PlayStation®5 Forspoken | THB 2,290 | THB 1,090 |
Indonesia
| | | |
| --- | --- | --- |
| Product Name | Original SRP | Promotion SRP |
| PlayStation®5 Console | IDR 9,699,000 | IDR 7,879,000 |
| PlayStation®5 Console – God of War™ Ragnarok Bundle | IDR 10,579,000 | IDR 8,839,000 |
| PlayStation®5 Console – Call of Duty® Modern Warfare III Bundle | IDR 10,579,000 | IDR 8,839,000 |
| PlayStation®5 Console – FINAL FANTASY XVI Bundle | IDR 10,579,000 | IDR 8,839,000 |
| PlayStation®5 Console – Marvel's Spider-Man 2 Bundle | IDR 10,579,000 | IDR 8,839,000 |
| PlayStation®5 Console – EA Sports FC 24 Bundle | IDR 10,579,000 | IDR 8,839,000 |
| PlayStation®5 Console – Two DualSense™ Wireless Controllers Bundle | IDR 10,779,000 | IDR 9,039,000 |
| PlayStation®5 Console – Marvel's Spider-Man 2 Limited Edition Bundle | IDR 11,399,000 | IDR 9,659,000 |
| | | |
| --- | --- | --- |
| Product Name | Original SRP | Promotion SRP |
| PULSE 3D™ Wireless Headset | IDR 1,699,000 | IDR 1,549,000 |
| PULSE 3D™ Midnight Black Wireless Headset | IDR 1,699,000 | IDR 1,549,000 |
| PULSE 3D™ Gray Camouflage Wireless Headset | IDR 1,699,000 | IDR 1,549,000 |
| DualSense® wireless controller | IDR 1,269,000 | IDR 1,039,000 |
| DualSense® wireless controller – Midnight Black | IDR 1,269,000 | IDR 1,039,000 |
| DualSense® wireless controller – Cosmic Red | IDR 1,359,000 | IDR 1,129,000 |
| DualSense® wireless controller – Nova Pink | IDR 1,359,000 | IDR 1,129,000 |
| DualSense® wireless controller – Galactic Purple | IDR 1,359,000 | IDR 1,129,000 |
| DualSense® wireless controller – Starlight Blue | IDR 1,359,000 | IDR 1,129,000 |
| DualSense® wireless controller – Gray Camouflage | IDR 1,359,000 | IDR 1,129,000 |
| | | |
| --- | --- | --- |
| Product Name | Original SRP | Promotion SRP |
| PlayStation®5 Gran Turismo® 7 | IDR 1,029,000 | IDR 729,000 |
| PlayStation®5 Marvel's Spider-Man: Miles Morales | IDR 729,000 | IDR 439,000 |
| PlayStation®5 God of War™ Ragnarök | IDR 1,029,000 | IDR 729,000 |
| PlayStation®5 Horizon Forbidden West™ Complete Edition | IDR 879,000 | IDR 579,000 |
| PlayStation®4 God of War PlayStation Hits | IDR 309,000 | IDR 149,000 |
| PlayStation®5 Forspoken | IDR 1,029,000 | IDR 509,000 |
Vietnam
| | | |
| --- | --- | --- |
| Product Name | Original SRP | Promotion SRP |
| PlayStation®5 Console | VND 15,990,000 | VND 13,090,000 |
| PlayStation®5 Console – God of War™ Ragnarok Bundle | VND 17,490,000 | VND 14,690,000 |
| PlayStation®5 Console – Marvel's Spider-Man 2 Bundle | VND 17,490,000 | VND 14,690,000 |
| PlayStation®5 Console – Two DualSense™ Wireless Controllers Bundle | VND 17,690,000 | VND 14,890,000 |
| PlayStation®5 Console – Marvel's Spider-Man 2 Limited Edition Bundle | VND 18,790,000 | VND 15,990,000 |
| | | |
| --- | --- | --- |
| Product Name | Original SRP | Promotion SRP |
| PULSE 3D™ Wireless Headset | VND 2,699,000 | VND 2,459,000 |
| PULSE 3D™ Midnight Black Wireless Headset | VND 2,699,000 | VND 2,459,000 |
| PULSE 3D™ Gray Camouflage Wireless Headset | VND 2,699,000 | VND 2,459,000 |
| DualSense® wireless controller | VND 1,999,000 | VND 1,629,000 |
| DualSense® wireless controller – Midnight Black | VND 1,999,000 | VND 1,629,000 |
| DualSense® wireless controller – Cosmic Red | VND 2,099,000 | VND 1,729,000 |
| DualSense® wireless controller – Nova Pink | VND 2,099,000 | VND 1,729,000 |
| DualSense® wireless controller – Galactic Purple | VND 2,099,000 | VND 1,729,000 |
| DualSense® wireless controller – Starlight Blue | VND 2,099,000 | VND 1,729,000 |
| DualSense® wireless controller – Gray Camouflage | VND 2,099,000 | VND 1,729,000 |
| DualSense® wireless controller – Metallic Red | VND 2,099,000 | VND 1,729,000 |
| DualSense® wireless controller – Metallic Blue | VND 2,099,000 | VND 1,729,000 |
Philippines
| | | |
| --- | --- | --- |
| Product Name | Original SRP | Promotion SRP |
| PULSE 3D™ Wireless Headset | PHP 5,590 | PHP 4,990 |
| PULSE 3D™ Midnight Black Wireless Headset | PHP 5,590 | PHP 4,990 |
| PULSE 3D™ Gray Camouflage Wireless Headset | PHP 5,590 | PHP 4,990 |
| | | |
| --- | --- | --- |
| Product Name | Original SRP | Promotion SRP |
| PlayStation®5 Gran Turismo® 7 | PHP 3,490 | PHP 2,490 |
| PlayStation®5 Marvel's Spider-Man: Miles Morales | PHP 2,490 | PHP 1,490 |
| PlayStation®5 God of War™ Ragnarök | PHP 3,490 | PHP 2,490 |
| PlayStation®5 Horizon Forbidden West™ Complete Edition | PHP 2,990 | PHP 1,990 |
| PlayStation®4 God of War PlayStation Hits | PHP 1,099 | PHP 550 |
| PlayStation®5 Forspoken | PHP 3,490 | PHP 1,690 |