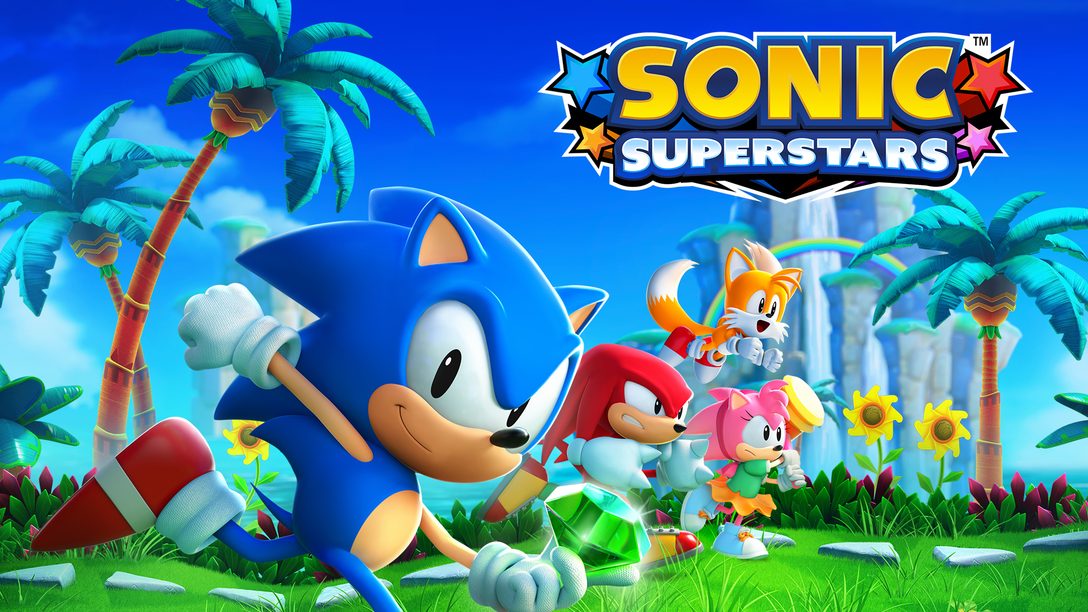 Sonic Superstars Released Today!
Sonic Superstars is now available for purchase on PlayStation®4, PlayStation®5.
■ Sonic Superstars, the Newest Title in the Sonic Series Out Now!
Sonic Superstars is a brand-new high-speed action game that combines the classic feel of the 2D side-scrolling Sonic series with crisp 3D graphics.
A new adventure begins for Sonic and his pals, Tails, Amy, and Knuckles, in the mysterious Northstar Islands, inhabited by gigantic creatures. With your newfound Emerald Powers, stop Dr. Eggman and Fang, who plan to use these creatures for their devious schemes!
Sonic Superstars – Key Features
An Evolution of the 2D Side-Scroller
The series' 2D side-scrolling action is back and better than ever, with new visuals, zones, songs, and mechanics! Newcomers and longtime fans alike can enjoy a brand-new experience that still maintains that classic Sonic charm!
Introducing Just Some of the Zones Your Adventures Will Take You!
・SPEED JUNGLE
Your pursuit of Fang will lead you to a dim, overgrown jungle. As you slide speedily down ropes of ivy, zipping through the dense thickets, you may suddenly plunge straight into darkness! This zone also sets the stage for a Sonic-exclusive act where you can enjoy a thrilling chase with Fang.
・PINBALL CARNIVAL
A bustling park where you can enjoy colorful neon lights and fireworks. By day, it's a vibrant world for thrill-seekers, but by night, the gloomy atmosphere creeps in… There are plenty of unique and fun Sonic attractions like pinball machines and jet coasters! At the end of the zone, a giant Dr. Eggman lies in wait…
・CYBER STATION
A weird and wonderful world where everything is pixelated – even Sonic and his friends! Transform into jellyfish, mice, rockets, and more to overcome the quirks of the digital world!
A Colorful Cast of Characters
In Sonic Superstars, Tails, Knuckles, and Amy appear alongside Sonic as playable characters. Each character has their own unique skills, in addition to basic maneuvers such as running, jumping, and Spin Dashing. Sonic has the Drop Dash and Tails can fly. Knuckles has Glide and Wall Climb, while Amy has Hammer Smash. Utilize their skills to confront their arch-nemesis, Dr. Eggman and Fang, and face off against all-new enemies as well!
All-New Emerald Powers
Unlock brand-new Emerald Powers by collecting Chaos Emeralds from Special Stages hidden throughout Acts. Emerald Powers offer various abilities such as creating clones to defeat enemies and swimming up waterfalls. After you activate an Emerald Power, you can use the ability as many times as you want within the time limit. If you run out of time, just run past a Star Post to replenish your Emerald Power timer. Try out each Emerald Power for yourself and discover new ways to experience this high-speed adventure!
A Glimpse at the Different Emerald Powers!
Avatar
Creates a horde of clones that will destroy objects, clobber enemies, and collect Rings and items for you.
Bullet
Transforms your character into a ball of fire and allows you to blast off in any direction. You can use this ability as many times as you want within the time limit.
Vision
Reveals hidden platforms and Rings in Acts.
Ivy
Reveals hidden platforms and Rings in Acts.
Play With Your Friends in Multiplayer!
This is the first title in the series to feature local multiplayer. Enjoy adventuring with up to four players in the story mode. The battle mode can be played online or offline. When online, you can participate in a variety of battles with up to eight players from around the world!
■ LEGO® and SEGA are Thrilled to Announce a Free LEGO® Sonic Skin DLC!
Download the free LEGO® Sonic Skin! The DLC will let you switch Sonic to LEGO® form.
Zip through the Northstar Islands in true LEGO® style!
Product Information
TITLE:Sonic Superstars
SUPPORTED PLATFORMS:PlayStation®5 / PlayStation®4
RELEASE DATE:October 17, 2023
GENRE:High-speed Action
DEVELOPER / DISTRIBUTOR:SEGA CORPORATION
Copyright:©SEGA
Official Website:https://asia.sega.com/SonicSuperStars/en/