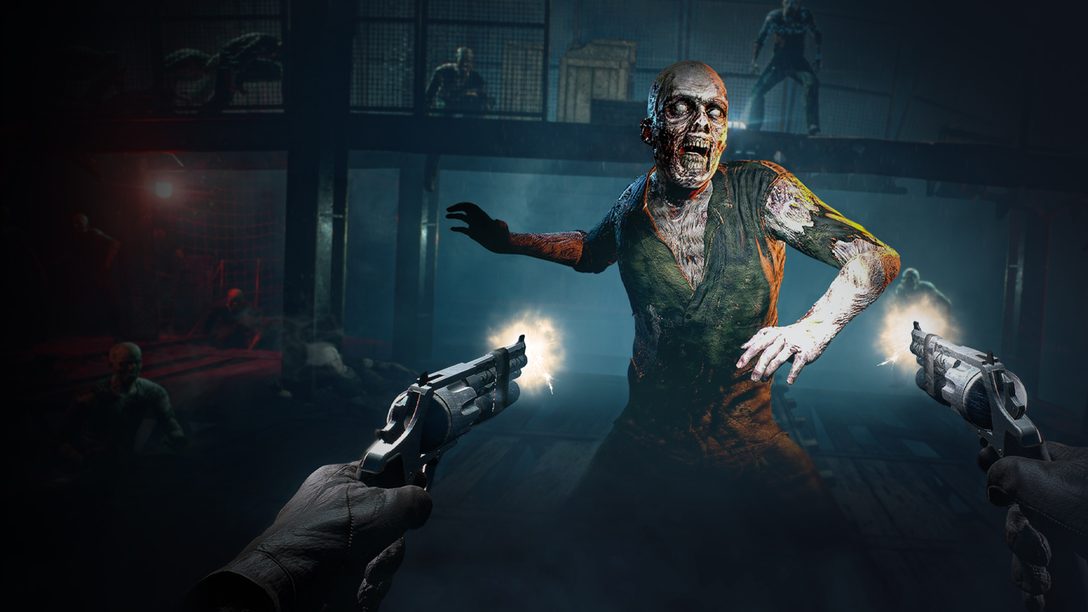 How long can you survive as you speed headlong into deadly rooms of doom?
Here at Supermassive Games, we are hugely excited to reveal The Dark Pictures: Switchback VR's new fast-paced, arcade-style survival challenge. How many rooms can you complete as you descend into hell with just your guns and reflexes for protection? Our focus on Horde Mode was to deliver fast-paced, intense action combat with additional rollercoaster thrills where facing your fears are taken to a whole new level.
We've included all the features from the standard game and elevated them for horde mode. Try not to blink as eye tracking will definitely make the combat harder! Maybe focus your other senses to track an enemy's presence around you such as 3D audio, you'll hear their screams and whispers just in time to know where to unload your bullets. Feel the kick of your weapons with PS VR2 Sense controllers adaptive triggers – they are your only protection against the swarms and feel the rush of your cart as it speeds down steep declines as you descend straight into hell. This is an experience that will live long in your nightmares!
So how far you can make it? – Do you possess the skills to enter horde mode? No pressure but the studio record is 21 floors – anyone out there able to survive longer?
And even better, this new addition to the game is free with Switchback VR's base game – a game that puts you through your own personal nightmare, where each track has multiple terrifying paths, all designed to make you feel the fear on PS VR2.
In the main game, each track is uniquely based on the spine-chilling monsters and environments from The Dark Pictures Anthology and features easter eggs from Man of Medan, Little Hope, House of Ashes and The Devil in Me. We've taken some truly fearful enemies from these games and recreated them in VR.
Intense rooms of hell

On this sinister horror horde mode, you are being dragged right back down to hell – you'll be confronted by swarms of enemies in this new nightmarish mode, complete each room to get increasingly harder enemies and survive attacks from all manner of hideous apparitions straight from the depths of the hell.
Extreme G rollercoaster drops

We get it, you're all adrenaline junkies and loved the drops in Rush of Blood! So, for our new horde mode we have really pushed this to extreme levels – we have certainly tested the boundaries on how big we could make these drops and how much speed we could add to the cart. So, hold on tight as your journey between each room is about to be G fueled.
Don't blink
A new challenge has been introduced in horde mode… where blinking has become even more deadly. Fight off swarms of horrific sailors, demon dogs and masked mannequins, with new enemies appearing as you blink. Keep your eyes open, or your death will be quick.
Power up

Be rewarded for your headshot streaks and gain the opportunity to unlock the most powerful gun from Switchback VR.
Thank you to all the Switchback VR fans who have joined us on this wild ride so far! We are beyond excited to see your reactions as you attempt to take on the rooms of doom in Horde Mode! The Dark Pictures: Switchback VR Horde Mode is out now. Download Switchback VR for PlayStation VR2 to experience the downward spiral of terror that is Horde Mode.