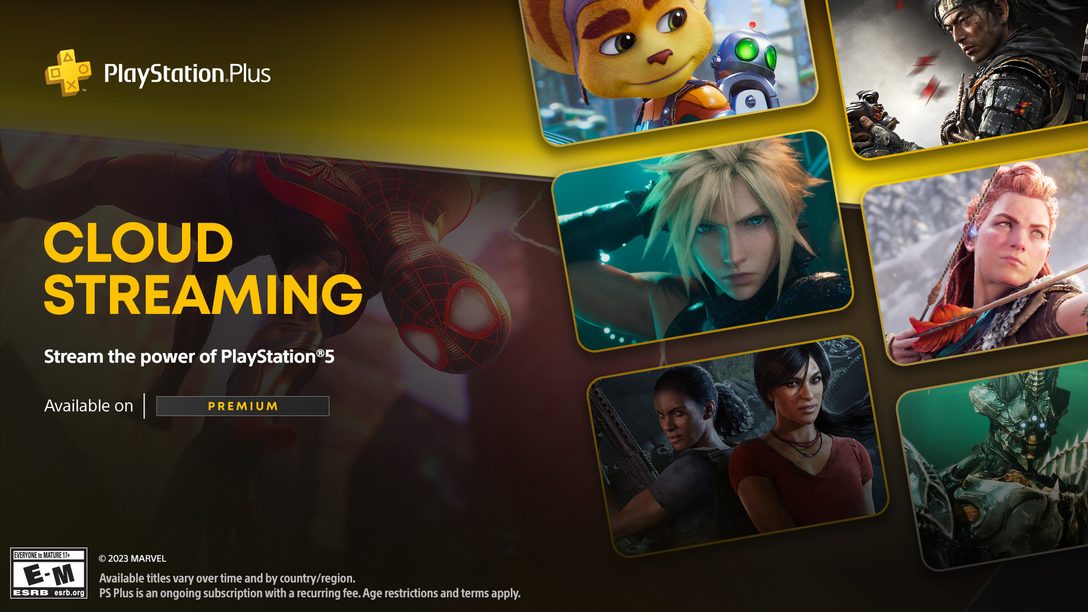 Learn about the key features of the new cloud streaming benefit for Premium members in select markets.
Starting today, we're taking a step forward in cloud gaming by rolling out our PS5 cloud streaming feature for PlayStation Plus Premium members. This includes supported PS5-native games available through the PlayStation Plus Games Catalog* and Game Trials, as well as supported digital PS5 titles you own.
We know you have questions, so let's dive right in!
What plan option do I need to access the cloud streaming benefit from PlayStation Plus?
The cloud streaming benefit for PlayStation Plus is available through the PlayStation Plus Premium plan, which is offered in the following locations:
Austria, Belgium, Bulgaria, Canada, Croatia, Czech Republic, Denmark, Finland, France, Germany, Greece, Hungary, Ireland, Italy, Japan, Luxembourg, Malta, Netherlands, Norway, Poland, Portugal, Republic of Cyprus, Romania, Slovakia, Slovenia, Spain, Sweden, Switzerland, United Kingdom, and United States.
We're tracking the following launch dates for this new feature in local times:
Japan – starting today, October 17
Europe – targeting October 23
North America – targeting October 30
Where will the option to stream a game appear?
You can either select the game from PlayStation Plus through your PS5 dashboard, or if you have the game in your PS5 game library, select 'streaming' from there.
What titles can be streamed through the cloud streaming benefit from PlayStation Plus Premium?
Cloud streaming is available for the following platforms through PlayStation Plus Premium. Please note that cloud streaming availability may vary by title.
Original PlayStation, PS2, PS3 and PSP games, though Classic Catalog
PS4 and PS5 games through Game Catalog
PS5 games available as Game Trial
Supported digital PS5 games from your game library
Can PS5 games also be streamed on PC (where available) or PS4 consoles?
Currently, the PS5 game streaming experience is only available on PS5 consoles via the PlayStation Plus Premium plan.
Can PS VR2 games be streamed?
Cloud steaming access does not support PS VR2 games.
Can disc-based PS5 games be streamed?
Cloud streaming is only available for digital PS5 titles.
Are the Monthly Games streamable with a PlayStation Plus membership?
Supported PS5 games available through the Monthly Games benefit will be available for streaming by PlayStation Plus Premium members as long as you redeem the title during the month it is offered.
What's the difference between cloud streaming via PlayStation Plus Premium and PlayStation's Remote Play feature?
Remote Play requires the titles to be downloaded locally to a PS5 console prior to using the Remote Play app; cloud streaming does not. Please note that Remote Play is not compatible with cloud-streamed titles.
Are titles from the PlayStation Plus Game and Classics Catalog compatible with the PlayStation Portal remote player?
The PlayStation Portal remote player is designed to use Remote Play functionality – allowing you to play titles already installed on your PS5 storage via a WiFi connection.
Titles from the PlayStation Plus Game and Classic catalog that can be installed on your PS5 will be compatible with the PlayStation Portal remote player. However, the PlayStation Portal remote player will not support cloud streaming of these titles.
What are the supported video resolutions?
High- quality resolution options in SDR or HDR at 60Hz will be available for PS5 titles when streamed. Below are our recommended available internet bandwidth (in mbps) mbps for each option.
2160p (4K) – 52 mbps recommended
1440p – 38 mbps recommended
1080p (Full HD) – 23 mbps recommended
720p (HD) – 13 mbps recommended
Requires minimum internet speed of 5mbps, 15 mbps for 1080p and 38 mbps+ for 4K.
Will DLC and add-ons be available if I decide to stream a PS5 title?
Players can purchase and use add-on content for supported PS5 games with a streaming option. Content will be available immediately after it is purchased from PlayStation Store.
How will my game progress be saved if I decide to stream a PS5 game instead of downloading it?
Save data and game progress is automatically synced between all devices via cloud storage, making it easy to switch seamlessly between local and streaming gameplay, and between multiple devices.
Can I transfer game progress from Game Trials to my full purchase if I choose the streaming option instead of downloading?
Yes, similar to downloading Game Trials, you can still keep any Trophies or progress saved if you decide to purchase the full game.
Additionally, Trophies you earn will remain on your PlayStation Network profile, even if you decide not to purchase the title. If you decide to purchase the title later, you can continue to earn Trophies where you left off.
What is the difference between playing a downloaded PS5 game and streaming a PS5 game?
Playing a locally downloaded PS5 game and streaming a supported PS5 game is a similar experience (determined by internet speeds), except save files are stored via cloud storage instead of locally on the PS5 console.
*Availability of Game Library varies over time, region/country and plan. See https://www.playstation.com/Plus for details and updates on PlayStation Plus offerings. PlayStation Plus is an ongoing subscription subject to a recurring subscription fee taken automatically (at the then-current PS Store price) at the frequency you choose at purchase until cancellation. Terms apply: play.st/psplus-usageterms