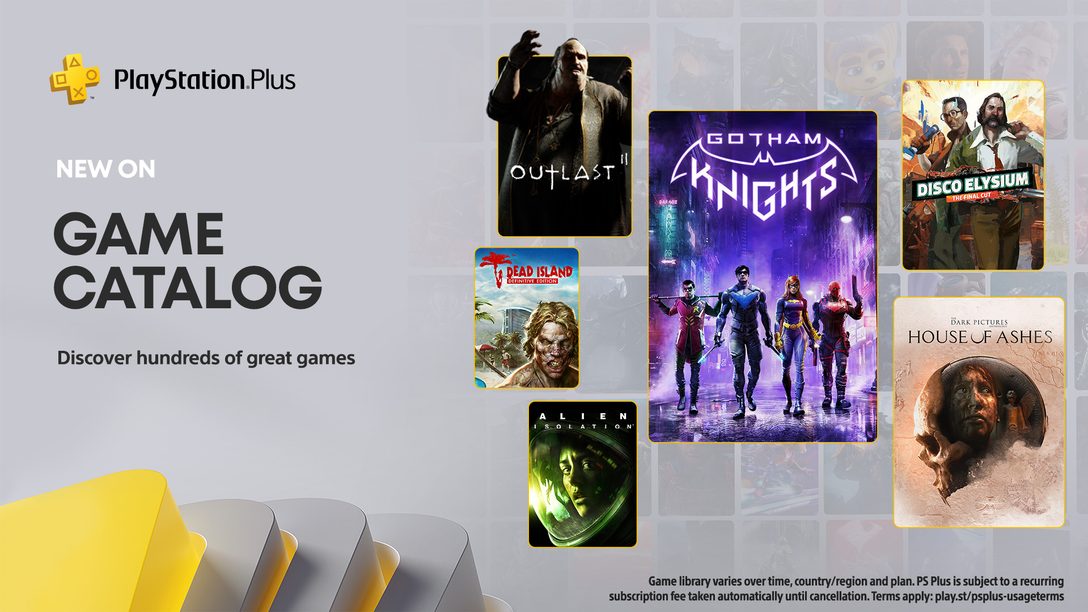 Also included are Alien: Isolation, Dead Island Definitive Edition, Outlast 2, and more.
Action-packed thrills and spooky chills await this month's selection of games joining the PlayStation Game Catalog. All titles playable from Tuesday, October 17. Let's get into it.
PlayStation Plus Extra and Deluxe | Game Catalog
Gotham Knights | PS5
It's up to the Batman Family – Batgirl, Nightwing, Red Hood, and Robin – to protect Gotham, bring hope to its citizens, discipline to its cops, and fear to its criminals. Gotham Knights is an open-world, action RPG set in a dynamic and interactive Gotham City. Patrol Gotham's five distinct boroughs in solo or in co-op and drop in on criminal activity wherever you find it.
Disco Elysium – The Final Cut | PS4, PS5
The definitive edition of the groundbreaking role-playing game. You're a detective with a unique skill system at your disposal and a whole city block to carve your path across. Interrogate unforgettable characters, crack murders, or take bribes. Become a hero or an absolute disaster of a human being.
The Dark Pictures Anthology: House of Ashes | PS4, PS5
As the conflict in Iraq (2003) draws to a close a Military Unit, accompanied by CIA field operative Rachel King, is ordered to investigate a suspected underground chemical weapons facility in shadow of the Zagros Mountains. Horrific discoveries and impossible decisions face the Unit as they strive to navigate a subterranean labyrinth and escape the terrifying threat. Will they each prioritize their own survival, or put aside their fears and their personal rivalries to fight together as one?
Alien: Isolation | PS4
Fifteen years after the events of Alien, Ellen Ripley's daughter, Amanda enters a desperate battle for survival, on a mission to unravel the truth behind her mother's disappearance. Navigate through an increasingly volatile world as you find yourself confronted on all sides by a panicked, desperate population and an unpredictable, ruthless Alien. Underpowered and under-prepared, you must scavenge resources, improvise solutions and use your wits, not just to succeed in your mission, but to simply stay alive.
Dead Island Definitive Edition | PS4
Caught in the midst of an epic zombie outbreak on the tropical island of Banoi, survival is your only priority. Smash heads, crack skulls, and slice 'em up with visceral astounding melee combat and true story-based four-player co-op in a sprawling open world just waiting for exploration.
Outlast 2 | PS4
Two investigative journalists risk it all to uncover stories no one else will dare touch. Their latest lead follows a trail of clues that begin with the seemingly impossible murder of a pregnant woman known only as Jane Doe. The investigation leads miles into the Arizona desert, to a darkness and corruption so deep that no one could yet shed light upon it. Stay sharp to survive in an intense first-person horror experience.
FAR: Changing Tides | PS4, PS5
An atmospheric vehicle adventure that follows the emotional journey of a boy and his ship as he embarks on a voyage to find a new home. Sail stormy waters, dive unknown depths, and explore forgotten ruins in a beautifully realized, flooded world. Experience the thrill of captaining a distinctive seafaring vessel. Together you'll brave high seas, navigate intense storms, and plumb the perils of a briny deep.
Gungrave G.O.R.E. | PS4, PS5
Become the gun-wielding badass anti-hero of your dreams as you mow down tons of enemies in a gory ballet of bullets and experience a story of vengeance, love and loyalty, all in a beautiful third-person action shooter, combining the best that Eastern and Western game design have to offer.
A-Train Express Plus | PS4
The three elements of city development, railroad operations, and company management come together in the supreme urban planning experience. This latest incarnation builds upon the features of previous entries in the series, including Shinkansen bullet trains from across Japan.
Eldest Souls | PS4, PS5
In a final act of vengeance, the Old Gods have unleashed a great Desolation upon the world. Mankind is fading, with but a glimmer of hope remaining. Fast-paced and challenging Soulslike combat awaits, where every moment counts. Yet fortune favors the bold, and defeating the Old Gods may grant the player powers beyond mortal comprehension. Each Old God presents a new and unique challenge for the player to overcome, with fitting rewards for those who triumph.
PlayStation Deluxe | Classics
Tekken 6 | PS4, PS5
Face off against tough opponents in large, interactive stages. Customize your favorite character, equipping items with direct impacts on gameplay. Practice and patience make perfect as you hone your combos and seek to win the tournament.
Wield massive blades, execute high-flying maneuvers, and apply pressure to destroy rivals or knock them out of the ring. Dive into modes include the story-driven Gauntlet, challenging Trials, Training, and more.
Ape Escape Academy | PS4, PS5
Never has monkeying around in class been so rewarding. Complete a variety of fun, colorful minigames like dancing, fighting, building bonfires, and more. Strive to be the best and make it to senior year in Ape Escape Academy.
Kurushi™ Final: Mental Blocks (IQ Final) | PS4, PS5
This sequel to I.Q.: Intelligent Qube on the original PlayStation includes brain-busting modes like 100 Attack, I.Q. Final, Survival, and Create. Navigate each stage carefully to avoid being crushed by the rotating blocks.