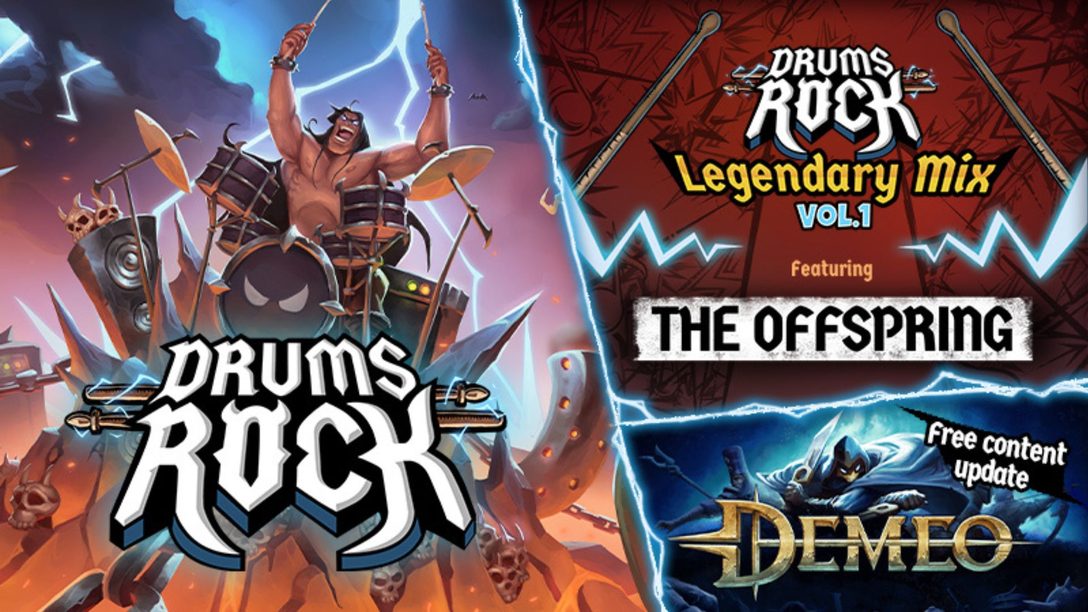 Great hits like You're Gonna Go Far, Kid and In the Meantime are coming to PS VR2.
The wait is over, rockers. The new DLC Legendary Mix Vol I has arrived in Drums Rock. A set of bands from different styles and with great renown are coming to Drums Rock. Among them, The Offspring stands out as one of the most famous American punk rock bands, bringing one of their iconic songs to Drums Rock: You're Gonna Go Far, Kid — a song with some special patterns that will make you feel like The Offspring's drummer.
Legendary Mix is a pack where you can find other bands that have been symbols of Rock. Another great band is Spacehog, with their song In the Meantime, a song that gained great fame after appearing in a certain superhero movie. One of the game's songs that poses a significant challenge, especially on extreme difficulty.
You can also enjoy bands like Collective Soul with their song Shine and Lit with My Worst Own Enemy, iconic groups appearing in different games.
At Garage51, we're looking for songs that the general public knows, but above all, they should be fun. And that's where these groups come into the package:
The Offspring: You're Gonna Go Far, Kid
Spacehog: In the Meantime
Collective Soul: Shine
Lit: My Own Worst Enemy
This pack is our first collaboration with Warner Music, marking the beginning of great DLCs yet to come.
Demeo Collaboration
A new collaboration has also arrived for free, this time with Demeo, one of the most acclaimed games. Thanks to this new update, you can enjoy a song based on the Original Soundtrack of Demeo, and a set of skins inspired by Demeo.
Demeo is a game with an epic soundtrack, and at Garage51, we reached out to Resolution Games. Our profound love for video games made collaboration much easier, and Demeo is coming to Drums Rock through a song that will make you feel like you're exploring dungeons.
The Legendary Mix Vol I DLC is now available separately, along with the collaboration with Demeo, also available for free.