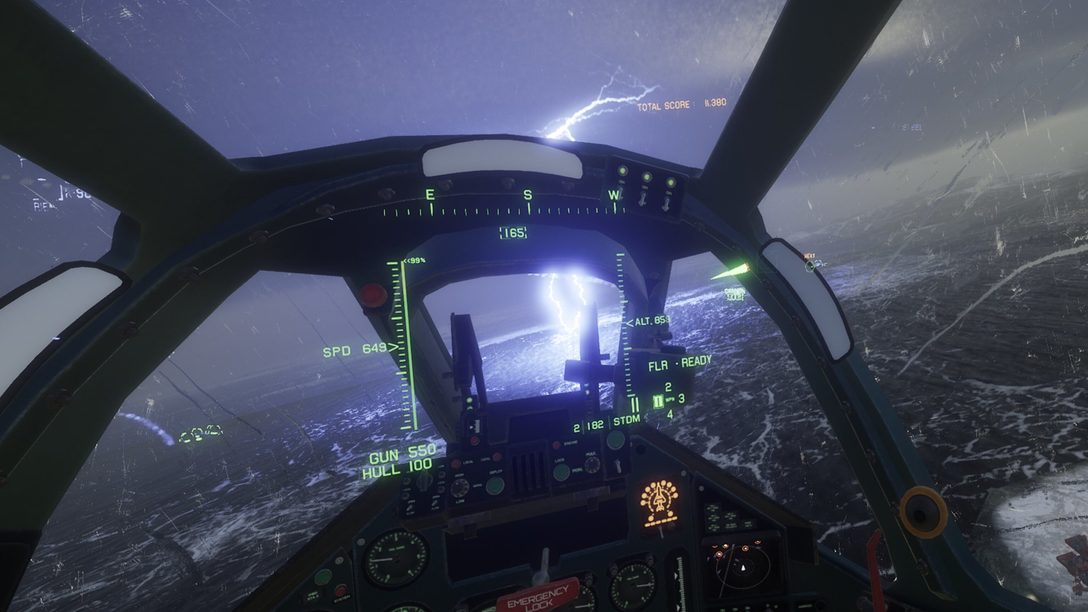 The thrilling flight combat indie hits PS VR2 & PS5 today with new missions and VR features.
Update: PlayStation players can experience Project Wingman's thrilling aerial combat from a whole new perspective in Frontline 59—featuring an enhanced PlayStation 5 version of our indie dev team's original game, plus 6 new virtual reality missions that take advantage of the PlayStation VR2's features to immerse you in the action.
---
In the skies of Project Wingman, players get into the pilot's seat of advanced fighter jets, taking on missions over the seas and ground of a war-scorched alternate Earth timeline known as After Calamity.
Today, PlayStation players can experience Project Wingman's thrilling aerial combat from a whole new perspective in Frontline 59—an enhanced version of our indie dev team's original game, powered up with new missions and PlayStation VR2 features that immerse you in the action.
Project Wingman has always felt like it would be a natural fit for virtual reality, and it's been a thrill to have the chance to bring that vision to life with the PS VR2. Our goal with Wingman has always been to make people feel like awesome, cutting-edge flying aces, and the VR2 features really help take that to the next level—whether you're using eye-tracking technology to help pinpoint targets in a chaotic battlefield, or feeling the rush of high-speed passes against pilots who want you dead.
Mission briefing
Taking place during Project Wingman's main conflict, Frontline 59's six new missions find the Pacific Federation coming under attack by a Cascadian invasion force seeking to cripple the Federation for generations. You play as reserve pilot in the local Federation contingent, and it's up to you and the rest of your unlikely wingmen to beat back the enemy and secure the safety of the Federation once more.
These new missions range from intercept sorties to counter-attacks, and even a few adrenaline-rushing surprises. Here's a beat-by-beat breakdown of what's in store in Frontline 59's exclusive engagements.
Mission 1 – Take off to beat back rabid mercenary pilots from pouncing on retreating allied force.
Mission 2 – Provide aerial support to naval coastal defenses as enemy Marines make landfall.
Mission 3 – Break the enemy by clearing the way for heavy hitting firepower.
Mission 4 – Using an unconventional flight plan, surprise the enemy headquarters and destroy them when they least expect it.
Mission 5 – Destroy the enemy invasion at its root, and send them back to where they came from.
Mission 6 – Duke it out over the Arctic Circle in an intense dogfight to try and stop insanity from setting the world on fire.
While PlayStation 5 players can enjoy Frontline 59 whether they're VR-equipped or not, we built these missions with virtual reality in mind, and we think PS VR2 players will really feel it. If you go into battle with your PS VR2 as your flight helmet, you'll feel the rush of combat across the entire game experience, too.
Two of the coolest features that help deliver the feeling that you're really piloting advanced fighter jet technology: You can track targets with full 360 degree awareness, highlighting targets with PS VR2's eye tracking tech. You can also swivel your head to take in the battlefield, making sure you can see what you want when you want, from any angle.
You'll also feel the rumble of combat through headset vibrations as you barrel through battlefields; each time you get in close for a dogfight or do a supersonic pass on an enemy, you'll feel it in your bones. You'll also feel and hear the aircraft around you as you break through the clouds or bleed speed with spatial audio.
We hope you check out Frontline 59—it was an awesome, challenging, and really satisfying experience bringing our game to life in the VR realm, and we're excited to finally be able to share this experience with Project Wingman veterans and brand-new recruits across the PlayStation community.
Project Wingman: Frontline 59 is out today on PlayStation 5 and PlayStation VR2.