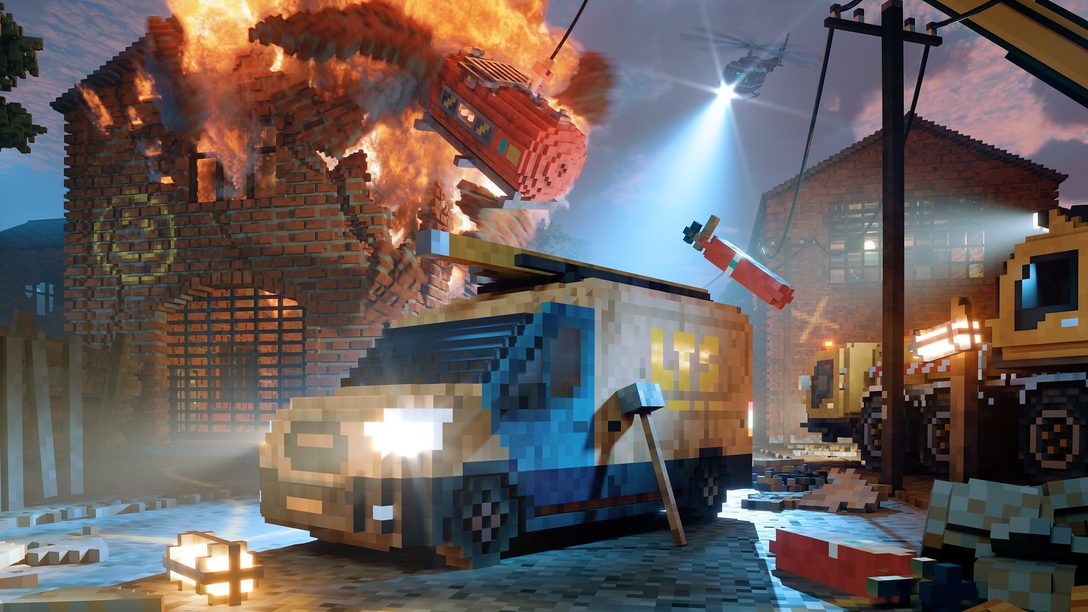 The demolition heist adventure will be available on  PlayStation Plus Game Catalog day one.
Hello again, everyone. In May, we announced that our voxel-based destruction game would be coming to PlayStation 5. Now, I'm excited to share that Teardown will land on consoles on November 15, 2023, and it is our immense privilege to announce that the game will be part of the PlayStation Plus Game Catalog on day one (available with PlayStation Plus Extra and Premium memberships). We are also taking this opportunity to announce a series of new missions, maps, vehicles, and other content coming to Teardown over the next year, along with the game's first-ever season pass. Below, you'll find more details on the upcoming campaign expansion, some new game modes, and a sneak peek at a couple of surprises still to come – but first, a quick recap on the game itself.
There are many ways to play Teardown, but when you first jump into the game, we recommend starting with the story campaign, which has 40 levels that challenge your creativity and logic. Each level begins with a main task, such as stealing or destroying certain objects, and a series of bonus challenges. You must then use the tools, weapons, and vehicles to figure out how to get the job done – sometimes racing against a clock. You will have time to plan your approach and set up your path, but you never know what unexpected obstacles you will encounter.
Once you've gotten the hang of the campaign and explored some of the more structured game modes, you can take on the freeform Sandbox Mode. In Sandbox Mode, you can explore all the maps you've unlocked in the campaign without limitations, obliterating them to the ground with every tool in your toolbox. And within Sandbox Mode, you'll find Creative Mode, which flips the script on Teardown, and offers you the chance to build up. Using all sorts of materials and building tools, you'll get the opportunity to construct your own buildings, sculptures, foliage, and more – and then, if you wish, destroy that too.
Alongside Teardown's launch on PS5, we will release the Time Campers DLC, a campaign expansion set in the wild west. The new expansion adds to the experience in many different ways, introducing a new storyline that takes you back in time, equips you with old-fashioned weapons and tools, and sets your destructive sights upon a dusty mining town. It's a departure from the contemporary setting of Teardown's main campaign, but the heist concept feels right at home in the era of elaborate bank robberies. We had a lot of fun creating new maps and tools out of period-appropriate materials, exploring new types of architecture, and introducing new interactive elements, like the horse and wagon.
Beyond Time Campers, we're also looking forward to other future DLCs. The Teardown experience goes well beyond handheld tools, as you often need the help of vehicles and construction equipment to complete your missions. To make this a rewarding part of the game, we've invested a lot of time into the driving experience. Next, spring's Folkrace DLC will take it a step further, putting you behind the wheel of a fleet of unique vehicles to take on new racing modes and destructive challenges. After Folkrace, we have two more DLCs planned to release in 2024, and we can't wait to share more about them when the time comes.
Creativity is at the heart of Teardown, across the campaign and Sandbox Mode, but that's not everything. Our existing community has already made some impressive mods, and we're excited to share that a selection of our favorites will also be playable on consoles. We'll share more of what those will be as we get closer, but rest assured, you can pet the dog. That's a lot ahead, but we're incredibly excited to welcome PlayStation players to the sandbox soon.