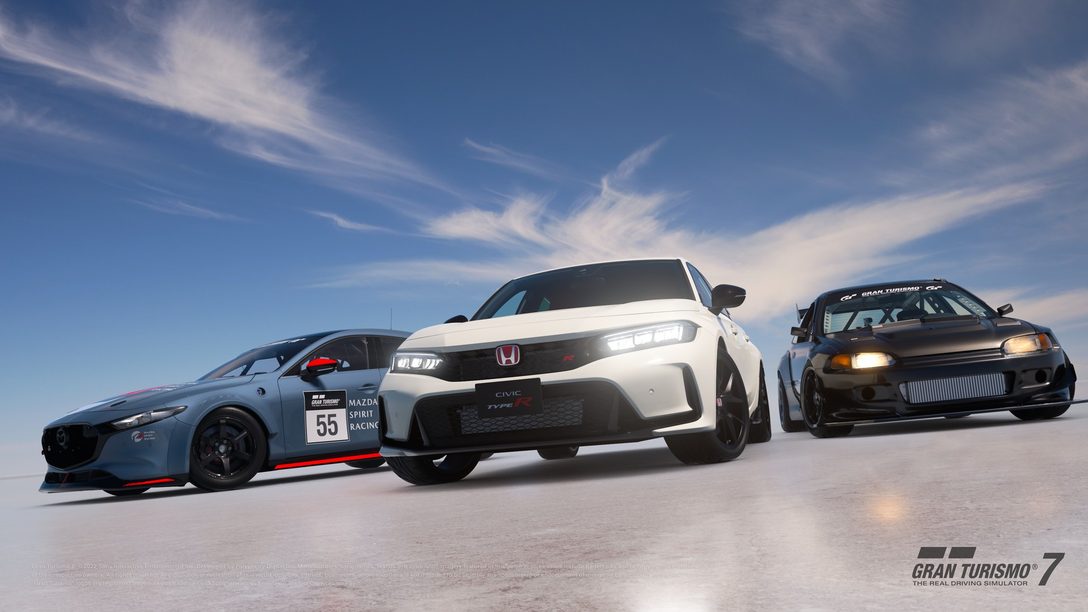 From the legendary R legacy to Time Attack and Bio-Diesel powered race car, what are you racing first?
Gran Turismo players! The 1.38 update for Gran Turismo 7 arrives Thursday, September 28 at 11:00pm PST / 8:00am CEST / 3:00pm JST*, and brings with it three new cars that are being added this month!
Garage RCR Civic
A time attack Civic customized in the classic JDM style.
The overwhelming popularity of Japanese performance cars on the international circuit lead to the creation of the JDM (Japanese Domestic Market) category. This Honda Civic is one such JDM styled custom car to win the Gran Turismo Award in 2017, an award which is given to the very best custom cars on show at SEMA. In 2006, owner Philip Robles purchased an almost stock condition 1992 model EG Civic and began work on gradually customizing it with his son Jesse. Their aim was to compete in regional Time Attack and Time Trial classes on circuits in the Southwest. There was a 10-year span of continuous track weekends that resulted in several Time Trial and Time Attack championships. In 2017, Philip was asked to display the Civic at the SEMA booth of Mackin Industries, an importer of tuning parts in the USA. This prompted the car to be further customized and refreshed for the show. The most obvious modification to the car is the wide body kit from Japanese aero brand Pandem along with a front splitter and rear wing. Another notable feature is the bold design of the carbon fiber hood which was based on a design by Japanese tuner– J's Racing. The interior has been stripped bare and reinforced with a roll cage, leaving only a single bucket seat. The original engine has been swapped out for a Honda K24 inline-4 unit. When this car appeared at the 2017 SEMA show the engine was naturally aspirated, but it later underwent an extensive tuning process, adding a turbocharger and greatly increasing the engine power. The transmission is a 5-speed sequential gearbox made by Quaife for K-series engines.
Honda Civic Type R '22
Driving feel comes first. The legendary R badge returns for the 11th gen. Civic.
The sixth version of the Civic Type R was introduced 1 year and 3 months after the world premiere of its base model, the 11th generation FL model Civic which was introduced as the Sokai (meaning exhilarating) Civic. The Type R is based on the 5-door hatchback configuration. Compared to previous standard models, the FL has done away with the flashy tuning car stylings. While it retains the essential elements of a sports model, such front and rear aero parts and widened fenders, it has adopted a more simple, refined design. The power unit is the definitive modern Type R engine, a 2L inline-4 turbocharged K20C unit, which after an overhaul of its turbo system and other improvements now produces 9.9 BHP and 2.04 kgfm more than the previous model for a maximum output of 325.4 BHP and 42.83 kgfm torque. The engine ECU map has also been meticulously tuned to improve throttle response and low-end torque. The suspension uses an evolution of the same 4-wheel independent Adaptive Damper System first introduced in the 2015 FK2 model Civic Type R. On the FL5 model, the system controls not only pitch and roll, but also introduces considerations for the vertical acceleration of unsprung components. Through this system, Honda aims to offer the same direct handling.
MAZDA3 Gr.4
Exploring the potential of internal combustion, a next-generation bio-diesel powered race car.
The MAZDA3 Bio concept is a next-generation bio-diesel fuelled racing car that was created and developed for real world testing in the 2023 Super Taikyu endurance racing series. The car is essentially the successor to Mazda's Demio/MAZDA2 Bio concept which had been running since 2021 with the aim of achieving a true balance of carbon neutrality and joy in driving. Both cars were entered in the ST-Q class which is almost exclusively reserved for manufacturer development models. What has changed for this model is the car now uses Susteo provided by Euglena, a 100% next-generation bio-diesel made from used cooking oil. The 2.2L SkyActiv-D engine can produce 45.89 kgfm torque and roughly 236.7 BHP~256.4 BHP using this fuel which is molecularly identical to commercially available diesel fuel. The car itself of course has also been modified. To reduce weight, areas such as the engine hood and roof employ hybrid materials which employ a mix of CFRP and natural fibers. Also, to improve aerodynamic performance, the front and rear fenders have been widened and new aero parts like the front spoiler, rear wing and side skirts have been fitted.
Two Extra Menus
Extra Menu No. 29: Porsche Supercars (Collector Level 42 and above)
Extra Menu No. 30: GR (Collector Level 39 and above)
Scapes
29 additional Spots have been added to the Nissan section in Brand Central.
*Internet connection and Gran Turismo 7 game required for update