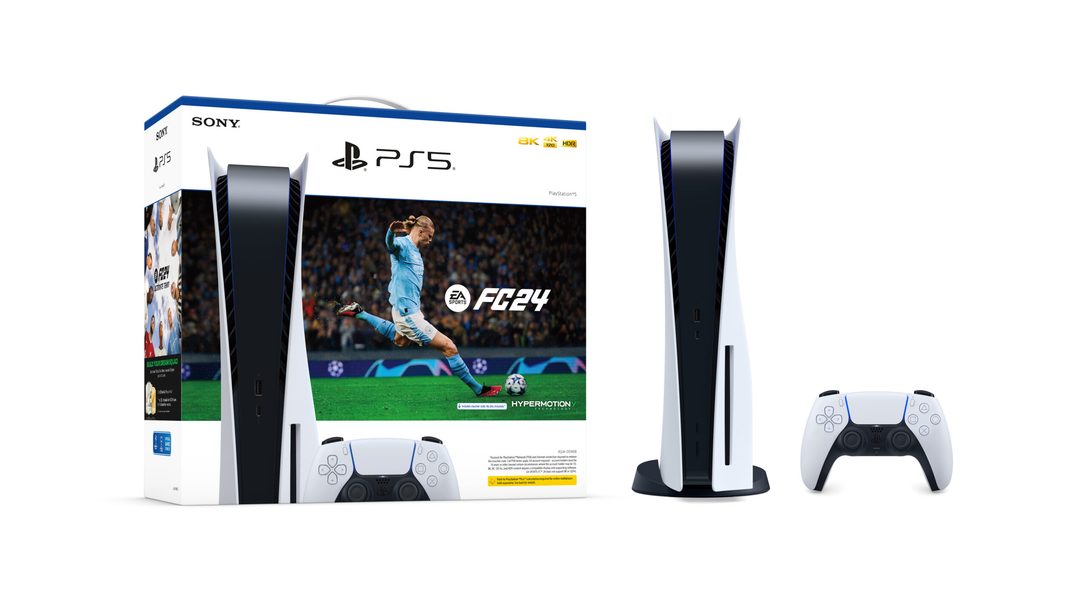 Ready for kick off from EA Sports FC 24 launch.
Football season is in full swing and we are pleased to announce the new PS5 Console – EA Sports FC 24 Bundle. Perfect for all fans of The World's Game, the bundle will be available beginning Friday, September 29 – the day the new game releases – and will open for pre-orders beginning Monday, September 25. The PlayStation 5 Console – EA Sports FC 24 Bundle will be available at a suggested retail price (SRP) of SGD 799 / MYR 2,499 / IDR 9,699,000 / THB 18,690 / VND 15,990,000.
EA Sports FC 24 is a new era for The World's Game—the best players from the biggest clubs, leagues, and competitions around the globe playing together in the most authentic football experience ever created.
PlayStation 5 Console – EA Sports FC 24 Bundle
Play EA Sports FC 24 with PS5 console innovations including:
Fast Loading: The ultra-high speed SSD maximizes your play sessions with near-instant load times for installed PS5 games.
Haptic Feedback: Responsive vibrations react to your in-game actions so you feel every tackle, kick and goal hitting the back of the net.
3D Audio: Experience what it feels like to play football on the biggest stages as 3D audio brings the stadium crowds to life.
HyperMotionV: HyperMotionV captures the game as it's truly played, using volumetric data from more than 180 professional men's and women's football matches to ensure player movements in-game accurately reflect real-world action on the pitch.
Bundle includes a PlayStation 5 console and DualSense wireless controller, a voucher for EA Sports FC 24 (full game) and a voucher for downloadable digital content voucher for EA Sports FC 24 Ultimate Team, which includes 1 Rare Gold Players Pack* and 3 untradeable loan Icon Players for 5 Ultimate Team matches.
An account for PlayStation Network and internet connection are both required to redeem vouchers. Full terms apply – see www.playstation.com/legal
*Pack contains 12 items, all players, all gold, all rare including one 83+ OVR rare player guaranteed. More info on pack probabilities can be found at http://www.ea.com/games/ea-sports-fc/news/fc-pack-probabilities