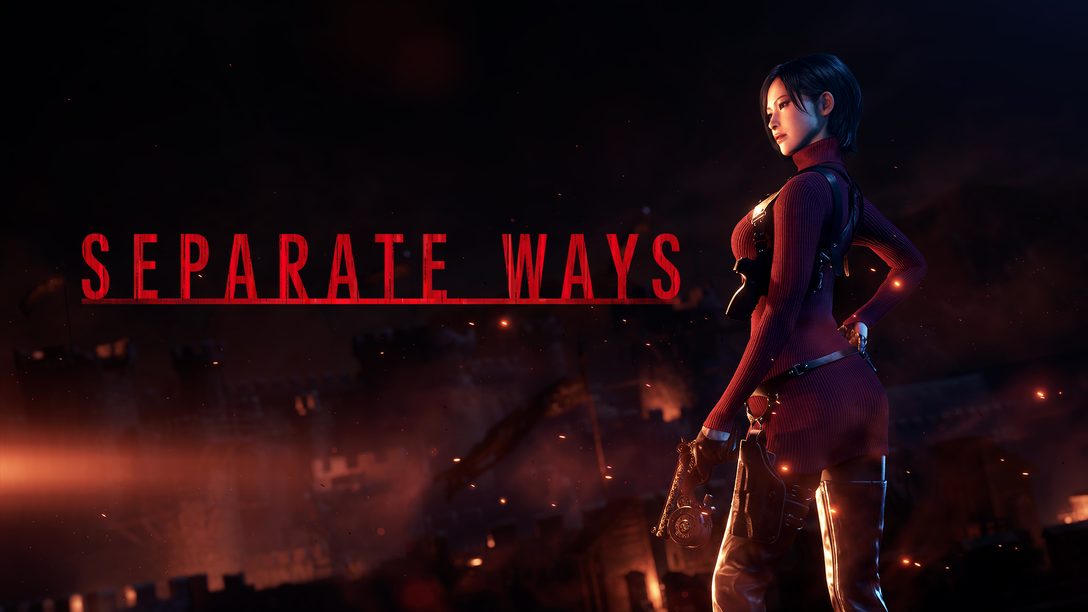 Ada Wong stars in new story expansion, with new characters for Mercenaries mode out same day.
Hello, PlayStation! I'm Edvin Edsö, the Promotion Producer of Resident Evil 4. In today's State of Play, we released the latest gameplay trailer for Resident Evil 4 VR Mode, as well as the long-awaited additional story DLC, Separate Ways. Check out the latest trailer to see what to expect and be sure to watch through to the end!
In addition to these two highly anticipated DLCs, we also announced a free update for The Mercenaries mode in the final seconds of trailer! This update will be available September 21, the same day that Separate Ways is released. This update is available to everyone who owns Resident Evil 4. If you haven't played The Mercenaries yet, now's a great time to try out this popular extra game mode where you can experience a different kind of fun.
If you've been waiting for the right moment to dive in, Resident Evil 4 is currently discounted on PlayStation Store until September 26. Now is a perfect opportunity to play through Leon's story and explore The Mercenaries mode ahead of Separate Ways arriving on September 21.
Now, I would like to take this opportunity to deep-dive into what was shown off in the latest trailer.
Additional story DLC, Separate Ways, coming September 21!
The mission requires secrecy. Failure is not an option.
Separate Ways tells the story of Ada Wong and her parallel journey through the events of Resident Evil 4, filling in unanswered questions from the main story. The full story will be revealed as you view both sides of events from both Ada and Leon's viewpoints.
Ada's story 
Before Leon S. Kennedy had even set foot in that cursed village, she was there. Her mission? The retrieval of the cult's darkest secret—the Amber.
Now Ada must deal with an unknown threat that is devouring her from within, an accomplice with a dark past and ulterior motives, and a chance reunion with the man she least expected—Leon S. Kennedy.
Why did she accept this mission? And what path will she make for herself in the shadow of Leon's investigation into the abduction of the president's daughter?
Separate Ways characters
Ada Wong
The protagonist of Separate Ways. She infiltrates a desolate European village on orders from her employer, Albert Wesker.
Luis Serra
Ada's co-conspirator. He's pledged to help her obtain the Amber.
Albert Wesker
The mysterious man behind Ada's mission. It's his dangerous obsession with the Amber that sends Ada on her most dangerous adventure yet.
Ada's grappling gun
In addition to the variety of firearms from the original game and the knife parry that you're familiar with from Leon's campaign in RE4, Ada will also wield a grappling gun. This can be used to get to various locations, as well as take down enemies from a distance and launch a ranged melee attack. This makes for a more exciting and fast-paced gameplay experience.
New characters arrive to The Mercenaries
Coinciding with the release of Separate Ways, new playable characters Ada Wong and Albert Wesker join the free DLC, The Mercenaries! This update is available to anyone who owns Resident Evil 4, so make sure you also download the free DLC for The Mercenaries as well. Please look forward to this update.
Resident Evil 4 VR Mode for PS VR2 is coming this winter as free DLC
Resident Evil 4 VR Mode allows you to experience the entire story mode of the base game on PlayStation VR2. Watch the trailer for a glimpse of the gameplay and action that has evolved with the VR adaptation.
Take on the role of Leon S. Kennedy in this terrifying and harrowing rescue mission in the ultimate immersive survival horror experience. Please note that Separate Ways and The Mercenaries are not compatible with the Resident Evil 4 VR Mode DLC.

Enter the immersion of RE4 in VR
Resident Evil 4 is a reimagined version of the original 2005 game, preserving the essence of the game while bringing it to life with state-of-the-art graphics. Now you can immerse yourself in the world of RE4 and enjoy it to the fullest with Resident Evil 4 VR Mode. Using the PlayStation VR2 headset, you can enjoy a 360-degree view of the game's elaborate stages. Discover details of the game that you may not have seen before in areas such as the dark forests, villages filled with the Ganado, and an ancient castle of awe-inspiring beauty. The 3D audio will further enhance your immersion in every area you visit in the game.
How PS VR2 enhances RE4
The development team previously worked on PSVR titles like Resident Evil 7 biohazard and Resident Evil Village VR Mode. With the knowledge gained from these titles, we are now able to create an even more enhanced VR experience when playing as Leon S. Kennedy.
The game features a wide variety of weapons, and the team focused on adapting them all to VR for an intuitive VR experience. From the way the weapons are held and reloaded, to the easy-to-understand input and haptic feedback of the Sense controllers, players will be able to feel each unique characteristic of the handguns, submachine guns, rifles, knives, and more. Experience immersion and the weapons in the game as if you were actually Leon on his mission of rescue and survival.
RE4 introduced you to the game's enhanced knife action. Naturally, we took that experience and enhanced it for VR in Resident Evil 4 VR Mode. Swing your knife down at the right time to parry, sneak up on unseen enemies and strike for a sneak takedown, and more. You can also now fight with a knife in both hands.
Boxes and crates containing items can be destroyed in VR using your knife or other weapons, or with a simple one-button command.
To recap, the additional story DLC, Separate Ways, as well as the free update for The Mercenaries, will be available on September 21, 2023, and the free DLC for PlayStation VR2, Resident Evil 4 VR Mode, is coming this winter.
Stay tuned for more action-packed RE4 news!