Team up with friends and become a Ghostbuster in this made-for-VR adventure.
We're excited to debut our first trailer for Ghostbusters: Rise of the Ghost Lord, featuring PlayStation VR2 gameplay. The game launches October 26 and is available for pre-order now. Check out the new gameplay below and then read on for some highlights about how we're utilizing the PS VR2's unique capabilities to truly immerse players in the Ghostbusters universe. Then, for an extra treat, you can watch a roundtable interview with me and some of my team from nDreams that goes into greater detail about the game.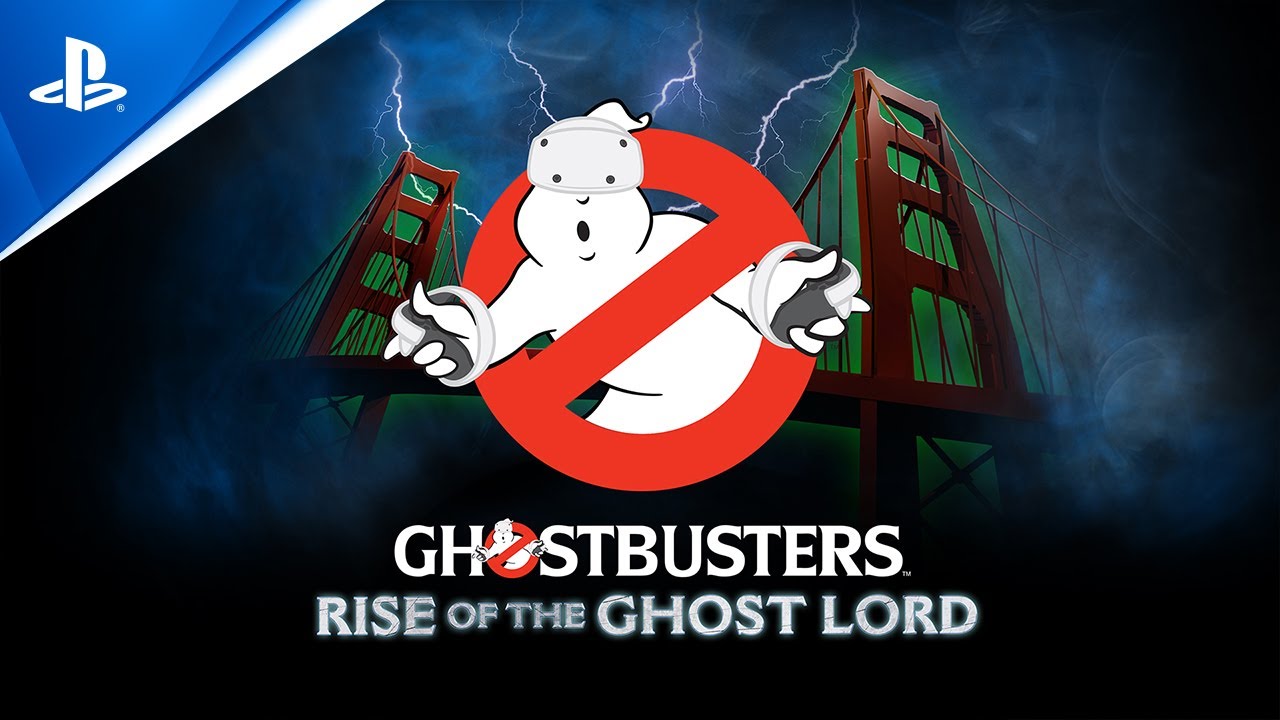 If you'll excuse the pun, Ghostbusters is a "super" natural fit for cooperative multiplayer VR. Ghostbusting is all about teamwork. There's no Ghostbusters movie about one person taking on the paranormal by themselves – and there's nothing like wielding the iconic equipment together as you get up close and personal with angry ghosts. Add into the mix a new story, new location, new equipment, and new cast – and we have the recipe for the ultimate Ghostbusters experience in VR.
Keep an eye on your friends with eye tracking
Eye tracking on PS VR2 is a game changer when it comes to accuracy and ease of use. We had first-hand experience with the power of eye tracking in our game Synapse, which released earlier this year. As you'd expect, we've implemented it here too as an option for menu navigation, as well as making it intuitive to grab objects from a distance.
However, it's been most transformative in our cooperative game when it comes to communication, like seeing where your teammates are looking – as well as sharing a wink or two! It's uncanny how easy it is to recognize a friend from the real world by their avatar's mannerisms.
Immersive lighting that really darkens a room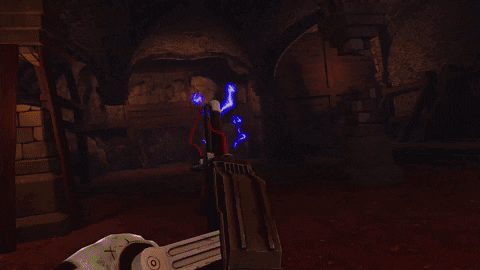 The PS VR2's graphical capabilities help us deliver on emotional tone, such as feeling a sense of dread and unease going into a dimly lit dark basement that might be hiding all manner of nasties. That is, until you unleash your particle thrower and it suddenly fills the room with light.
The PlayStation 5's power also enabled a number of ethereal ghost effects that evoke the movies. It makes it especially rewarding when they are flying right at – and through – you.
These ghosts get in your head with PS VR2 headset haptics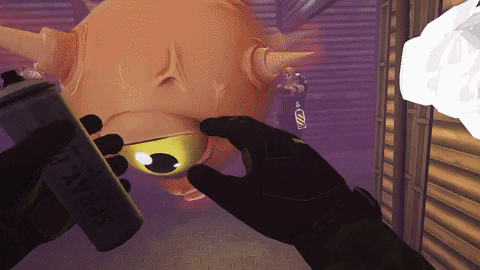 Speaking of ghosts flying through you – as they're known to do – you'll feel it viscerally thanks to the PS VR2's headset haptics. The degrees of haptics we can tap into allow us to use it in several ways, from subtly cuing players when there's something afoot, to more shocking effects from our scariest ghost.
Give Mini-Pufts a squeeze with adaptive triggers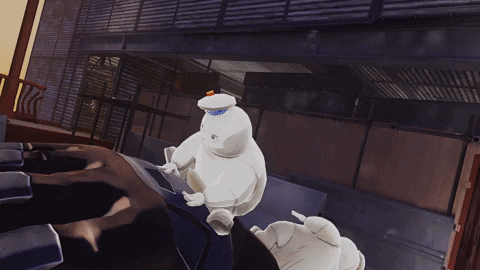 The PS VR2 Sense controllers' adaptive triggers enhance the sense of presence and were particularly effective in bringing the authentic ghostbusting gear to life; from the PKE Meter and the Proton Wand to the brand-new Muon Trap "thrower." I particularly love priming the Proton Wand with a partial press, before the satisfying click to unleash a blast of positively-charged subatomic particles.
The adaptive triggers come to life when it comes to squishing Mini-Pufts. These little critters like to wreak havoc on you and your gear during the most inopportune times. Luckily, you can help your buddies out – picking them off them and giving them a satisfying squish in VR. I believe we're the first VR game where you can squeeze a marshmallow!
And for more, check out our roundtable
One of the cool things about working on this game is collaborating with Ghost Corp itself, who are charged with stewarding the entire Ghostbusters universe. We had the honor of visiting the set for the upcoming Ghostbusters film to host a roundtable conversation about the game. You can watch it below – we cover a lot of topics from equipment upgrades and the types of missions you'll encounter to maybe even dropping a few hints about upcoming DLC after the game launches. Enjoy… and I'll see you in Ghostbusters HQ.
Pre-order Ghostbusters: Rise of the Ghost Lord now. The game will be available on PS VR2 October 26, 2023.For a limited time, you can preorder Ghostbusters: Rise of the Ghost Lord – Full Containment Edition to get the game, upcoming DLC, and bonus content at a discounted price. Upcoming DLC includes additional playable characters, equipment skins, bonus content, and more.