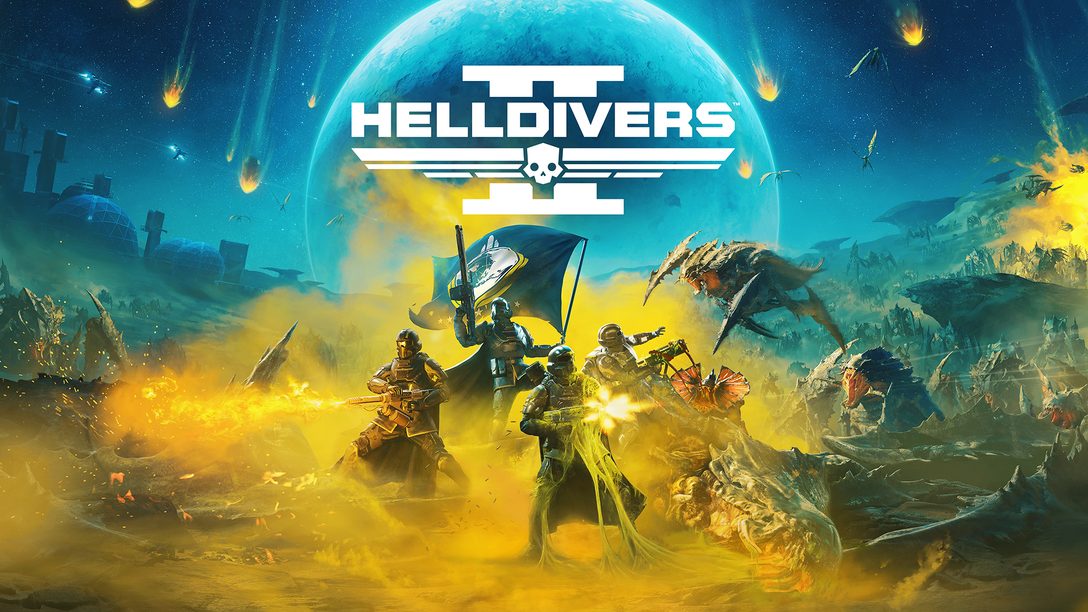 Pre-orders for Standard and Super Citizen Editions begin on September 22, 2023 – first details.
It's time, Helldivers. Katherine from Arrowhead Game Studios bringing you the biggest announcement yet: Helldivers 2 launches on PS5 and Steam on February 8, 2024!
February will be here before we know it, which means we've got to get you officially enlisted! We start taking pre-orders for both the Standard Edition and the Super Citizen Edition of Helldivers 2 on September 22, 2023.
It won't be long before you and 3 recruits can team up for online cooperative multiplayer* with large-scale destructive power through stratagems, explore unique planets and complete objectives together, and upgrade your equipment through the deep progression system of Helldivers 2. Collect natural resources of alien origin and use them to enhance and unlock new stratagems aboard your ship.
Since pre-orders for Helldivers 2 are starting soon, you can start planning for the fight. When you pre-order, you'll choose between the Standard Edition and the Super Citizen Edition of Helldivers 2, which includes some awesome additional content.
The extra goodies in the Super Citizen Edition include a special DP-53 Savior of the Free armor set, and–because heroes wear capes–the Will of the People cape to make you stand out among the liberated. You'll also gain access to the MP-98 Knight submachine gun, which is a powerful primary weapon that tears through bots, bugs, and Helldivers too, thanks to friendly fire!
In addition to those, you'll have the Super Citizen status for your Helldiver, and an add-on minigame, Stratagem Hero, for your ship. It's great to play while you wait for the rest of your team to join your lobby. You'll also receive access to our Premium Warbond content for Steeled Veterans.
And we're offering some pre-order bonuses on top of this. If you pre-order Helldivers 2, you'll receive three spiffy new armor sets:
TR-7 Ambassador of the Brand – a promotional armor set for fans of SUMY Corp's frozen yogurt.
TR-62 Knight – armor crafted to deliver justice to the darkest crevices of the galaxy.
TR-9 Cavalier of Democracy – Bearers of this armor ride no equine mount, but are nonetheless borne to battle atop the trusty steed of Liberty.
To see just one of the many challenges you face on your mission for Democracy check out the latest video where you'll see studio CEO Johan Pilestedt and team take on a formidable Bile Titan.
We can't wait for you to experience the universe of Helldivers 2 on February 8. This is only the beginning of our war against the enemies of Managed Democracy. We have even more to share in the coming days, so pre-order your copy of Helldivers 2 on September 22 and prepare for full-scale galactic warfare on your PlayStation 5 console and Steam.
Get ready to dive into hell!
*Gameplay requires internet access and paid for PlayStation Plus membership (sold separately) on PS5. PlayStation Plus membership subject to recurring subscription fee taken automatically until cancellation. Age restrictions apply. Full terms: play.st/psplus-usageterms.