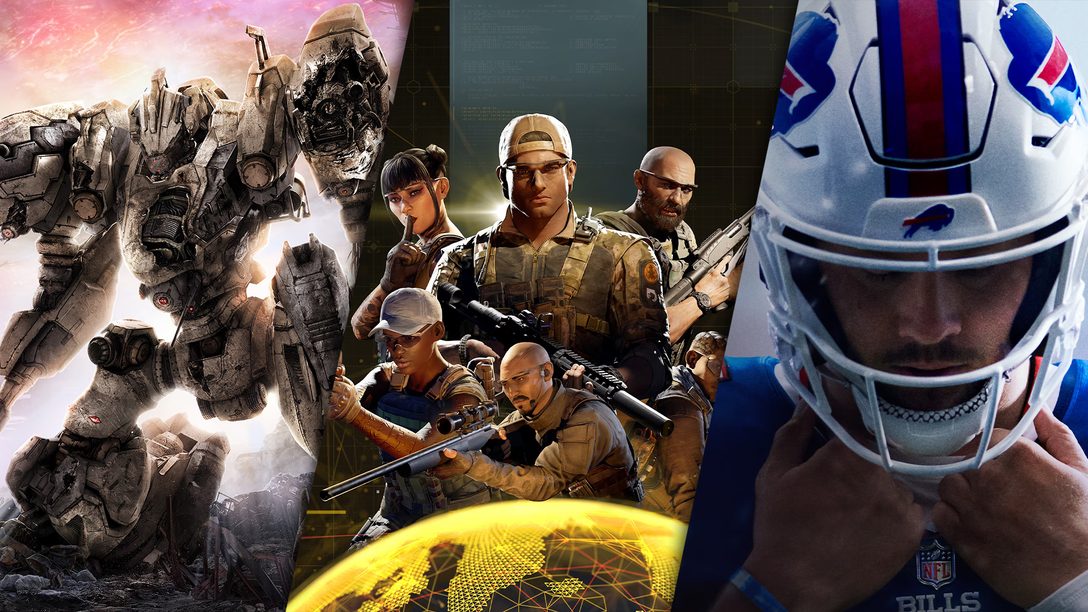 New releases run the board for the month's most-played games.
It's time to see which PS5, PS4, PS VR2, PS VR, and free-to-play games topped the download charts this month. August's PS5 list saw movement with newly released titles Madden NFL 24, Armored Core VI Fires of Rubicon, and The Texas Chainsaw Massacre earning top spots. PS VR2 also saw a new frontrunner rise amongst the ranks of top downloads.
Check out the full listings below. What titles are you playing this month?
PS5 Games
| US/Canada | EU |
| --- | --- |
| Madden NFL 24 | Grand Theft Auto V |
| ARMORED CORE VI FIRES OF RUBICON | FIFA 23 |
| The Texas Chain Saw Massacre | The Texas Chain Saw Massacre |
| Grand Theft Auto V | ARMORED CORE VI FIRES OF RUBICON |
| Remnant II | Remnant II |
| FIFA 23 | Assassin's Creed Valhalla |
| MLB The Show 23 | F1 23 |
| Call of Duty: Modern Warfare II | Hogwarts Legacy |
| Mortal Kombat 11 | Gran Turismo 7 |
| Marvel's Spider-Man: Miles Morales | The Witcher 3: Wild Hunt |
| Hogwarts Legacy | Atlas Fallen |
| Gran Turismo 7 | Madden NFL 24 |
| Tom Clancy's Rainbow Six Siege | Call of Duty: Modern Warfare II |
| High On Life | Among Us |
| Marvel's Spider-Man Remastered | No Man's Sky |
| STAR WARS Jedi: Survivor | Tom Clancy's Rainbow Six Siege |
| FINAL FANTASY XVI | Marvel's Spider-Man: Miles Morales |
| God of War Ragnarök | STAR WARS Jedi: Survivor |
| Ghost of Tsushima DIRECTOR'S CUT | Football Manager 2023 |
| Atlas Fallen | Diablo IV |
*Naming of products may differ between regions
*Upgrades not included
PS4 Games
| US/Canada | EU |
| --- | --- |
| Minecraft | Minecraft |
| Madden NFL 24 | Red Dead Redemption |
| Red Dead Redemption | FIFA 23 |
| Red Dead Redemption 2 | Grand Theft Auto V |
| EA Sports UFC 4 | Red Dead Redemption 2 |
| Grand Theft Auto V | EA Sports UFC 4 |
| Injustice 2 | A Way Out |
| Call of Duty: Black Ops III | Gang Beasts |
| Gang Beasts | TEKKEN 7 |
| FIFA 23 | theHunter: Call of the Wild |
| Twisted Metal: Black | Assassin's Creed Origins |
| The Texas Chain Saw Massacre | The Forest |
| Mortal Kombat 11 | Gran Turismo Sport |
| MLB The Show 23 | Hogwarts Legacy |
| A Way Out | Goat Simulator |
| theHunter: Call of the Wild | House Flipper |
| Marvel's Spider-Man: Game of the Year Edition | Outlast |
| Call of Duty: Modern Warfare II | Unravel Two |
| STAR WARS Battlefront II | Assassin's Creed Valhalla |
| Hogwarts Legacy | MONOPOLY PLUS |
*Naming of products may differ between regions
PS VR2 Games*
| US/Canada | EU |
| --- | --- |
| Firewall Ultra | Firewall Ultra |
| Beat Saber | Pavlov |
| Pavlov | Beat Saber |
| Crossfire: Sierra Squad | Crossfire: Sierra Squad |
| Walkabout Mini Golf | Green Hell VR |
| Swordsman VR | Red Matter 2 |
| Green Hell VR | Swordsman VR |
| Synapse | Kayak VR: Mirage |
| Red Matter 2 | The Walking Dead: Saints & Sinners – Chapter 2: Retribution |
| The Walking Dead: Saints & Sinners – Chapter 2: Retribution | The Room VR: A Dark Matter |
*PS Store purchases only. Game upgrades or games bundled with hardware not included
PSVR Games
| US/Canada | EU |
| --- | --- |
| The Walking Dead Onslaught | The Walking Dead Onslaught |
| ASTRO BOT Rescue Mission | Job Simulator |
| Job Simulator | Creed: Rise to Glory |
| Creed Rise to Glory | Beat Saber |
| Beat Saber | Sniper Elite VR |
| SUPERHOT VR | ASTRO BOT Rescue Mission |
| Sniper Elite VR | SUPERHOT VR |
| Borderlands 2 VR | The Guy VR |
| GORN | DOOM 3: VR Edition |
| Vader Immortal: A Star Wars VR Series | Swordsman VR |
Free to Play (PS5 + PS4)
| US/Canada | EU |
| --- | --- |
| Fortnite | Fortnite |
| Call of Duty: Warzone | Call of Duty: Warzone |
| Tower of Fantasy | Fall Guys |
| Apex Legends | Rocket League |
| Fall Guys | Tower of Fantasy |
| Rocket League | Apex Legends |
| Overwatch 2 | The Sims 4 |
| The Sims 4 | eFootball 2023 |
| Rec Room | Overwatch 2 |
| Destiny 2 | Trackmania® |