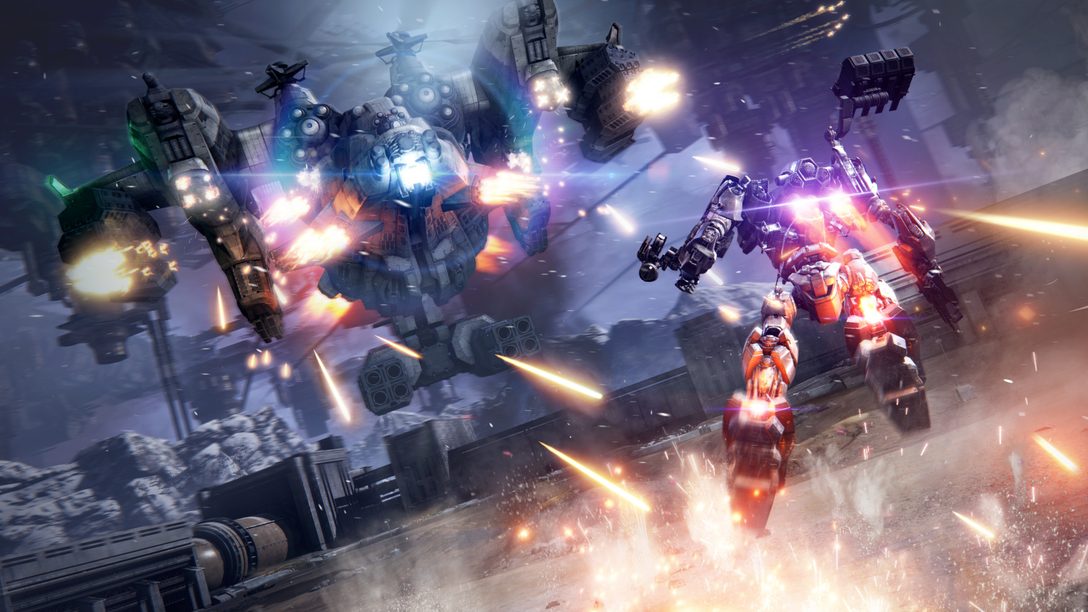 An interview with game director Masaru Yamamura and game producer Yasunori Ogura.
In this interview, we spoke with the game's producer, Yasunori Ogura, and the director, Masaru Yamamura, to discuss how they came to develop Armored Core VI, details about the game's story and worldview, as well as its unique mech Assembly feature, action, and more.
We were absolutely set on making Armored Core
PlayStation Blog: This is the latest entry in the series since Armored Core: Verdict Day, which was released in 2013, tell us how the series was revived after ten years – when did the initial planning and development start?
Ogura: First, I would like to thank everyone for their continued support of the Armored Core series throughout the years, especially our fans, who have been waiting for ten years since the previous installment, Armored Core: Verdict Day.
As for the process leading up to the development of this title, our company's President, Hidetaka Miyazaki, myself, the director, Yamamura, and many other members of the development team all really wanted to create a new Armored Core game. We also fostered a team of very talented people through our experience in developing other titles, so we basically had no reason not to go ahead with the development of a new Armored Core.
So, around 2018, in the early stages of development, Miyazaki and a few others established a small team of initial directors who went back and reevaluated the fundamentals of the Armored Core series and began development of a prototype that helped them determine the direction of the new entry. After the release of Sekiro: Shadows Die Twice in 2019, Yamamura joined the project and took over as director. Full-scale development kicked off around 2020.
Meanwhile, because we had several projects underway at the same time, we had to allocate internal resources for the development of other titles. Which in turn resulted in a long ten-year wait for this game.
Key Armored Core experiences: Assemble the perfect mech and outgun the enemies in intense mech-action
PSB: You talked about how you went back and reevaluated the fundamentals of the Armored Core series to create a new action game. What fundamentals of the series do you think makes the game unique and captivating for the players?
Yamamura: I think the key experience of Armored Core can be summed up in one word: Assembly. In a broad sense, assembling can be seen as a type of character-building, but gameplay that requires players to constantly optimize themselves in response to the challenges presented by the game is unique. It's so much more than just a feature in the game — it presents players with the joy of mech customization, gives players a sense of connection with their mech, and also allows players to immerse themselves in the game like a professional mercenary that is required to adapt and adjust the weaponry between various missions. I think all these elements together define Armored Core and its world perspective.
PSB: Were there things that you intentionally chose to change or not to change compared to past games in the series?
Yamamura: One of the things we did not want to change was the breadth and complexity of the customization and assembly. We did not want to simplify any of the components that offered players the freedom to create and fine-tune their one and only mechs.
On the other hand, too much complexity carries the risk of turning away new players. Therefore, tutorials and the introduction of new features in earlier segments of the game are quite detailed compared to past games. I think this is one of the things that we chose to change.
A unique worldview and story that affirms humanity, and a pragmatic approach to life and death
PSB: What was the catastrophe that engulfed Rubicon, the frontier development planet on which this game is set, and the surrounding star systems? Can you tell us more about the story and background?
Yamamura: The catastrophe was caused by the outburst of the new energy source Coral and is called the Fires of Ibis. It not only submerged Rubicon and surrounding star systems in flames but also caused serious and deadly contamination of the biological environment.
However, this large-scale combustion had a certain directivity pattern, and there were areas of Rubicon that survived the disaster. The Rubiconians, who are the descendants of the immigrants who originally inhabited and developed this planet, survived the catastrophe. However, they are now forced to live in hostile conditions as if they are being incarcerated on their planet because an interstellar public organization called the Planetary Blockade Authority has sealed off the planet and other affected star systems.
Then, extra-terrestrial corporations who caught wind that Corals that were supposed to have been destroyed by the Fires of Ibis have resurfaced decided to move in on Rubicon, exploiting the gaps in the planetary blockade, to fight for control of the substance.
Master Assembly and find your best combination to get the job done
PSB: What were the key focal points for the Assembly feature that allows players to create their own mechs?
Yamamura: We focused on making sure that the Assembly feature affects not only the mech's parameters, but also the play and feel as an action game, especially the leg components that determine the mech's movement. For example, if you attach four legs to your mech, it will alter the basic action of the mech, allowing you to hover and stay in the air. For weapons, our aim was to make sure that each weapon had unique shooting styles, recoil, and bullet patterns. Compared to previous titles in the series, players will be able to assemble mechs to their liking not only based on the appearance and parameters but also to match their playstyle.
On top of that, players can assign four different weapons to the controller's shoulder buttons (L1/L2/R1/R2), and in principle, they can all be used at the same time. The Stagger system* comes into play with this, as players can create different builds based on strategies and coordinated attacks utilizing multiple weapons. For example, players can strategize which weapon they'll use for impact damage, which weapon to trigger a stagger, and which weapon to deal direct damage when the enemy is staggered and vulnerable. This is a new feature that encourages players to think more about their weapon choices, so we hope that they will have fun being creative and find their best armament combinations.
*A combat system where attacks will build up impact damage, and once it reaches the limit, the Attitude Control System will be overloaded, making the mechs vulnerable for a short time.
PSB: Do you have any tips on the game's general mechanics or the Assembly feature for players new to the series?
Yamamura: We've implemented a Target Assist function to make the gameplay more intuitive. When this function is turned on, this will automatically focus on enemies within a certain range of your screen, and you don't need to hold down a button each time you encounter an enemy. You will be kept busy with the three-dimensional traversal and multiple weapons, so we hope that players will make use of this feature and have fun piloting the mech.
For Assembly, switching to a better generator is always a good idea. If you have a generator with high EN capacity, you'll have room to bounce and fly around without worrying too much.
For those who find it difficult to use multiple weapons at the same time, I recommend melee weapons like the blades. It is a good entry weapon since melee weapons deal big damage, and there will be less to control because you won't be able to use other weapons when you are swinging your melee weapon.
PSB: Do you have a message for all the fans excited about the release?
Ogura: It has been ten years since our last game in the series, and I am deeply honored that we are, at long last, able to fulfill our promise to everyone. Armored Core VI is a brand new mech action game that retains the Armored Core series' fun at its core, while incorporating the ten years' worth of knowledge and experience that we gained from working on other titles. We hope that the fans rediscover the greatness of the Armored Core series and that those who are playing for the first time will enjoy this fresh take on the combat shooter created by FromSoftware today. We hope to make this game a step forward for the new Armored Core series.
Yamamura: I am so sorry for the long wait. Our team has been working hard to create an Armored Core title that delivers both the same fun experience as well as new, exciting elements that are only possible by us today. I appreciate all the new players that are looking forward to this title and to all the fans who did not forget about the Armored Core series for the past decade. Thank you so much. See you in Rubicon!