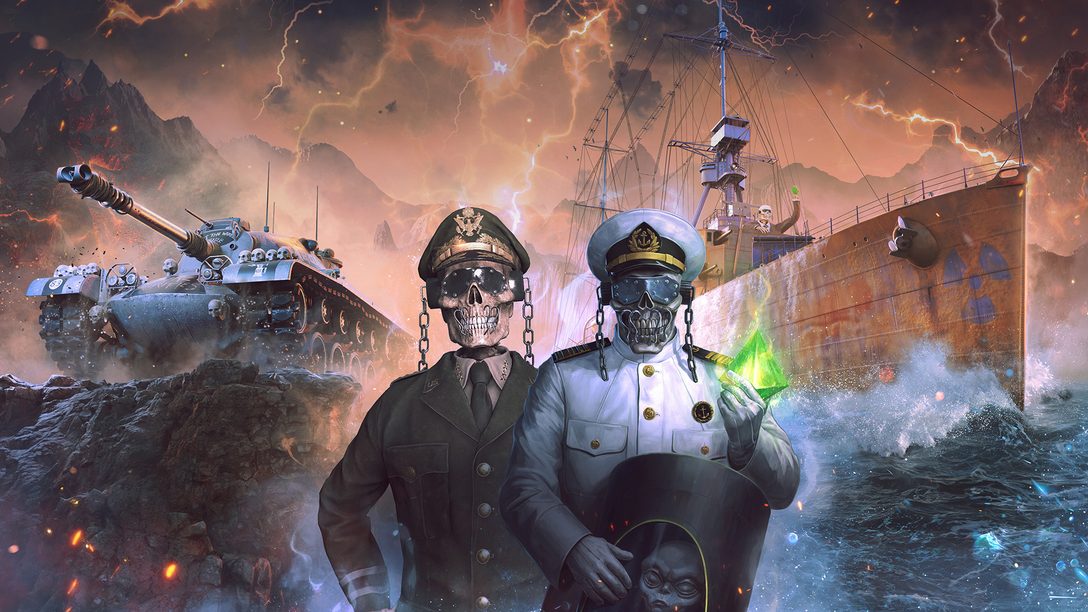 The legendary band brings Metal Fest to life starting August 29.
Summer is the season of music festivals, but who could've imagined that this August, we'd get one that puts one of the biggest bands in heavy metal in command of our warships and tanks?
We hope you're as excited as all the metal heads at Wargaming are. Join us in World of Warships: Legends and World of Tanks Modern Armor for Metal Fest featuring Megadeth, starting on August 29 on PS4 and PS5!
This event had to be monumental. Founded in 1983, Megadeth is one of the "Big 4" bands in the thrash metal world, with a Grammy award and several platinum albums to its name. Only a complete immersion of the band into the game would do.
The Tanks and Warship
So, let's start with what each game offers at its core!
World of Tanks Modern Armor: Players can get the Soldier on M67 (a new World War II flamethrower tank) and the "Peace Sells" Leclerc Ares Prototype (a new Cold War vehicle).
World of Warships: Legends, players can grab the American Tier IV Premium Cruiser Rattlehead.
"For the ship, we had a dedicated team of artists who primarily worked on the design aspects," says Konstantin Tkachenko, product manager for Legends. "We collaborated with the band, presenting our concepts and incorporating their feedback."
On the Tanks side, senior producer JJ Bakken echoes that cooperative spirit. "The band gave suggestions early on and we collaborated on several revisions," he says. "The tank designs are direct references to two Megadeth album artworks, so we had a clear direction."
You might think Megadeth's extensive discography would make it hard to choose albums to base vehicles on, but two particular ideas stood out to Bakken and the Tanks team.
"Peace Sells […but Who's Buying?] is such an iconic album, and the artwork has a great theme that paired well with our Cold War era tank. For our World War II tank, the track 'Soldier On!' from the new album [The Sick, the Dying…and the Dead!] is really what inspired us to use that album as a visual reference."
And the team didn't hold back. According to Bakken, "Our Cold War era tank is particularly chock full of references, especially in the graffiti markings on the tank. When the tank was full, that's how we knew it was ready!"
But everything still had to pass muster with the band.
"I knew they got it when I saw the Vic Rattlehead Realtor ad on that tank," says legendary frontman Dave Mustaine. "Vic selling property after the apocalypse was the essence of Peace Sells' art."
Speaking of Mr. Mustaine and company…
The Commanders
We couldn't have Metal Fest without actually putting Megadeth into each game:
World of Tanks Modern Armor: All four band members (Mustaine, bassist James LoMenzo, drummer Dirk Verbeuren, and guitarist Kiko Loureiro) plus infamous mascot Vic Rattlehead will be available as 2D Commanders.
World of Warships: Legends: Mustaine and Vic will be specially designed guises for American Commanders.
Tanks will also feature a Vic Rattlehead 3D Commander with 17 animations recorded just for him.
"Vic's animations absolutely differ from the normal [3D] Commanders," says Andy Dorizas, Tanks' art director. "He rocks out… in the garage and throws 'the horns' metal hand sign to the camera. He is a total metalhead, and we wanted that to come through on the character screens."
That's not all. Each Megadeth Commander in both games will speak with a custom voiceover recorded by the band members themselves—the first time Megadeth has ever provided video game VO.
"The recordings were held remotely, and I was on video call to provide direction," says Brendan Blewett, Tanks' audio director. "Chris Rakestraw, the band's producer and sound engineer, was also present in person and on video… there were plenty of laugh-out-loud moments during the sessions from the guys riffing on lines or ad-libbing jokes, a couple of which may be hidden away as Easter eggs."
Altogether, each band member recorded 219 phrases for Legends and 329 cues for Tanks over the course of about a week.
That includes lines for Vic Rattlehead, making this the first time ever that fans will get to hear the mascot speak. And who provided Vic's voice?
Photo By: Travis Shinn
"None other than Mr. Dave Mustaine!" says Blewett. "Chris Rakestraw and Dave worked to create the Vic Rattlehead effect. There was a lot of creative work put in on their end to make Vic sound as imposing and big as the character is."
"Come on, who else would do it?" Mustaine says. "Vic's been a part of me for most of my life. Now you'll all get to hear what this voice inside my head sounds like!"
Photo By: Travis Shinn
You know you can't miss this—and this is just part of what Metal Fest offers. Check it out starting August 29!
Megadeth® is a federal registered trademark of Dave Mustaine, used with permission.