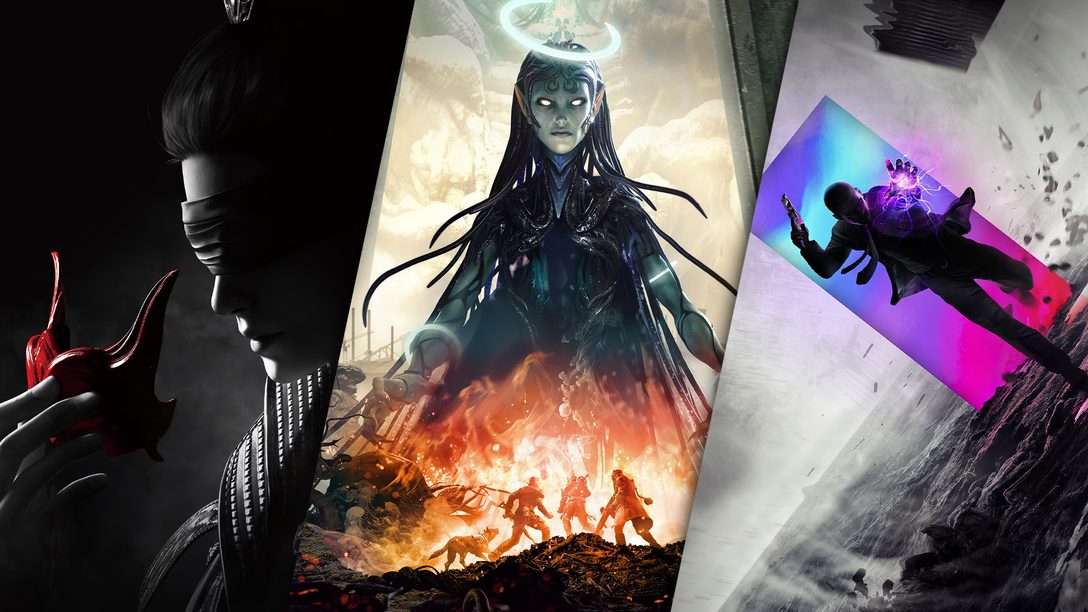 The most played games this month featured dark fantasies.
It's time to see which PS5, PS4, PS VR2, PS VR, and free-to-play games topped the download charts this month. The PS5 charts saw dramatic movement, with newcomer Remnant II breaking into the top three. PS VR2 newcomer Synapse and free-to-play game Naraka: Bladepoint also ascended their respective lists.
Check out the full listings below. What titles are you playing this month?
PS5 Games
| US/Canada | EU |
| --- | --- |
| Grand Theft Auto V | Grand Theft Auto V |
| Remnant II | Remnant II |
| Call of Duty: Modern Warfare II | FIFA 23 |
| FINAL FANTASY XVI | F1 23 |
| NBA 2K23 | Call of Duty: Modern Warfare II |
| Diablo IV | Diablo IV |
| Tom Clancy's Rainbow Six Siege | FINAL FANTASY XVI |
| Mortal Kombat 11 | Hogwarts Legacy |
| Hogwarts Legacy | NBA 2K23 |
| MLB The Show 23 | Cyberpunk 2077 |
| FIFA 23 | Tom Clancy's Rainbow Six Siege |
| STAR WARS Jedi: Survivor | STAR WARS Jedi: Survivor |
| PGA TOUR 2K23 | ELDEN RING |
| Cyberpunk 2077 | Need For Speed Unbound |
| Street Fighter 6 | Among Us |
| ELDEN RING | The Witcher 3: Wild Hunt |
| WWE 2K23 | It Takes Two |
| Gotham Knights | Dead Island 2 |
| Marvel's Spider-Man Remastered | Assassin's Creed Valhalla |
| Need For Speed Unbound | Mortal Kombat 11 |
*Naming of products may differ between regions
*Upgrades not included
PS4 Games
| US/Canada | EU |
| --- | --- |
| Red Dead Redemption 2 | Grand Theft Auto V |
| Minecraft | Red Dead Redemption 2 |
| Grand Theft Auto V | Minecraft |
| NBA 2K23 | The Crew 2 |
| EA Sports UFC 4 | EA Sports UFC 4 |
| The Crew 2 | FIFA 23 |
| Mortal Kombat X | Gang Beasts |
| Gang Beasts | Hogwarts Legacy |
| Call of Duty: Modern Warfare II | NBA 2K23 |
| Mortal Kombat 11 | A Way Out |
| Hogwarts Legacy | The Last of Us Part II |
| The Last of Us Part II | THIEF SIMULATOR |
| Batman: Arkham Knight | F1 23 |
| FIFA 23 | Call of Duty: Modern Warfare II |
| A Way Out | theHunter: Call of the Wild |
| theHunter: Call of the Wild | The Last of Us Remastered |
| Tom Clancy's Rainbow Six Siege | Unravel Two |
| Friday the 13th: The Game | Assassin's Creed Odyssey |
| Rust | The Forest |
| Diablo IV | Batman: Arkham Knight |
*Naming of products may differ between regions
PS VR2 Games*
| US/Canada | EU |
| --- | --- |
| Synapse | Synapse |
| Beat Saber | Beat Saber |
| Pavlov | Pavlov |
| Moss: Book II | Moss: Book II |
| Star Wars: Tales from the Galaxy's Edge | Star Wars: Tales from the Galaxy's Edge |
| Job Simulator | Job Simulator |
| Swordsman VR | Hubris |
| Walkabout Mini Golf | Kayak VR: Mirage |
| Creed: Rise to Glory – Championship Edition | Swordsman VR |
| Hubris | The Dark Pictures: Switchback VR |
*PS Store purchases only. Game upgrades or games bundled with hardware not included
PSVR Games
| US/Canada | EU |
| --- | --- |
| Job Simulator | Job Simulator |
| Beat Saber | Beat Saber |
| The Walking Dead Onslaught | Titanic VR |
| Budget Cuts | Batman: Arkham VR |
| SUPERHOT VR | Budget Cuts |
| Titanic VR | The Walking Dead Onslaught |
| Batman: Arkham VR | Gun Club VR |
| The Elder Scrolls V: Skyrim VR | SUPERHOT VR |
| ASTRO BOT Rescue Mission | Swordsman VR |
| Robinson: The Journey | Robinson: The Journey |
Free to Play (PS5 + PS4)
| US/Canada | EU |
| --- | --- |
| Fortnite | Fortnite |
| NARAKA: BLADEPOINT | Call of Duty: Warzone |
| Call of Duty: Warzone | Fall Guys |
| Fall Guys | Rocket League |
| Apex Legends | NARAKA: BLADEPOINT |
| Rocket League | eFootball 2023 |
| Overwatch 2 | Trackmania |
| Rec Room | The Sims 4 |
| The Sims 4 | Apex Legends |
| PUBG: BATTLEGROUNDS | Overwatch 2 |