Featuring insight from the narrative adventure's director on themes of love, loss, and growing up in a time before the Ice Age.
Some of the best coming-of-age stories happen in times of great upheaval: war, revolution, calamity… but graduating high school while you're staring down your almost-inevitable extinction, at the hands of one of the greatest disasters to ever hit planet Earth? That's some rough stuff. Such is the setting of Goodbye Volcano High, a dramatic, narrative-driven tale of awkward proto-avian teenagers at a turning point when they should have the rest of their lives ahead of them–except they don't.
Montreal-based indie studio KO_OP has been working on Goodbye Volcano High for several years now, and its tale of prehistoric high-school life is releasing very soon on PS4 and PS5. We sat down with the game's director, Kyle McKernan, to get a deeper dive into character writing, wrangling the narrative, and how to weave mini-games into the fabric of a sprawling drama.
A drama for the Stone Ages
"The themes at the core of Goodbye Volcano High are love, friendship and youth facing what feels like an inevitable catastrophe," says McKernan. "The game explores what it means to embrace family and found family in a time of crisis and the different ways people cope with impending disaster… One of our driving focuses was how you reconcile all your wants, needs, goals and love when the time to reach closure has been cut short."
No matter what species you are, being a teenager isn't easy, and the narrative of Goodbye Volcano High can often tackle some tough subjects: love, facing others' expectations, drug use, and the looming specter of premature death. "Crafting the narrative was challenging because it demanded we probe some serious and often difficult topics for ourselves in order to realize them in our characters," McKernan continues. "Facing mortality isn't an easy thing to ruminate on, and it especially isn't easy to focus on for years of development. Making sure we honored those feelings in our story was important to us and we placed a lot of pressure on ourselves to get it as right as we could."
Tough situations means sometimes making tough choices, and when faced with tough decisions, you'll be able to peer directly into the mind of protagonist Fang. "Our UI can reflect Fang's thoughts to the player. When the player is making choices, they aren't just picking something, they're seeing what Fang thinks and what they are willing to do or say."
Prehistoric personalities
Key to crafting an engaging narrative are characters that players come to love (or love to hate.) Volcano High's students include: Fang, a would-be indie band vocalist; songwriter and guitarist Trish; drummer and dungeon master extraordinaire Reed; shy Student Council president Naomi; and straight-laced class president Naser–who also happens to be Fang's brother.
To help the narrative connect with players, the KO_OP team put extra care into developing the personalities of these central characters, along with the many other faces at Volcano High. "The key focus for us is to let the player see themself in our characters one way or another," says McKernan. "In games, you have a lot more tools at your disposal for doing that because the player is directly engaging with and influencing the game itself. We want the player to get inside the mind of Fang and draw out the experience they get from it naturally. Our cast of characters has a wide range of reactions to the end of the world–we hope we've provided a space for players to engage with their own internal struggles through our characters."
The central cast went through quite a few iterations as development progressed, as McKernan tells us. "Our characters went through a lot of revision and refocusing as our overarching narrative and mood of the game settled into place. As the threads of our story evolved, the characters' voices and personalities needed to match them and vice versa. It was a long process to make the characters' internal struggles feel real and realized in the context of the game's story. The push and pull of development requires a willingness to toss things out and break things down so that you can reform them."
Ultimately, McKernan hopes that players will find themselves connecting to the gang. "We wanted the player to feel what our characters feel in the game. Not just fear and anxiety (which we have an ample supply of in the real world) but love, camaraderie, creativity, and hope amplified in the face of immense crisis. Even though the core of our narrative is difficult in a lot of ways, we want the player to come away from it feeling hopeful. That's not to say there aren't a lot of ups and downs there–we hope it's all keenly felt. To us, authentic characters are critical to any narrative art, so for us it was extremely important that we feel our characters have an authenticity to their behavior, thoughts and feelings–especially for us to feel a connection to our work."
Jurassic jams
One of the story's main elements is Fang and Trish's band, VVORM DRAMA. The band isn't just a piece of background information–there will be parts of the game where you'll need to play a rhythm mini-game to belt out a jam. As McKernan explains, these portions are just as emotionally charged as the rest of the game. "In order to let the music performance moments shine emotionally, it was important that we create rhythm mechanics that let the player be a part of the music while not being overly challenging. We wanted the player to engage with Fang's fantasy around music and let them in on everything that means to the character."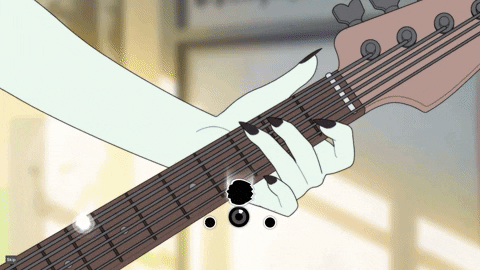 You won't just be alternating between making decisions and playing tunes, though–there are also bits of experiential gameplay that help set the stage for what's currently happening. "We have moments in the game where you get to look around at people in the world and get thoughts on them, or take a look at their social media posts that help to give a sense of place to the world our characters inhabit. We also have moments that show the emotions specific characters are feeling and engage the player in them: moments like doom scrolling social media when things get bad or playing music for your friends and hoping they like your song. Our mini-games serve to flesh out the world on a larger scale and the relationships/characters on a smaller scale."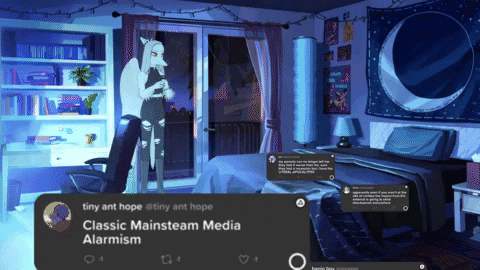 This prehistoric story may have been 66 million years in the making, but you won't have to wait much longer to hang out with Fang and friends. Goodbye Volcano High will be available digitally for PS5 and PS4 on August 29.