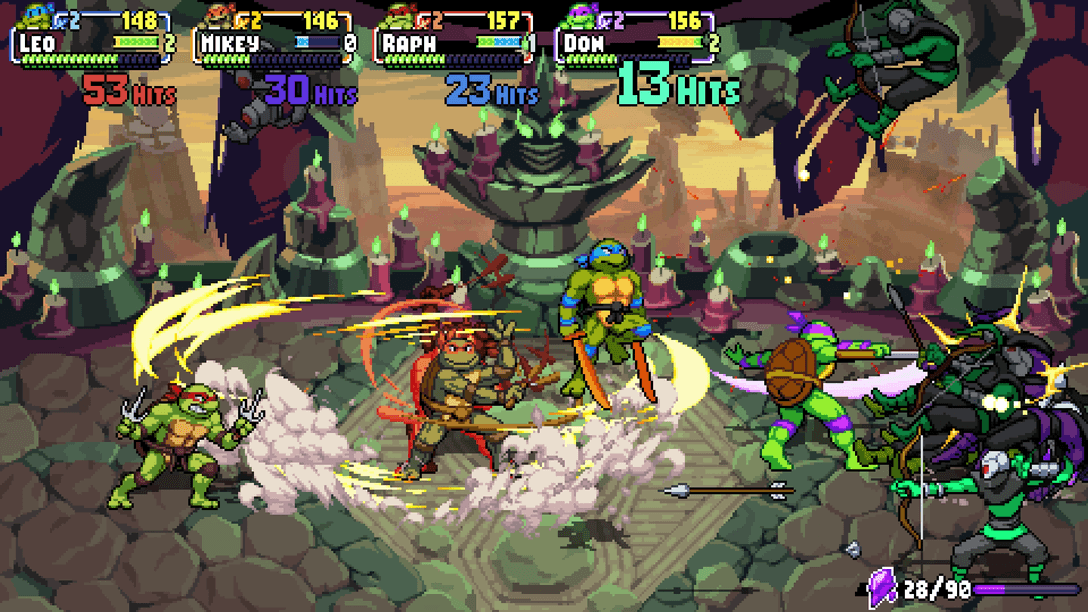 New PlayStation Underground episode oozes with gameplay including the ability to temporarily transform into iconic characters like Shredder.
When it was time to brainstorm brand new content for Shredder's Revenge, we immediately wanted to add something new to complement the fast-paced arcade gameplay we've already created.
A new survival mode was like Krang's empty android body: a no-brainer! We already knew that fans wanted it, but it became obvious that a survival mode would become a new arena for multiplayer fun. A mode where players could drop in and out, fight new enemies, collect strange power-ups and discover new worlds.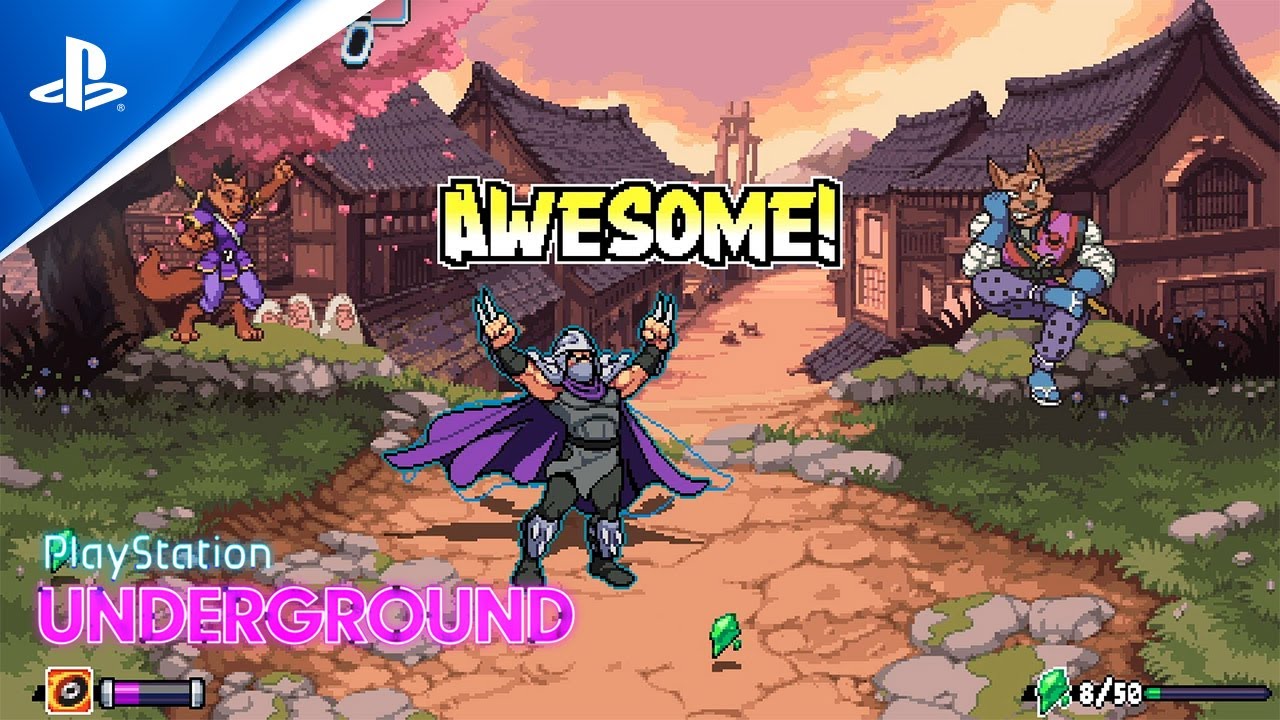 What the shell is going on?
Interrupting a pizza party, Dimension X's raddest rebels – the Neutrinos – call on the Turtles for help.The Foot Clan has been stomping across dimensions and only the mutant martial artists can stop them! Always ready to squash the bad guys, the Turtles agree to hit pause on the party and jump into the multiversal melee.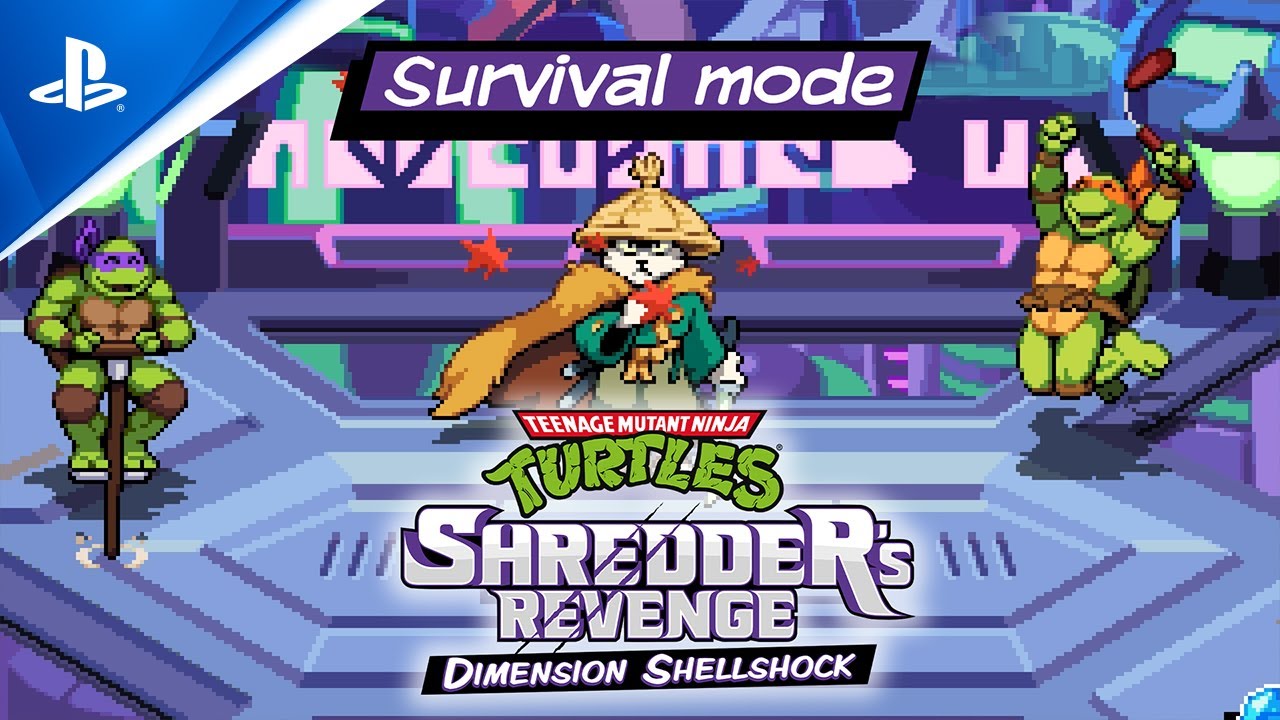 In Dimension Shellshock's new survival mode, the Turtles battle across worlds collecting shards in order to assemble dimension crystals. Once assembled, the multiversal gems allow the rambunctious reptiles to go deeper within dimensions to face off against Shredder.
Entering the dimensional gauntlet, you'll be battling across a wide variety of arenas, facing off against adversaries both old and new.
After collecting enough crystals, you'll be able to fight Shredder within the void. If you're able to defeat him, you'll either return home to the Neutrinos or be given the option to keep fighting through the harshest challenge of them all: rising atop the leaderboards.
The fight stuff
The survival mode is no walk in the inter-dimensional park: Players will face off against over 100 unique combat challenges including a plethora of different enemy waves, each of them adapted for single or multiple players. 
Watch out for new Foot Soldier variants – armed with punishing weapons – looking to make turtle soup out of you!
For the ferocious fighters, mastering the enemy waves can become even more difficult: The Foot Clan has been issuing soldier variants and thus, your adversaries evolve to become tougher versions of themselves.
Foot Soldiers aren't the only obstacle on your way to the Shredder. The Foot Clan's multiversal travel has made the dimensions susceptible to extreme conditions. Powerful gusts of winds might send you flying straight into the enemy's hands while low gravity could allow you to leap even higher than before. Beware of danger from above: Crystalline stalactites shoot straight into the ground, risking your shell if you're not careful.
Perks and recreation
If you're strong enough to defeat a whole horde, two rewards portals will appear. They both lead you to your next fight but also offer game-changing bonuses. You might be presented with helpful pizzas for your ailing ninjas, large amounts of shards, or even mysterious canisters of ooze. Should you choose the ooze, you have access to special mutation perks, transforming your hero.
Will you make your hero faster by picking the Turbo Teen perk? Become a Rude Dude, doubling your attack power but risking double damage? You could even select the Boss Mutations perk, transforming you into Bebop, Rocksteady or even the nefarious Shredder for a few rounds!
Dimensional Shellshock's survival mode is aptly titled: Your pan-dimensional adventure starts with your base abilities and only one life! Assembling new crystals becomes the only way to gain more life energy, boosting your Ninja Power bar, adding precious extra lives but also the ability to choose your preferred challenge level.
Across the multiverse
The new game mode moves beyond the regular campaign's levels into a carousel of fight arenas, inspired by TMNT's rich history. You'll start your journey in an Usagi Yojimbo-inspired Edo dimension, jump into an 8-bit battleground and fight through Omnichannel 6 and beyond!
You might start to feel homesick, but old friends and some enemies have tagged along to cheer your victory or applaud your defeat.
Creating Shredder's Revenge was the dream of a lifetime and a career high for all of us at Tribute Games. We're very proud to have the chance to go back to the well and add to the video game legacy of the Turtles.
We hope to have you join us for another round in the TMNT toy box when the Dimension Shellshock DLC comes out later this year on PlayStation 4.