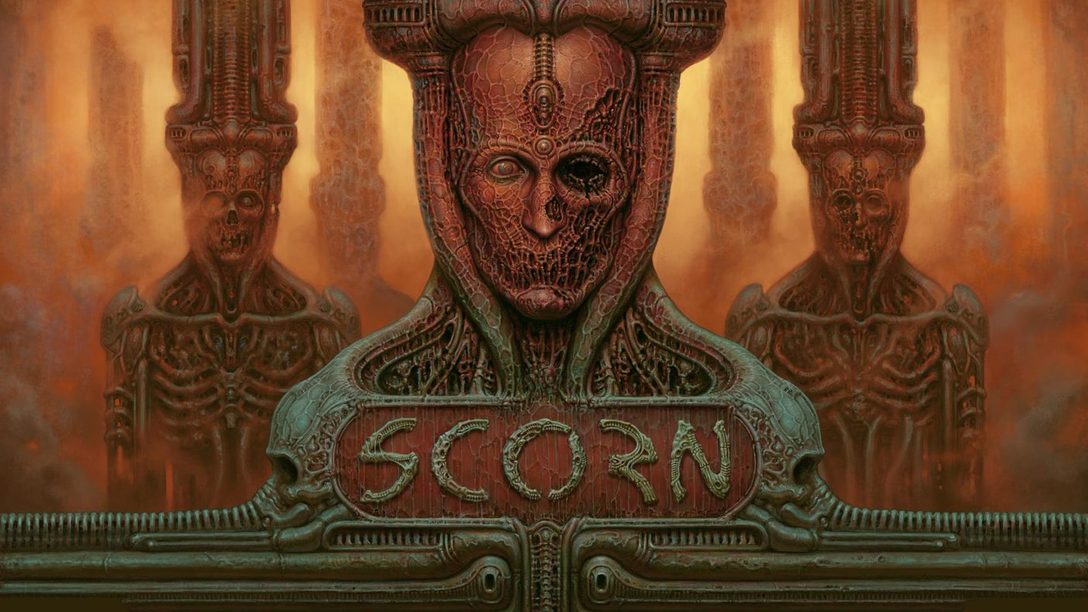 Explore a new dimension of the nightmarish labyrinth with the exclusive features brought by the DualSense wireless controller.
Greetings everyone! I'm Jovan, Technical Artist at Ebb Software. The whole team here found joy in bringing you nightmarish experiences that will fully immerse you into somber tapestries. And today we're excited to reveal that our first game, Scorn, will come to Playstation 5 later this year.
Many of you here may be new to Scorn, so for those less familiar with the game, you are about to experience a horrific adventure like no other. Trapped and stranded in a strange biomechanical world, you must make your way through a civilization in decay, now inhabited with twisted and grotesque creatures. While you will be able to wield various weapons in the game, Scorn is not a shooter, and each encounter can quickly turn deadly. Ammo and life are scarce, and your wits will often advise you to avoid direct confrontation. Instead, to progress through this mesmerizing labyrinth, you will have to revive and activate abandoned contraptions, part machine, part flesh, all horror.
We like to compare it to the experience of a nightmare. Most often, nightmares are described as strong subjective experiences that can be intensely distressing and frightening, eliciting emotional responses in dreamers, and causing feelings of fear, anxiety, and terror. Scorn tries to offer these emotions to its players in a very subtle manner through a somber atmosphere and its gloomy corridors.
Immersive power of PS5
As we were developing the game for PlayStation 5, we finally had the opportunity to tap into the potential of the DualSense wireless controller to immerse you even further in this twisted world, extending the synesthetic experience of Scorn. It allows us to deepen the player's immersion and to let the whole world "breathe" in a new way. Since there is no spoken dialogue in the game, we have put a strong emphasis on environmental storytelling, hence haptics are a great addition to this peculiar audio-visual experience.
The main character in the game interacts with the world mostly by using his hands. Most of these interactions are also painful for the character. That's where haptics comes into play. The imagery offered to the player's eyes is painful by itself, but we wanted to increase this feeling by giving a sensation to the hands holding the controller. Players are also able to feel the directions of haptics (left or right hand), further adding to the experience.
From the smallest interaction, such as feeling the low rumble of an organic head-mounted display to the situations in which players find themselves in dire and dangerous encounters, the DualSense controller haptics elevate the feeling of immersion by balancing the intensity of vibration according to in-game sounds.

We have also made immersive use of the DualSense controller adaptive triggers when the player needs to use tools and weapons to survive. Every weapon or tool has a subtle, but different feeling of weight. For example, the piston-like melee tool, used to operate different contraptions, and occasionally in desperate attempts of self-defense, has a specific resistance in the trigger that when used alongside the haptics, enhances the desired effect.
Finally, the DualSense controller light bar represents the health of the player, changing colors in appropriate situations. It is a small addition to the otherwise very minimalistic HUD in Scorn. The idea is that a player can get a piece of immediate information on their HP status while playing the game.
Balancing the DualSense controller features was not an easy task but with coordination between TechArt, Programming, and Audio teams, we have successfully pulled it through and made something special for PlayStation 5 players.
We are also very proud to announce that following popular demand, a physical version of the game will be available at the same time as the digital version, including a digital artbook, digital version of the Original Soundtrack composed by Aethek & Lustmord, and, only available at selected retailers, an exclusive SteelBook:
We can't wait for all PlayStation fans to delve into our mesmerizing world later this year. Stay tuned for more information!