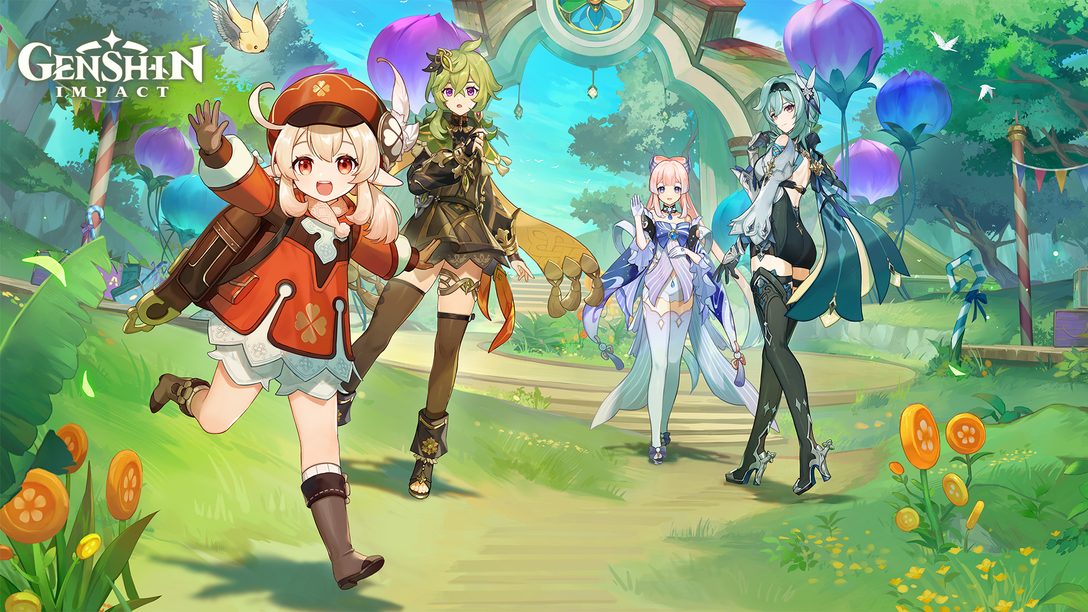 Explore uncharted land with Klee and Kaeya who are ready to show you their new looks!
Hello Travelers! The Genshin Impact developer team is back with the latest information on the upcoming Version 3.8 "Secret Summer Paradise" arriving on July 5. As summer returns to Teyvat, it's time to join Klee for a getaway into an uncharted land!
In the meantime, Klee and Kaeya will also be presented with their new outfits! By exploring the limited-time map and collecting Joyeux Vouchers, you can exchange them for Kaeya's new outfit as well as a variety of resources to continue preparing for your long journey this year.
An Adventure Full of Twists and Turns
Unlike the island getaway we experienced in the past two years, our destination this time is an unknown oasis named Veluriyam Mirage, which is inside a magic bottle located somewhere in the desert. The terrain here features steep hills and deep valleys, making it difficult to explore on foot. That's why we've prepared two game modes in the open world to make your exploration easier: Choo-Choo Cart and Preprint.
Amidst valleys and hills, the winding tracks of the rollercoaster-like Choo-Choo Cart will take you high in the air or deep into caves rich in treasure. During the ride, passengers can fire the Jubilant Wave equipment on the Choo-Choo Cart to complete certain challenges.
Although we can ride the Choo-Choo Cart and go high in the air or deep below the surface of the earth, there are still certain mysteries and treasures where we can't reach easily. Therefore, it's time to try out the "Preprint" game mode, which allows you to enter a two-dimensional space with "Streaming Projectors" to finally obtain the hidden treasures. Interacting with a variety of external objects affects the layout of the Preprint, which you can use to your advantage to solve the puzzles and access the treasures within.
Unique Summer Amusements
In addition to the rollercoaster-like Choo-Choo Cart, the Veluriyam Mirage also features unique constructions and event games reminiscent of an amusement park.
Spino Blaster uses an entertainment water cannon that fires Hydro bullets at floating Target Balls, among which special effects might be triggered, such as entering Power Overflowing mode to have infinite ammo and larger AoE. At various locations, you may encounter the "Sojourns of the Barking Fox" challenge and join speed races by controlling the toy Barking Fox. The third game "Dance of Flashing Thought" is a combat challenge where eliminating opponents will accumulate Honed Will to obtain powerful combat buffs. In addition, "Bing-Bang Finchball" will introduce a shuffleboard-esque game, where players have to place as many Finchballs as possible in high-scoring zones, and two kinds of special Finchballs will be available to improve the situation, to either attract or stick to other Finchballs on the board.
By clearing the event games, you can collect enough Fascinating Phenocrysts to invite Layla to your team. Besides those games, the open-world exploration of Veluriyam Mirage can also lead you to collect Joyeux Vouchers scattered around so as to redeem all manner of rewards, including Kaeya's new outfit.
More Happenings in Teyvat
Version 3.8 also welcomes the return of old companions. In the first half of Version 3.8 Event Wishes, Klee and Eula will arrive with their reruns. Sangonomiya Kokomi and Wanderer will also have their reruns during the second half of Event Wishes. In addition to Kaeya's new pirate-themed outfit, a mage-styled new outfit for Klee will also be available. You may also find out more about Kaeya in his Hangout Event.
On top of that, Genius Invokation TCG will also receive a new update with a PvE mode and several new Character Cards. In the new game mode "The Forge Realm's Temper: Endless Swarm," players need to defeat endless waves of enemies in a set number of rounds by better utilizing their deck of cards and the special rules and buffs. Aside from this, Candace, Yanfei, and Kaedehara Kazuha will join as the three new Character Cards into the expanding TCG library.
Last but not least, fun mini-games will also take place outside the bottle, such as a hidden object challenge "Shared Sight where players can retrieve little animals by connecting to what they can see with a special mirror.
And that's all for today's sharing. We hope you have a special summertime inside Veluriyam Mirage, and buckle up for the big adventures coming soon!