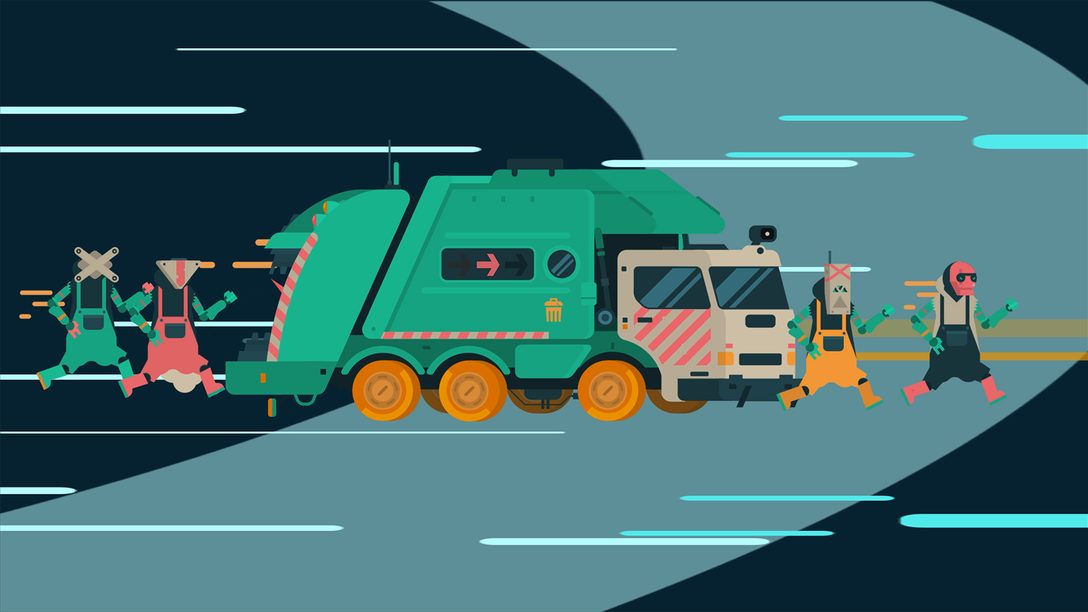 Featuring a deep-dive into design inspiration with Q-Games Art Director, Yasuyoshi Yamamura.
Hello everyone, I'm Yasuyoshi Yamamura, Art Director at Q-Games. Today I have some development insights to share with you to celebrate the upcoming release of our frantic party-brawler, PixelJunk Scrappers Deluxe.
Yasuyoshi Yamamura, Art Director at Q-Games
Since the launch of the very first PixelJunk game on PS3 in 2007, PlayStation has been the spiritual home of the series. From PixelJunk Shooter to Monsters, Racers to Eden; PlayStation players have always supported our goal to explore cool genre mixes and new mechanics. We're excited to be making a return later this year as PixelJunk Scrappers Deluxe prepares to punch in on PlayStation 4 and PlayStation 5.
Land of the rising fun
Set within a post-apocalyptic world where robots rule and garbage is overflowing, players control a team of robot Scrappers and brawl through the streets of Junktown to clear as much trash as possible. I enjoy drawing robots as a personal hobby, so when one of our game directors had the idea for a game about robot garbage collectors, I was desperate to get started.
Clean up the streets of Junktown as a trash collecting robot
Q-Games has been making games in Kyoto for 23 years and we often take subconscious inspiration from the world around us. But this time, we chose to deliberately bring the game to life using elements of Japanese culture that mean a lot to us.
Stages are spread across five areas of Junktown, with the first four taking inspiration from real locations in Japan. When it came to art direction, I made the decision to take an authentic look at Japan… and then turn it on its head.
Idol animation
Haruhabara was inspired by the famous shopping district of Akihabara mixed with the striking fashion district Harajuku. I did a lot of research to pick out the iconic aspects that are recognisable.
Haruhabara – inspired by 'Electric Town' Akihabara and fashion district Harajuku.
As well as being famous for video game and electronics stores, Akihabara is well known for its idol culture and I wanted to create enemies that fit that theme. I began sketching three members of what would become Trinity Lovers, the enemy idol group, and based their style on famous J-Pop groups like Perfume. I've always been a big fan of robot anime, particularly the old-school trope where things combine to become bigger robots, so we designed the boss sequence to allow the Trinity Lover idols to fuse together for the final showdown.
Trinity Lovers enemy design, from concept to final
The Trinity Lovers are of course supported by their hardcore fans, known as Otabots, who attack players by doing Otagei. This choreographed audience routine of waving neon batons in time to a musical performance is a popular part of Japanese idol culture. The final boss is fought during a live concert, so players must learn the routine to steer clear of incoming attacks.
Hometown homage
An area themed around our home city was an early idea that we were keen to get exactly right. Kawaii Kyoto makes up Area 4 and is based on Edo Japan, with huge torii gates and old shrines. We had a lot of fun working out how they would fit into our futuristic setting.
Kyoto also hosts a lot of famous festivals or matsuri, including Gion Matsuri, where the streets are lined with food vendors and stalls. Our studio looks out over the route of the main festival and we get together every year as a company to watch the parade, so being able to include matsuri elements into PixelJunk Scrappers Deluxe was really cool. Our team attended a lot of events for level design inspiration and ate a bunch of delicious food, which was of course… purely for research.
Breezy rider
When it came to character designs, I incorporated a lot of festival iconography and created a series of enemy robots based on popular activities and traditions. These include the 400 year old Awa Dance from Tokushima Prefecture in Japan which is used as an attack by Awadoribots, and the Tengubots who are based on a legendary yokai spirit.
[Matsuri inspired enemy design]
One of my favourite enemy designs is the biker punk Bosu-zoku that rides around on koinobori, traditional Japanese flags that flow like carp when hung in the breeze. There's something charming about a threatening enemy blasting across the stage on an inflatable fish… Closely followed by the Wasshoi Workers who use huge festival fans to keep players in check and wear traditional short-sleeved happi coats.
The last thing I want to share is our tribute to the traditional Japanese lion dance, Shishimai. I started out by drawing the concept sketch below as a background element for one of the areas, but as development continued, we became pretty attached to the design.
The traditional performing art is a big part of Japanese culture and there's a very famous shrine only 1 hour away from the Q-Games studio called Namba Yasaka, which has a huge lion sculpture at the entrance. After some re-working and design expansions, the Shishimai King boss was born! Shishimai traditionally symbolises incoming good luck and fortune, and there's a very big fortune to be cashed in once this ferocious enemy is defeated at the end of Area 4.
L-R – Shishimai King boss, Namba Yasaka shrine in Osaka
This is just a small glimpse of the vibrant world we've crafted and can't wait for you to experience it for yourselves. Assemble a crew of your friends, take to the streets of Junktown and fight to become top of the heap when PixelJunk Scrappers Deluxe launches on PlayStation later this year.