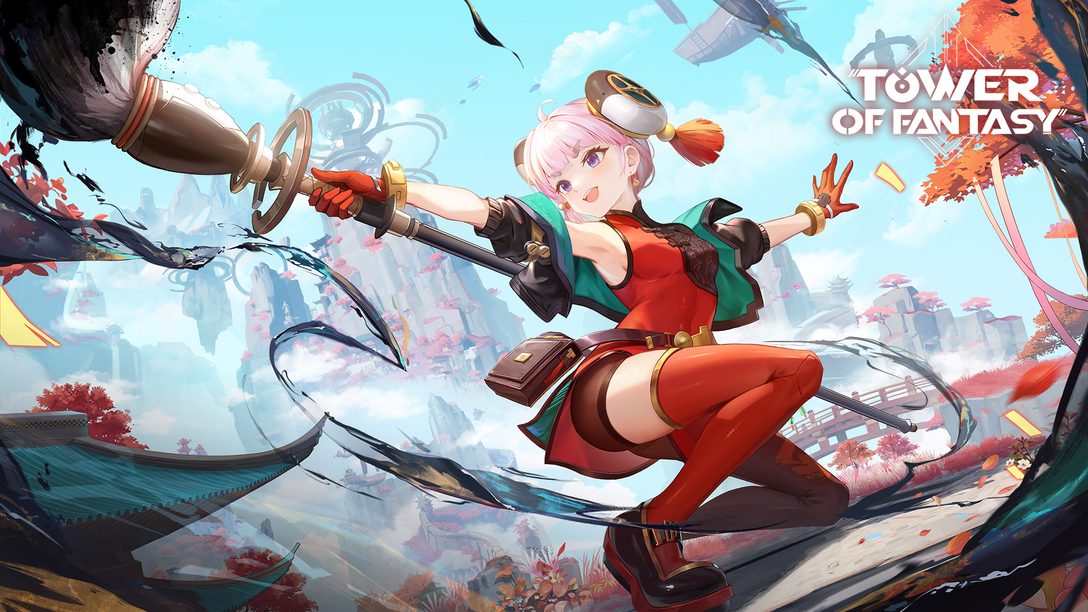 Plus first details on open-world RPG's pre-order bundles.
Greetings, Wanderers! Get ready to immerse yourself in a world of boundless exploration and adrenaline-pumping battles. Tower of Fantasy, the immersive open-world RPG brought to you by Perfect World Games, is making its grand debut on PlayStation 4 and PlayStation 5 on August 8th (UTC+0), and pre-order is officially open today. Brace yourselves as you craft your very own one-of-a-kind character and embark on an unforgettable journey, either alone or alongside your friends. This world awaits your arrival.
Let's dive into some of the amazing features that will make your journey truly extraordinary.
Liu Huo, the fierce fighter with an artistic soul
After the release on PlayStation, all wanderers can take an adventure in the map called Domain 9, filled with eastern aesthetics. You'll also encounter an intriguing character named Liu Huo—a spirited and formidable girl with an undeniable passion for martial arts. She loves to wear a vibrant red dress reflecting her prowess in combat and her role as the guardian of Farewellville. However, there's more to Liu Huo than meets the eye. Beyond her rough exterior lies a burning passion for the arts, particularly painting, and calligraphy. Join Liu Huo as she strives to balance her pursuit of elegance with her spirited nature, and witness firsthand the extraordinary journey that awaits her.
To reflect Liu Huo's personality, we put a lot of thought into designing her appearance, combat actions, and skill effects. There are many eastern elements can be found in Liu Huo's appearance. Her outer garment is made of silk with embroidered golden patterns on the collar. Her weapon is a giant brush called Pine Comet, which suits her refined taste. Additionally, the character "霸" is written on her legs, symbolizing her dominant personality.
When designing her combat moves, we fused calligraphy and martial arts, capturing the essence of ink painting. We utilized vibrant blue and orange flames to intensify the visual impact, employing brushstrokes to convey varying levels of intensity. As Liu Huo unleashes her weapon "Pine Comet" in battle, it's as if she wields a brush, evoking a formidable presence. However, keen-eyed observers familiar with Chinese characters might catch a stroke error. It appears that Liu Huo still has room to grow on her path to be a real artist.
Immersive PS5 features
The DualSense wireless controller allows us to provide an immersive experience through haptic feedback. During intense battles, when hitting enemies or facing moments of crisis with significant blood loss, the controller's haptics help you accurately assess the current combat environment. Outside of combat, appropriate haptics during key story moments create a thrilling experience. When racing, the controller's vibrations accompany intense collisions, making it feel like a steering wheel and immersing you in the excitement of high-speed racing.
Moreover, you can communicate with teammates through the controller's built-in microphone, making the vast world less lonely.
At the same time, the stunning 4K graphics and visual effects of the PS5 provide players with a high-resolution gaming experience. Currently, Tower of Fantasy features diverse map styles, including the sci-fi wasteland style of Aesperia, the cyberpunk metropolis of Mirroria, the deep underwater world of Innars, and the upcoming magical eastern world of Domain 9. In the 4K mode on PlayStation, the neon lights of Mirroria become mesmerizing, the Grand Sea undergoes dynamic changes, and the clouds and red maple of Domain 9 exhibit a mysterious eastern charm, further enhancing the visual experience.
Pre-order now for exclusive PlayStation item
Tower of Fantasy is now available for pre-order at PS Store. Get all the details on what's included in each version of the game, as well as the pre-order bonuses, below.
The standard edition of Tower of Fantasy contains the base game and comes with the following pre-order bonus contents:
The Tower of Fantasy Deluxe Edition contains the base game as well as:
The Tower of Fantasy Ultimate Edition contains the base game as well as:
During the development of the Tower of Fantasy PlayStation version, we have learned and accumulated valuable experience. Open-world games have infinite potential for exploration, and we will continue to bring more enriching and enjoyable content. We hope you enjoy it.
Ready to unleash your inner wanderer on PlayStation?