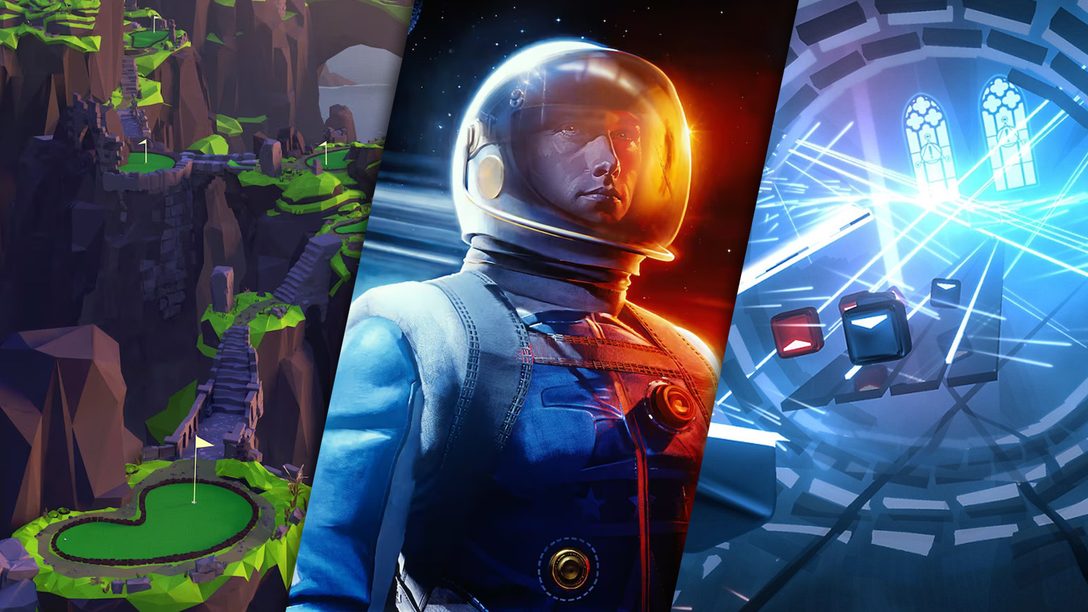 May was the month to get lost in virtual worlds.
It's time to see which top downloads for PS5, PS4, PS VR2, PSVR, and free-to-play received the most downloads to make the list this month. The U.S. and EU PS VR2 charts saw some major movement in the top three spots, while the PS5 charts saw little change, and the U.S. and EU PS4 lists crowned a new number one spot.
Check out the full listings below. What titles are you playing this month?
PS5 Games
| | |
| --- | --- |
| US/Canada | EU |
| Star Wars Jedi: Survivor | Star Wars Jedi: Survivor |
| Grand Theft Auto V | Grand Theft Auto V |
| Dead Island 2 | FIFA 23 |
| NBA 2K23 | Dead Island 2 |
| MLB The Show 23 | Need For Speed Unbound |
| Mortal Kombat 11 | NBA 2K23 |
| Hogwarts Legacy | Hogwarts Legacy |
| FIFA 23 | FAR CRY 6 |
| Call of Duty: Modern Warfare II | Assassin's Creed Valhalla |
| Need For Speed Unbound | Resident Evil 3 |
| Madden NFL 23 | Football Manager 2023 |
| WWE 2K23 | Call of Duty: Modern Warfare II |
| NHL 23 | Space Engineers |
| Resident Evil 3 | Mortal Kombat 11 |
| Marvel's Spider-Man Remastered | Alan Wake Remastered |
| FAR CRY 6 | AFL 23 |
| Gotham Knights | Among Us |
| Resident Evil 4 | The Witcher 3: Wild Hunt |
| Alan Wake Remastered | Diablo II: Resurrected |
| Space Engineers | Resident Evil Village |
*Naming of products may differ between regions
*Upgrades not included
PS4 Games
| | |
| --- | --- |
| US/Canada | EU |
| Hogwarts Legacy | Hogwarts Legacy |
| Minecraft | FIFA 23 |
| FIFA 23 | Minecraft |
| EA Sports UFC 4 | Grand Theft Auto V |
| Red Dead Redemption 2 | Red Dead Redemption 2 |
| Grand Theft Auto V | EA Sports UFC 4 |
| NBA 2K23 | Dead Island: Definitive Edition |
| Dead Island: Definitive Edition | NBA 2K23 |
| Batman: Arkham Knight | Star Wars Battlefront II |
| Star Wars Battlefront II | Gang Beasts |
| Mortal Kombat 11 | Assassin's Creed Origins |
| Gang Beasts | A Way Out |
| MLB The Show 23 | The Last of Us Remastered |
| Call of Duty: Black Ops III | Tom Clancy's The Division 2 |
| Call of Duty: Modern Warfare II | Monopoly Plus |
| Tom Clancy's The Division 2 | The Forest |
| Madden NFL 23 | The Crew 2 |
| Injustice 2 | Outlast |
| Mortal Kombat X | Crash Team Racing Nitro-Fueled |
| Dead Island 2 | Gran Turismo Sport |
*Naming of products may differ between regions
PS VR2 Games*
| | |
| --- | --- |
| US/Canada | EU |
| Beat Saber | Beat Saber |
| Walkabout Mini Golf | Red Matter 2 |
| Red Matter 2 | Walkabout Mini Golf |
| Pavlov | Pavlov |
| PISTOL WHIP | Kayak VR: Mirage |
| Creed: Rise to Glory – Championship Edition | Job Simulator |
| Job Simulator | Creed: Rise to Glory – Championship Edition |
| Kayak VR: Mirage | PISTOL WHIP |
| Star Wars: Tales from the Galaxy's Edge | The Dark Pictures: Switchback |
| Swordsman VR | Star Wars: Tales from the Galaxy's Edge |
*PS Store purchases only. Game upgrades or games bundled with hardware not included
PSVR Games
| | |
| --- | --- |
| US/Canada | EU |
| Beat Saber | Beat Saber |
| Job Simulator | Job Simulator |
| SUPERHOT VR | SUPERHOT VR |
| Astro Bot Rescue Mission | The Walking Dead Onslaught |
| The Walking Dead Onslaught | Sniper Elite VR |
| Vader Immortal | Batman: Arkham VR |
| The Elder Scrolls V: Skyrim VR | Vader Immortal |
| Paranormal Activity: The Lost Soul | Astro Bot Rescue Mission |
| Creed: Rise to Glory | PlayStation VR Worlds |
| PlayStation VR Worlds | Creed: Rise to Glory |
Free to Play (PS5 + PS4)
| | |
| --- | --- |
| US/Canada | EU |
| Fortnite | Trackmania |
| Call of Duty: Warzone 2.0 | Fortnite |
| Fall Guys | Call of Duty: Warzone 2.0 |
| Apex Legends | Fall Guys |
| Rocket League | Rocket League |
| Overwatch 2 | eFootball 2023 |
| Trackmania | Apex Legends |
| The Sims 4 | The Sims 4 |
| Destiny 2 | Overwatch 2 |
| PUBG: BATTLEGROUNDS | Genshin Impact |