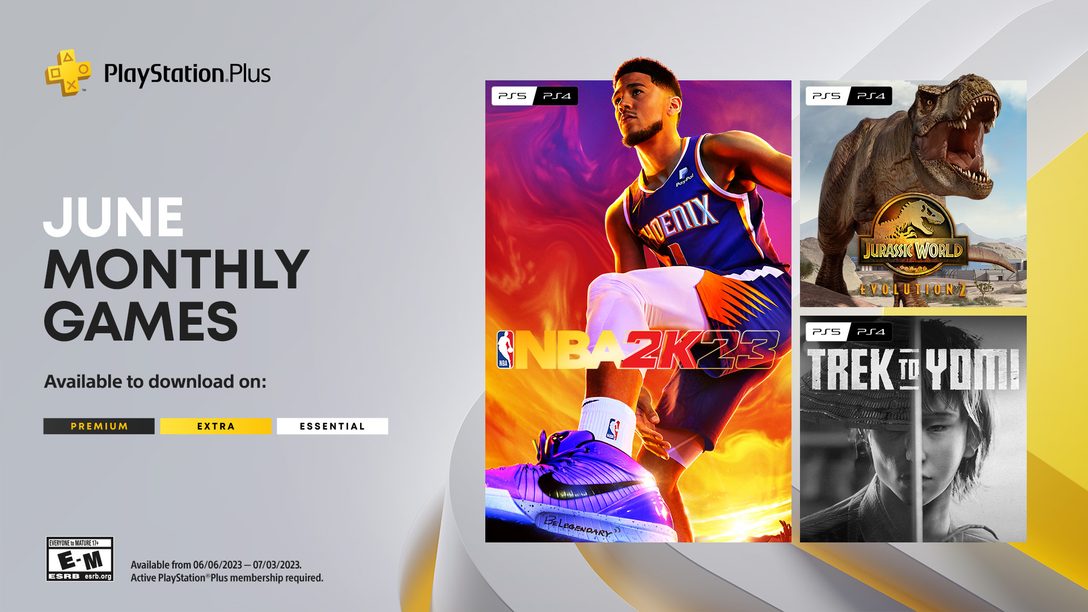 Today we're happy to reveal the PlayStation Plus Monthly Games for June. The Monthly Games lineup of NBA 2K23, Jurassic World Evolution 2 and Trek to Yomi will be available to PlayStation Plus members on Tuesday, June 6 until Monday, July 3. 
Let's take a closer look at each of the games in turn.
NBA 2K23 | PS4, PS5
With best-in-class visual presentation, up-to-date rosters and historic teams, the game has never felt more real and complete than it does in NBA 2K23. Compete as your favorite NBA and WNBA teams and stars and experience the pinnacle of true-to-life gameplay. Prove yourself against the best players in the world and showcase your talent in MyCAREER or The W. Pair today's All-Stars with timeless legends in MyTEAM. Build a dynasty of your own as a GM or lead the league in a new direction as the Commissioner in MyNBA. PlayStation Plus members also get access to exclusive monthly MyTEAM packs in-game.
Jurassic World Evolution 2 | PS4, PS5
Avoid the mistakes of the past and build your own Jurassic World for dinosaurs and visitors alike in this sequel to Frontier's 2018 management simulation, Jurassic World Evolution. Experience exciting new features, four engaging game modes and an expanded roster of awe-inspiring dinosaurs. Immerse yourself in a compelling and original Jurassic World narrative set after the earth-shattering events of Jurassic World: Fallen Kingdom. Work alongside iconic characters from the films, including Dr. Ian Malcolm (voiced by Jeff Goldblum) and Claire Dearing (voiced by Bryce Dallas Howard) and lead the efforts to control, conserve and contain wild dinosaurs now rampaging across the USA.
Trek to Yomi | PS4, PS5
Trek to Yomi is an ultra-stylised cinematic action-adventure that follows an enthralling story of Hiroki during his fall against the forces of evil. Experience his heroic return to make good on his failed promise to save the people he swore to protect. As a vow to his dying Master, the young swordsman is sworn to protect his town and the people he loves against all threats. Faced with tragedy and bound to duty, the lone samurai must voyage beyond life and death to confront himself and decide his path forward.
Last chance to download May's Monthly Games
PlayStation Plus members have until Tuesday, June 6 to add GRID Legends, Chivalry 2 and Descenders to their game library. 
PlayStation Plus Spotify Playlist 
Also, check out our PlayStation Plus monthly games-inspired playlist on Spotify, which will be refreshed with new songs every month.