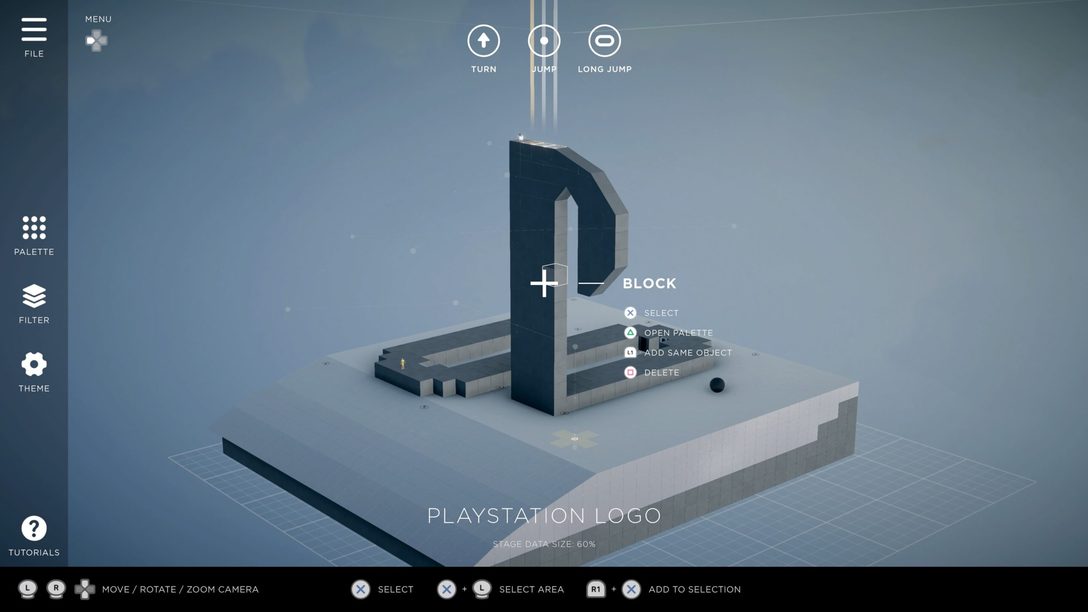 Crafting a level in this unique action-puzzle game, launching on PS5 and PS4 tomorrow.
Un-leash. Get it!? Dog-gone it! Anything? To be more on the nose, you play as a Shiba Inu in Humanity, available on PS5 and PS4 starting tomorrow and available as a Day 1 release in the PlayStation Plus Game Catalog. With the game's launch less than a day away, we wanted to celebrate and maybe inspire you to check out the Stage Creator by sharing this PlayStation logo-inspired stage with you.
Building a PlayStation logo-themed stage
Using Humanity's ultra-intuitive editor, you can let your imagination run wild. Whatever you're in the mood for, a perplexing puzzle or a relaxing work of art, it's easy to make it inside Humanity. The absolute best part is when you're finished, you can share your creations with the world!
Get to know the Palette menu, which has everything you need to construct a stage. The basic building blocks of any level are…well, Blocks! To create the PlayStation stage you see here, we used the static (non-moving) and motorized (can be made to move along a pre-planned route) types, but many more options are available for your custom level. All you need are some Blocks, humans, and a Goal to send them to. If you have those three things, you've got yourself a working level! If you get stuck or need some help, the Stage Creator includes an extensive library of tutorial videos to assist you every step of the way.
We'll start by drawing the 'S' in the 'PS' logo. This will be the base for our puzzle. Next, we'll create a pathway for the humans to walk on while avoiding the Others walking below and trying to stop us from collecting that precious Goldy. Finally, the 'S' snakes around and attaches to the back of a towering letter 'P.'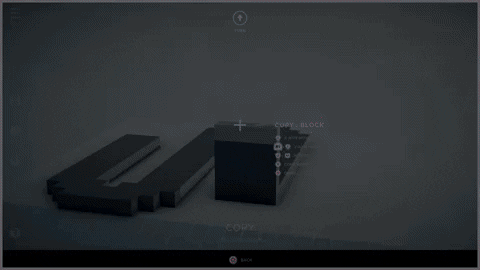 That's one giant PlayStation logo!
Ahhhh, we forgot to add an essential piece! So, let's bring up the Palette and drop in a Boulder. There, now it looks like it's got a "registered" symbol. You didn't see that one coming, huh? Get creative and don't forget to have fun when designing your level!
Making a level fun to solve
Now that we've finished the basic design, we must add the puzzle aspects to the level. The humans will march along the S, climb the towering P and reach the three goals at the top. But wait, there's a tricky part. Did you see that gold goal at the top? Use that cute Shiba Inu of yours, place commands, and escort your human flock with Goldy to the Goldy Goal. That's no easy task, let me tell ya! Not only do you need to guide the Goldy in its own goal, but you'll also need the humans flowing to the other two goals. You have to do all this and avoid the Others waiting to beat you down with their clubs.
Think you can finish our stage? With practice, I'm sure you can. The level is sitting in User Stages, waiting for you to take on the challenge:
"PlayStation Logo" Stage ID 001-157-8556.
Once you beat it, you can rate and save it to your Favorites. It's a five-star level for sure, right?
This PlayStation stage should illustrate just how flexible the editor is. If you're a beginner, you can start much simpler. Here are a couple of tips:
Not sure where to begin? Pick two mechanics in Humanity and mash them up. Pushable Blocks with Conveyor Belts. Fans with the Dog Switch. Climbable walls and water. Make a smaller puzzle and expand from there.
Do your own take on a stage from Humanity's Story Mode and remix/change some aspects of it.
Pick a theme and see what you can design. Make a sculpture with the blocks and then design a puzzle afterward.
Bottom line—have fun. And don't forget to share your stage with us, too! We are eager to see what people in the community can do with these tools.
You can get your hands on Humanity starting tomorrow, May 16, on PlayStation 5 or PlayStation 4. Play on your TV or optionally with PS VR2 or PS VR. The game is also part of the PlayStation Plus Game Catalog now available to PlayStation Plus Extra and Premium members.