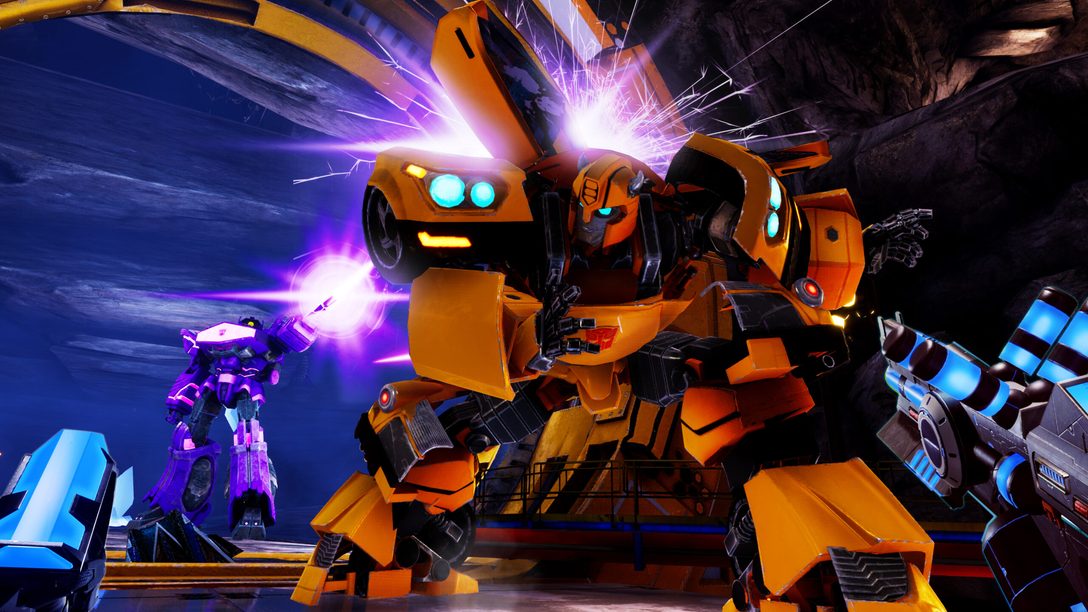 Meta 4 Interactive details the enhanced graphics, gameplay, and haptics available with this updated version of the game.
In September, we invited fans into Transformers Beyond Reality, an immersive VR experience that lets a player fight as a human alongside their favorite Autobots to save Earth from annihilation. It's an exciting arcade-style first-person shooter with epic battles against hordes of Insecticons and Decepticons. Today PlayStation VR2 players can roll out and enjoy the enhanced action.
We are so thankful for the positive feedback we received from this passionate community. We listened to PS VR players and improved the graphics as requested. It's been amazing evolving our game into PS VR2, taking advantage of everything this incredible device has to offer to build an enhanced experience.
---
"Last Fall, Transformers: Beyond Reality gave our Transformers fans a new VR experience in which they could immerse themselves in. Now, with the title's exciting evolution into PSVR2, the gameplay is even more enhanced and interactive."

– Tom Warner SVP & GM, Action Brands Hasbro
---
You'll notice a significant quality jump in Transformers Beyond Reality for PS VR2. Here are a few ways we leveraged evolving technology to enhance players' overall experience:
Amping up the experience and balancing with improved visuals and 70fps+ performance
Building console games always involves a balancing act between framerate and visual fidelity. This is even more important in the medium of virtual reality, where dips in framerate can make an otherwise enjoyable experience physically unpleasant.
For PS VR2, these concerns have been addressed and minimized. Our team was positively ecstatic as we added detail to models and textures, ramped up reflections, and added atmospheric effects and visual effects seemingly without restrictions, while still holding a solid 70 frames per second. It was liberating.
30+ Enhanced gameplay moments and cinematics
This extra performance has a tremendous impact on gameplay, as a more beautiful game and higher framerates make it easier to enjoy yourself. We were able to add and enhance over 30 moments to make the game more engaging. Many of those moments were made interactive (such as a notable scene in which a major enemy uses the environment against the player). Particular care was taken to ensure the action happens close to the player, for example with PS VR2's 110-degree field of view it is immediately evident how large Optimus Prime, Grimlok, and Megatron really are in relation to the player.
Enhanced haptic feedback heightens action
In the development of VR games, it can be challenging to properly communicate game information to the player. Heads-up displays (HUDs) are useful, but in VR they are less effective. For the enhancements to Transformers Beyond Reality, we transitioned from showing an ammo counter to letting players feel when it's time to reload through the resistance of the PS VR2 Sense controller adaptive triggers..
Our greatest revelation was in how we were able to enhance letting the player know they're being attacked from off-screen. We experimented with red flashes, but it wasn't effective because there was already so much happening on screen. Now whenever the player gets hit they feel this information via the headset haptics. It's a natural and intuitive enhancement.
We were so happy to have the opportunity to improve the experience in Transformers Beyond Reality in response to fan requests. We invite previous payers to update your game for free and see the updates for yourself. For new players, we welcome you to explore your Transformers fandom in this exciting virtual reality adventure available now on PS VR2.
Gear up, and let's roll out!