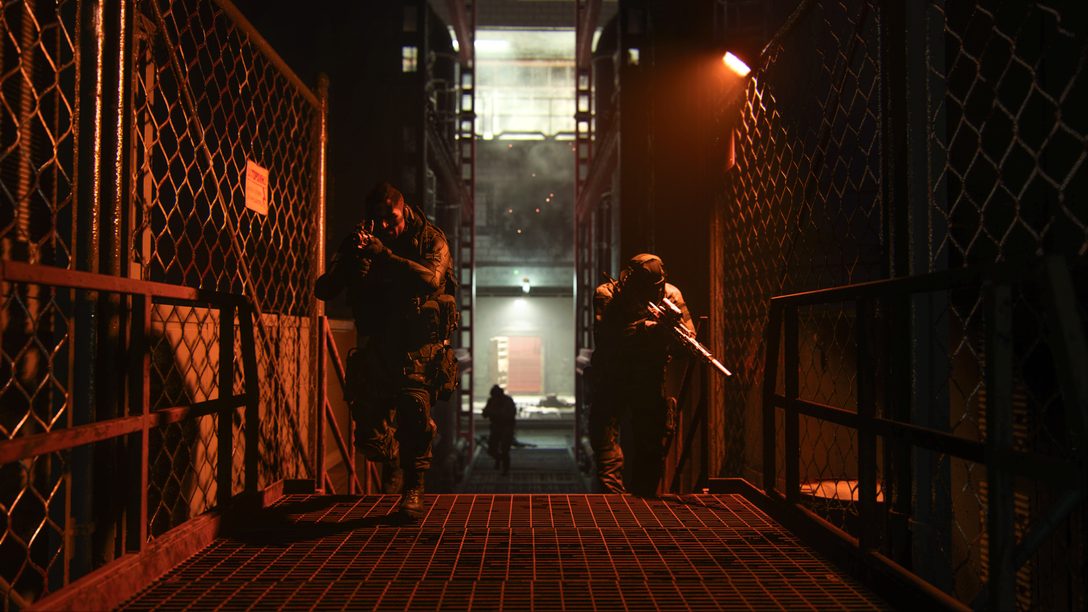 Get ready for the new Alboran Hatchery Core Multiplayer map, Raid Episode 03, a new DMZ experience, and more.
Los Vaqueros and the Las Almas Cartel not only rebuild — they also reload.
The fight escalates to epic proportions in Season 03 Reloaded for Call of Duty: Modern Warfare II and Call of Duty: Warzone 2.0, launching May 10 on PlayStation 4 and PS5.
With new content coming to Special Ops, Multiplayer, and Battle Royale, there's plenty to look forward to in the midseason update!
New Special Ops Raid and Mission, 6v6 Multiplayer map and modes
Whether you're teaming up in co-op or looking to compete against the best in the world, Season 03 Reloaded has your six with a new Raid, Special Ops Mission, and Multiplayer map, as well as new modes.
Special Ops Raid Episode 03: As Gaz breaks off from the team to contact Laswell and set up an exfil, Captain Price, Farah, and Alex push deeper into the Soviet base in pursuit of Hadir and the missing armament. Descend into a massive pit punctured with old train tunnels, electrically charged waters, and heavily armed enemy combatants.
Special Ops Mission — Defender: Hafid Port: Take on the cartel's latest operation in Al Mazrah's Hafid Port. Eliminate the first line of defense and then defend your position against multiple waves of incoming enemies.
Alboran Hatchery (6v6): Drop into Alboran Hatchery, a medium-sized core 6v6 map set on a remote hillside beneath towering wind farm turbines. Use copious cover to set up more stealthy takedowns, or ascend to upper vantage points for a clearer line-of-sight across the storage and warehouse facilities. Expect this map in featured Playlists throughout Season 03 Reloaded.
Giant Infection and Faceoff: Take on the horde across larger Battle Maps that support a greater number of players in Giant Infection, and get tactical on small-scale Gunfight maps in modes like Team Deathmatch and Kill Confirmed via 3v3 Face Off.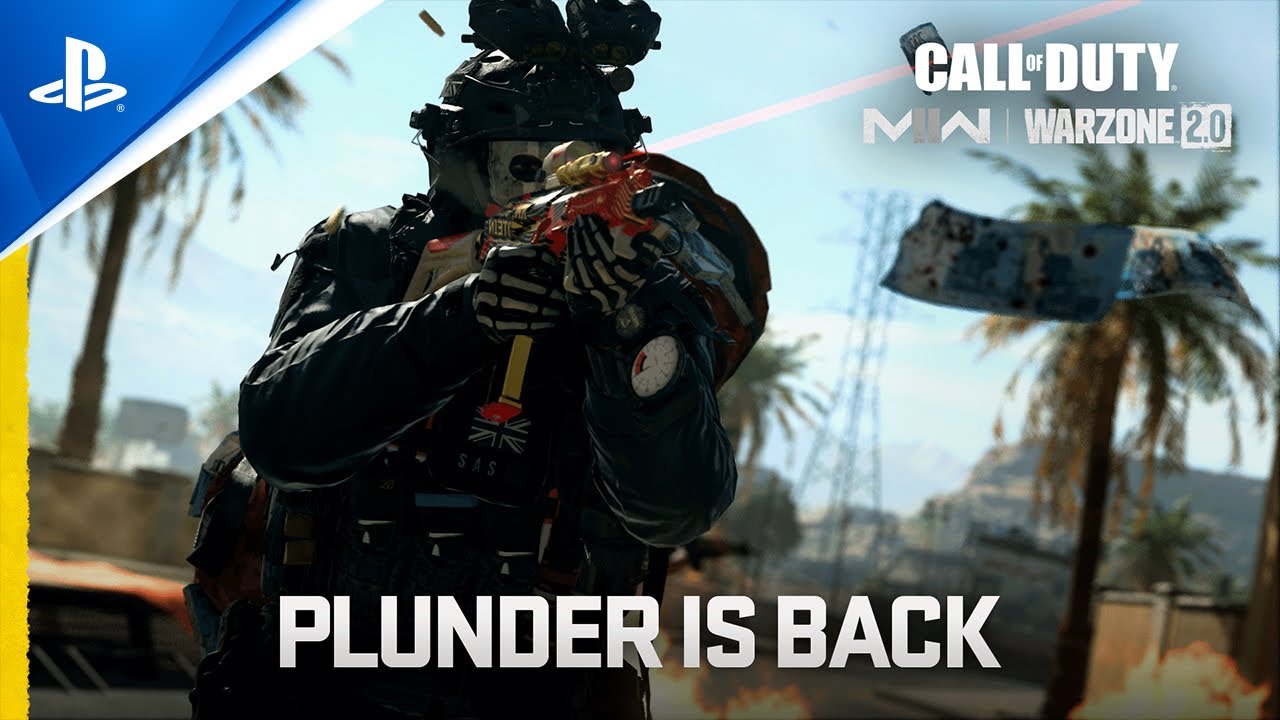 New Warzone Modes, Equipment, and Ranked Play
New Tactical Equipment: Up your strength in the early game through preset Perk Packages found in Supply Boxes and at Buy Stations. On the go and need to resupply? The Deployable Buy Station's got your back. And don't forget to grab a Gulag Entry Kit to fight for your chance to redeploy, even if you've already been there once before.
Plunder Is Back: Don't forget: Plunder from the original Call of Duty: Warzone is currently in Call of Duty: Warzone 2.0. In this frenetic mode, Operators benefit from respawns and can equip their custom Loadouts at the start of the match. Gather Cash, complete contracts, and take out enemy Operators to amass riches before time runs out.
Introducing Warzone Ranked Play
Put your Battle Royale skills to the test in Warzone Ranked Play, featuring competitive settings, progressive ranking, a visual skill system, and seasonal rewards.
Start in the Bronze ranking and survive to climb your way into higher Skill Divisions, utilizing a Skill Rating (SR) custom-made for Battle Royale. Increase your SR through assists and eliminations and by earning a high placement in the match. Pay a modest SR entry fee for each match and see the end-of-match SR summary for a rundown of your losses and gains. The most skilled players will be visible for all to see in the Top 250 Skill Division leaderboard.
New DMZ Exclusion Zone
There's something going on deep underground in Al Mazrah. Operators who deploy to that Exclusion Zone should keep an eye out for one of several entrances into a new facility known as the Koschei Complex, accessible during Season 03 Reloaded. Gain access and fight the combatants within to secure high-value loot.
General Overview
Weapon Camos: Complete a series of challenges and earn two new Weapon Camos for all weapon categories in the game.
Two New, Full-Auto Handguns
Season 03 Reloaded is introducing not one, but two new sidearms to the weapon roster:
FTAC Siege: Designed to be a compact and maneuverable machine pistol, this has a jaw-dropping fire rate and rapid swap speed. A trusted secondary for upl-close engagements. Unlock it by completing the in-game Weapon Challenge (get 50 Sidearm Hipfire Operator Kills) or by purchasing via Store Bundle.
GS Magna: This fully automatic .50 GS boasts a thunderous rate of fire and enough power to put an end to anyone crossing your path. Unlock it by completing the in-game Weapon Challenge (get 30 Operator Headshot Kills) or by purchasing via Store Bundle.
Kevin Durant, Reporting for Duty
Step into the shoes of one of basketball's greatest players of all time as Kevin Durant arrives in a special, limited-time Store Bundle releasing as part of the midseason update.
In addition to his Operator, the Bundle will also include "Reap This" AR Blueprint and the "Easy Money" Sniper Blueprint, the "Deadly from Downtown" Finishing Move, the "B-Ball" Weapon Charm, the "Ankle-Breaker" Loading Screen, the "Hoops" Sticker, and the "KD Baller" Animated Emblem.
Watch for other Store Bundles arriving in the midseason, including the Throwback Pack: '09 Weapon Audio Bundle, VII: Wrath, and more.
Season 03 Reloaded Launches May 10
For the best midseason experience, purchase Modern Warfare II on PlayStation today, offering access to additional content across three modes, including the ability to unlock 14 exclusive Operators for use across both games. Modern Warfare II owners also get awarded Premium XP at the end of every match while playing Call of Duty: Warzone 2.0.
Stay frosty.