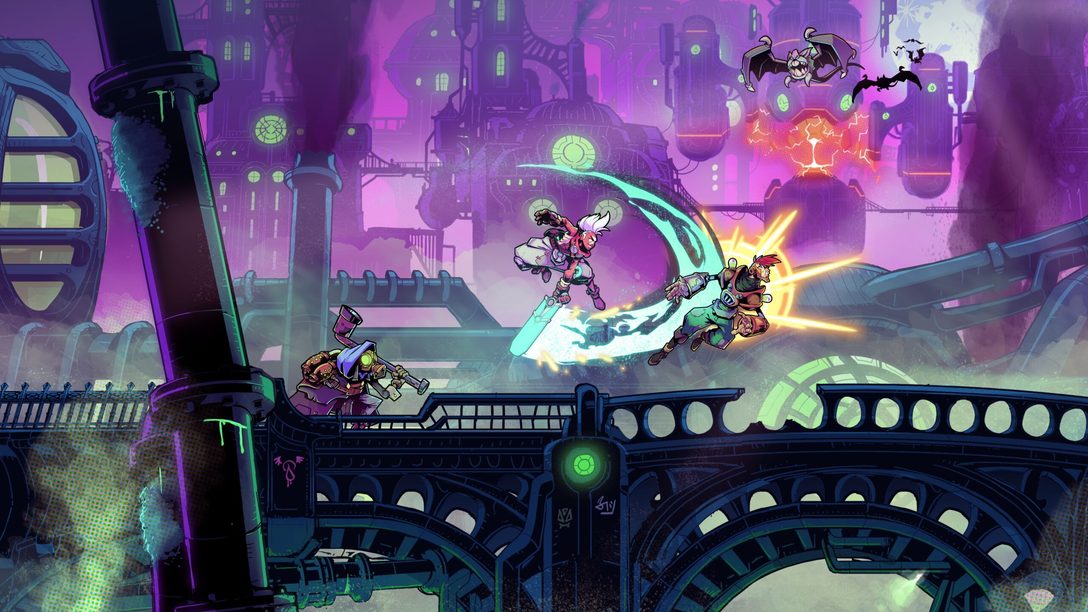 The art direction and process for taking the city of Zaun from a MOBA to an action-platformer.
My name is Eric Angelillo, I'm the Creative Director and Co-Art Director for Convergence: A League of Legends Story. I also co-founded Double Stallion games 10 years ago with a mission to create vibrant & transcendent experiences with players all around the world. I love making bold action games with vibrant stylized visuals inspired by the very best of animation and comics. I believe great games are made when art and interactivity perfectly intersect.
From the start, our goal with Convergence was to showcase Zaun not just as the dark, polluted metropolis it's usually portrayed as, but rather as a vivid, lively city teeming with colors, characters, and wonders waiting to be discovered. By seeing Zaun through Ekko's eyes, we aimed to reflect his own perspective on his home – a city of progress and a playground for adventure.
Our unique approach to the Art Direction was informed by framing everything through Ekko's perspective. We expressed this through 3 core art pillars; BOLD, ELECTRIC and VIBRANT. Riot Forge provided guidance on portraying technology, fashion, and other elements, but we were ultimately able to express our own creative vision.
Staying true to Zaun's technology and architectural style was a priority, but we pushed the envelope with colors, design shapes, line art, and more. Comic books served as a significant source of inspiration, leading us to incorporate heavy lineart, black inked shadows, and color halftones. The use of halftones not only posed an exciting challenge but also helped make foreground elements truly pop.
Centering the experience in Zaun, Ekko's home, we sought to explore its diversity by creating a variety of exciting locales – streets, sewers, factories, carnivals, gardens, and more. The Cultivair, a large enclosed garden from League's lore, offered a refreshing change from the urban settings and became a focal point in the game.
Drawing from short stories and comics about Zaun and its Champions, we featured environments like Factorywood, which was mentioned in a story about Ekko, and created new locations like the train-like Chaincrawler. Convergence presented an excellent opportunity to expand upon Zaun's environment, which had not been fully explored in the MOBA.
As the city of Zaun is home to so many amazing champions, we sprinkled in easter eggs throughout the game that reference the undercity's most famous denizens. We hope fans will enjoy discovering these hidden gems.
In order to make Zaun feel like a bustling city, we prioritized having multiple layers of parallaxing assets in our 2D game. This allowed us to create depth and make environments feel immersive. Additionally, we made it a priority to keep the world feeling lively by having constant on-screen movement, whether it's steam, dripping water, flickering lights, or little critters scurrying about.
Through our 2D environmental storytelling, we've aimed to stay true to the League of Legends world while presenting a fresh, vibrant take on the city of Zaun. We're incredibly proud of Convergence and can't wait for players to experience it firsthand.
——————————————————————————————-
Developed by Double Stallion Games, Convergence: A League Of Legends Story is a story-driven, single-player 2D action platformer featuring dynamic combat and unique exploration opportunities thanks to Ekko's ability to travel through space and time. Rewind your actions to learn from your mistakes and outsmart each new enemy. Will it be enough to save Zaun's future?
Convergence: A League Of Legends Story releases May 23, 2023.