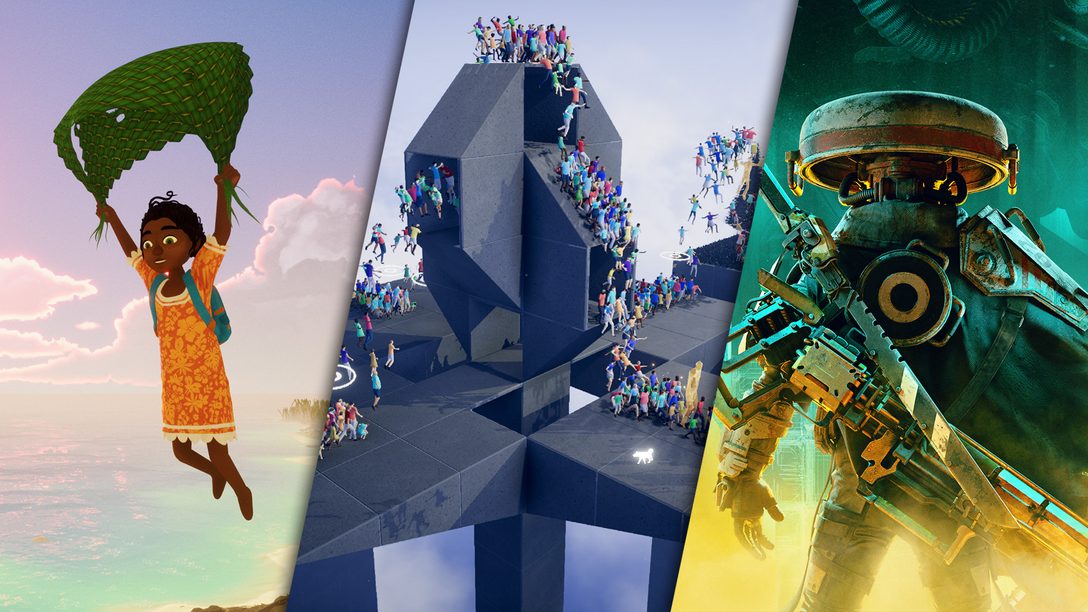 Plus updates from developers behind Meet Your Maker, Tchia and Kena: Bridge of Spirits, all available on PlayStation Plus now. 
Last week, compelling puzzler Humanity was confirmed to launch day one into PlayStation Plus Game Catalog. It joins a wealth of fantastic indies released recently, all of which are available right now as part of the PlayStation Plus Monthly Games or Game Catalog. So today, with Enhance sharing a deep dive into the gameplay features of its Shiba-fronted puzzle adventure ahead of its May 16 launch, we reached out to the creators of Meet Your Maker, Tchia and Kena: Bridge of Spirits to share updates on their titles.
Humanity
Take control of a luminescent Shiba Inu (in case you don't know—that's a dog!) in this visually stunning and thought-provoking action-puzzle game from Enhance and tha ltd. You direct a massive, marching crowd of humans to the light, rebuilding humanity and unlocking new mechanics in the process. Command the people to turn, jump, climb, swim, shoot, follow and more to get them to the goal across 90 carefully crafted stages. Devious puzzles await you, mixing in more action-focused elements, platformer-like levels, and even epic boss battles. Should you lose a few humans along the way, fear not—death is not permanent in the world of Humanity. Any people that fall off a stage turn back into light and walk through the door again.
Today, we're happy to reveal a deeper look at how that all comes together. Check out our all-new gameplay trailer: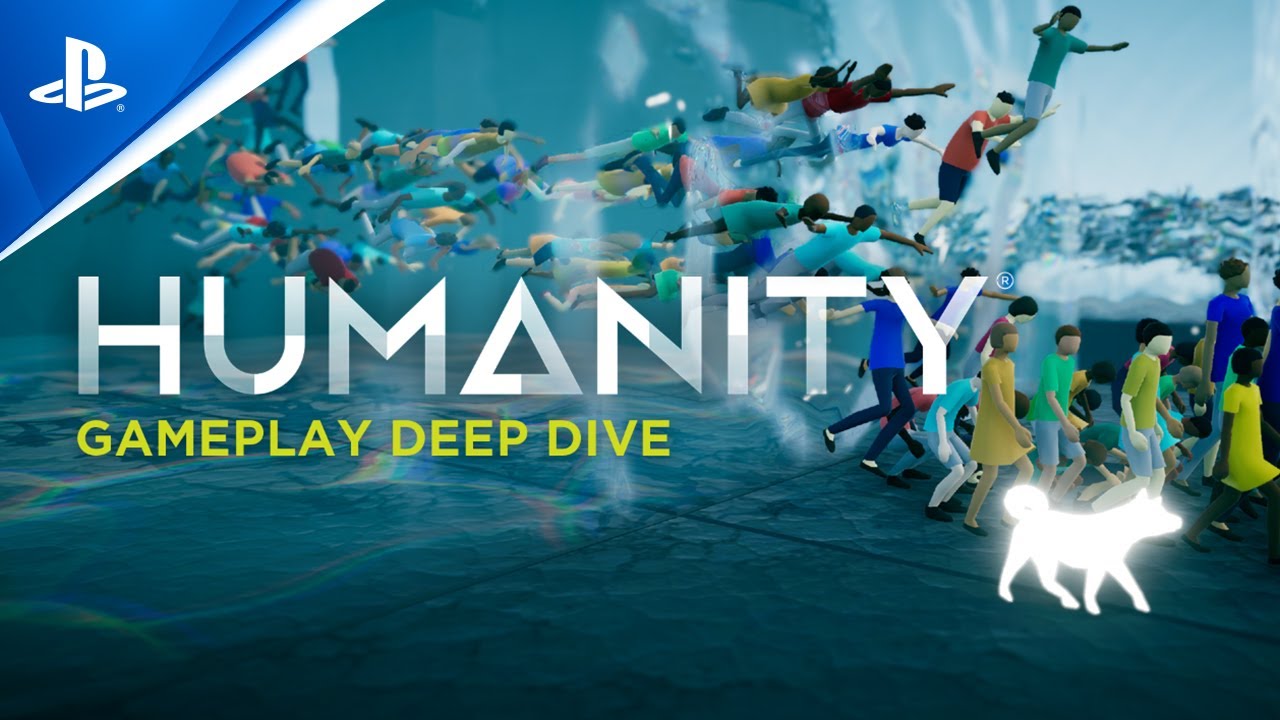 Outside of Story Mode, you can browse an ever-growing library of stages created by other players. Play, rate, favorite, and discover new types of puzzles in this limitless cross-platform vault, with curated playlists updated regularly so there's always something new to play. Or try your hand at bringing your ideas to life using our intuitive Stage Creator. From platforming challenges and straightforward puzzles to artful sculptures, it's super easy to make a stage and share it with friends and the community.
As a VR-optional title, you can also get an up-close view of your human horde and explore the environments in ways not possible in flat 2D via PS VR2 (on PS5) or PS VR (on PS4).
Whether you want to experience the Story Mode or are ready to jump into and play or make community content, this game's got something for everyone.
– Mark MacDonald, Executive Producer, Enhance
Humanity launches May 16, 2023 and is available on PlayStation Plus Game Catalog from Day 1.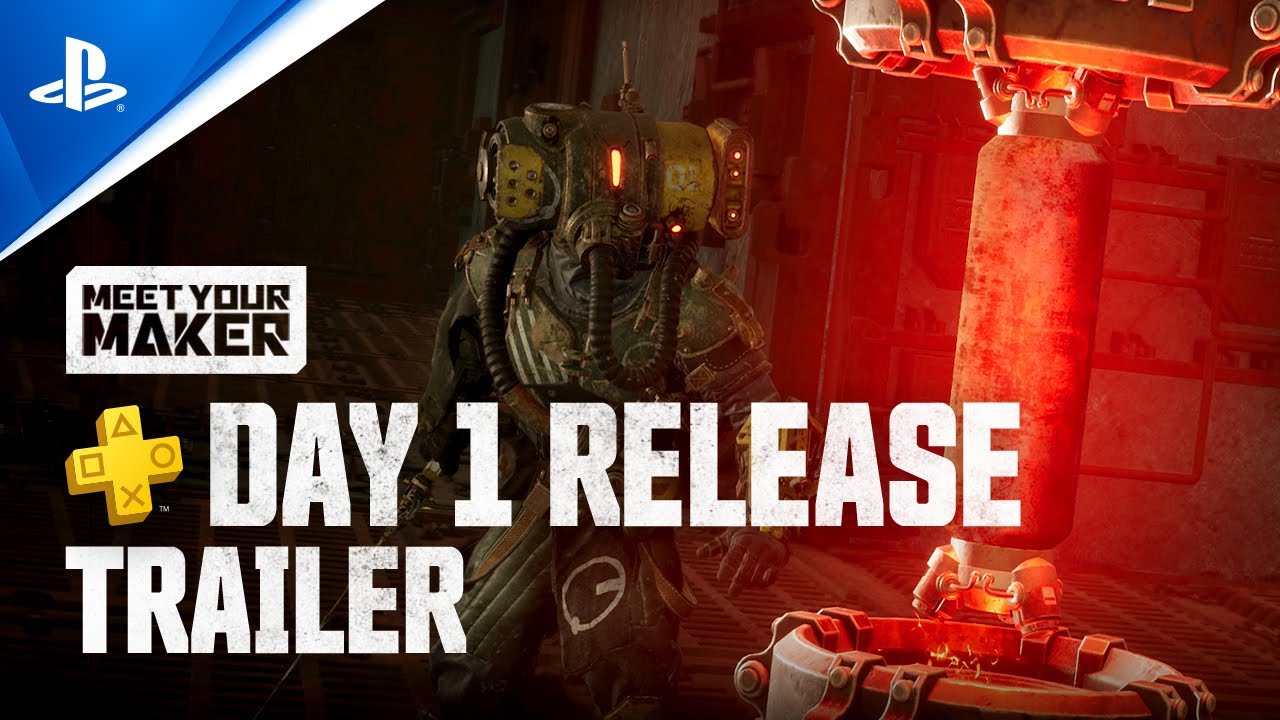 Meet Your Maker
Meet Your Maker, is our new first-person building-and-raiding game that's out now and is available as part of the PlayStation Plus Monthly Games for April. Players step into a post-apocalyptic world where they're tasked with both creating and infiltrating devious maze-like Outposts filled with traps and guards to protect and steal a vital resource.
Every level in the game is deviously designed by players, and whether you opt to focus on building or raiding Outposts, both roles are fun, accessible, and even offer a co-op option to team up with a friend. Here's some gameplay tips to help you get started:
When Building:
Start with a 3-step approach: Build the basic structure, add traps and guards, then personalize with cosmetics. You don't lose progress or resources by being raided, so share your Outpost, and return to improve on it at any time.
You can modify traps to trigger only after the Genmat has been stolen. Suprise Raiders by making it just as hard (or harder!) to get out as it was to get in.
Think like a Raider as you set traps. Ask what they might instinctively do when faced with a particular setup, and then use those reactions against them.
Try to overcome your own defenses through the "Test my Outpost" feature. It's the best way to know what's working and what's not.
When Raiding:
The Grapple Hook is your new best friend. Master it. It gives you incredible mobility for both attacking and escaping.
Stock up on useful consumables like speed boosts, deployable shields, and more, before starting your raid. You never know when you'll need them.
When a trap is tripped, you'll get both a visual and audio cue before it deploys. Reacting quickly can save your life.
Drop a Phoenix Pod after you grab the Genmat for a one-time respawn from the same point. You never know what's waiting for you on the way out.
– Justin Fragapane, Lead Content Strategist, Behaviour Interactive
Meet Your Maker is available now as part of the PlayStation Plus Monthly Games for April.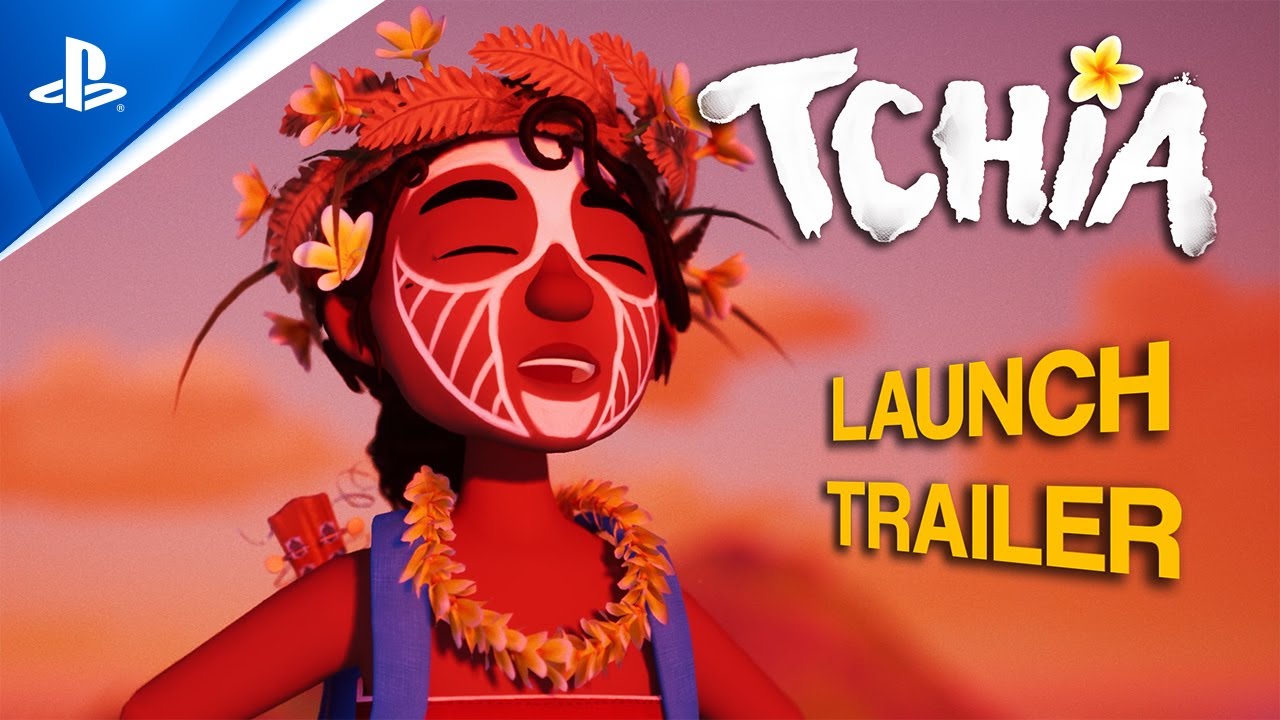 Tchia
All the team at Awaceb is incredibly proud to have created a game that is not only fun and immersive in its own right, but also a heartfelt love letter to our homeland. So many people have now discovered New Caledonia through the eyes of Tchia, and we still get a lot of messages from players who appreciate the beauty of the archipelago, the richness of its cultures, and are now interested in knowing more (and sometimes even consider a trip there!). Being able to move people from a tangible, human standpoint is our greatest pride as video game makers.
– Phil Crifo, Tchia Game Director & co-founder of Awaceb
Tchia is available now on the PlayStation Plus Game Catalog.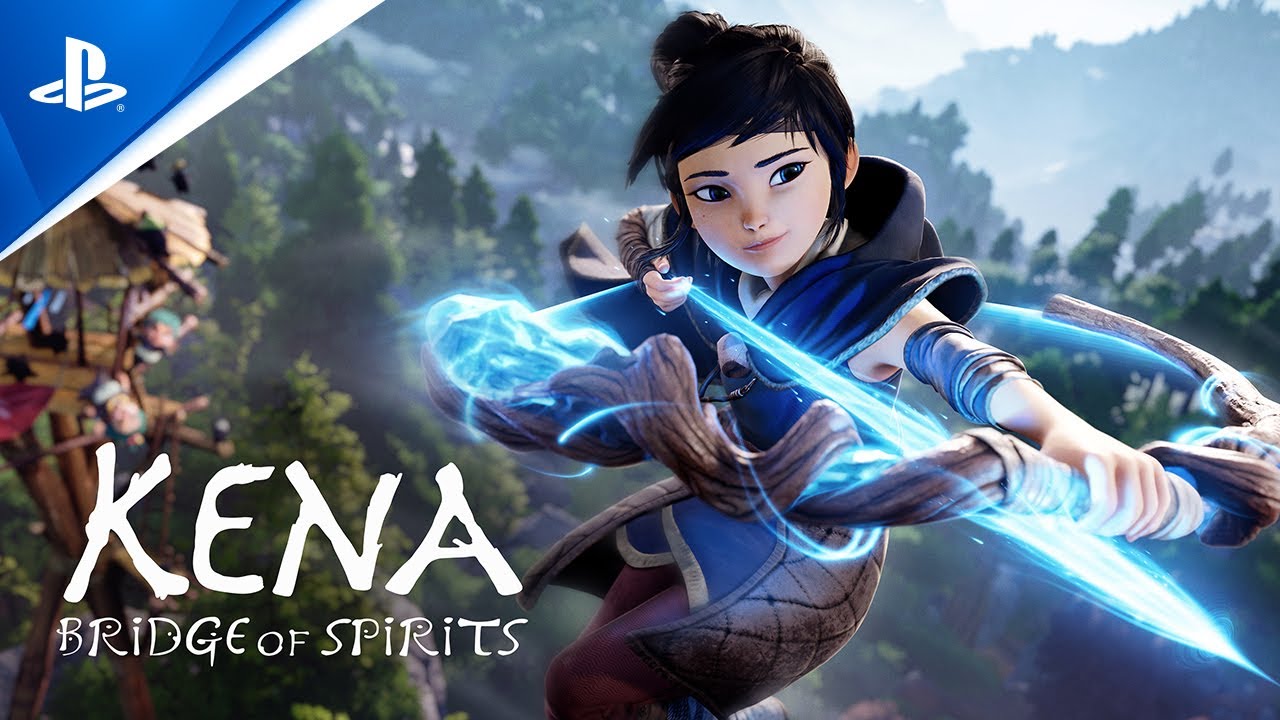 Kena: Bridge of Spirits
Kena: Bridge of Spirits marks our gaming debut! At Ember Lab, we've always had a passion for great storytelling, and in September, 2021 our small animation studio officially turned to game development with the release of Kena. Since then, we've been honored to receive both fan support and critical acclaim. Our story-driven action-adventure blends a narrative focus with exploration, puzzle-solving, and fast-paced combat. Both press and public alike have described Kena's adventure as "magical," "compelling," and "breathtaking."
Taking inspiration from nostalgic games and films, Kena blends Eastern and Western themes as players untangle the past of a forgotten village. Kena, a young Spirit Guide, searches for the mysterious Sacred Mountain Shrine. As the titular Spirit Guide, players help spirits trapped by their personal tragedies with the help of cute (yet powerful) spirit companions, the Rot.
Following its release, our game won "Best Indie Game" at the 2021 Game Awards. Praised for its Animation, Art Direction, Music, and more, Kena went on to receive awards and nominations at the Game Developers Choice Awards, DICE, BAFTA, Taipei Game Show, Annie Awards, Webby Awards, and SXSW.
We released the free "Anniversary Update" a year after launch as a thank you for the incredible support. The update allowed us to include many features we couldn't fit into the initial release including New Game+, Spirit Guide Trials, cosmetics, and more. You can read all about the Anniversary Update in our PlayStation Blogs: Details Revealed and Crafting New Outfits.
Since launch, PlayStation players have found over 40 million Rot and over 8 million unique hats! (out of 100 possible Rot in the game). We're so excited for new players to join in! With Kena: Bridge of Spirits, we aimed to strike a balance between inviting, impactful, and a lot of fun. We hope you enjoy our debut game.
– Thomas Varga, Game Writer, Ember Lab 
Kena: Bridge of Spirits is available now on the PlayStation Plus Game Catalog
Game library varies over time and tier. PlayStation Plus is subject to a recurring subscription fee taken automatically until cancellation. Terms apply: play.st/psplus-usageterms